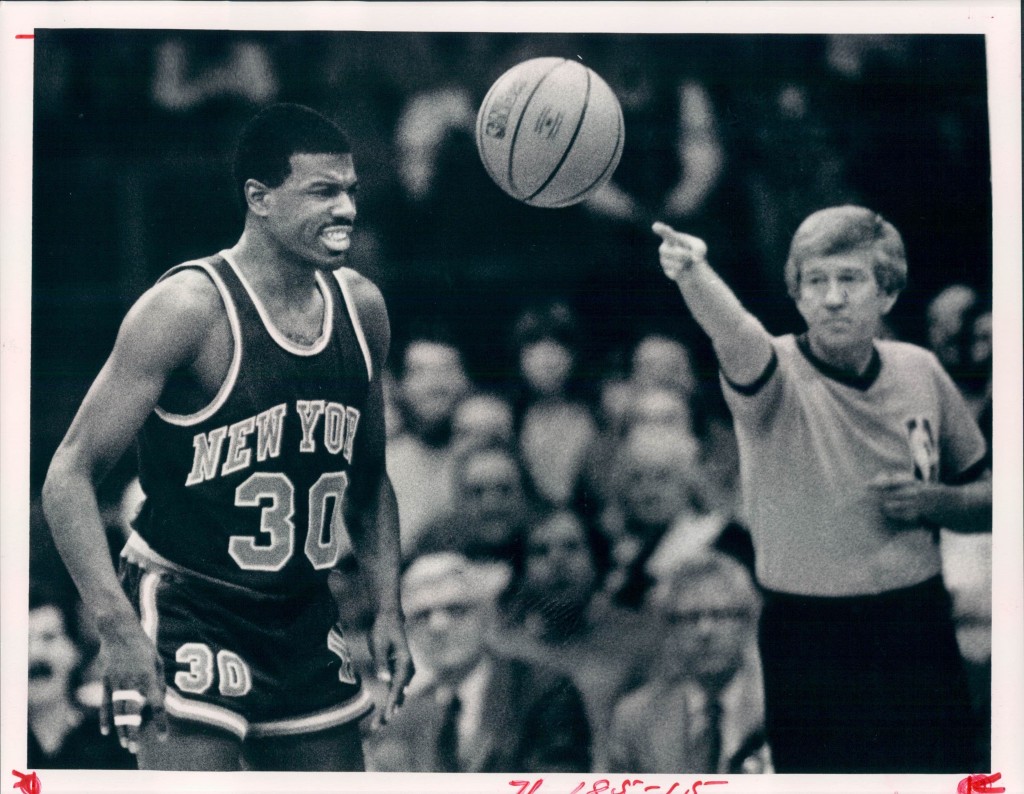 Part III of Bernard King: The NBA's Invisible Genius
"Hubie, do I have the right to take the ball myself?" – Bernard King
For Knick and Golden State Warrior fans, King's 1984 rise from star to sublime was not surprising or meteoric. Don't call it a hot streak, Bernard had been there for years.
Lost Prime (1980-1983):
During King's first three years in the NBA (1977-79), his only barrier was himself (see alcoholism and drugs). During his next 3.5 prime years (1980-83), his barrier was only 33 minutes and 16 shots per game. Bernard the Warrior needed a sacrificing point guard like Tiny Archibald or Dennis Johnson, but he got gunslinger World B. Free[1].  Bernard the Knick needed a coach like Phil Jackson, but he got superstar stopper Hubie Brown[2]. King should have been treated like Michael Jordan (23 shots per game), but until 1984 never got the scorer's respect of Monta Ellis.
Lost Warrior (1980-1982): 
Outside of Golden State, Bernard rarely gets credit for two fantastic seasons with The Warriors. Despite being led the previous year by Robert Parish [HOF 2003], the team was pitiful, and Parish was traded. King was named "Comeback Player of the Year" in his first year, made the All-Star team in his second, and shot an astonishing 58% over both. Each year, the Warriors missed the playoffs by a single game. Why? King never took the most shots (see Free). Just how good was Warrior King? When San Francisco columnist Bruce Jenkins made up his all-time Warriors team a few years ago, his forwards were Rick Barry and Bernard – not Chris Mullin [HOF 2012].
"Bernard turned the Warriors franchise around. We went from 24 wins in '80 to a winning record in '82, the year Bernard became a starter." — Pete Newell [HOF 1979]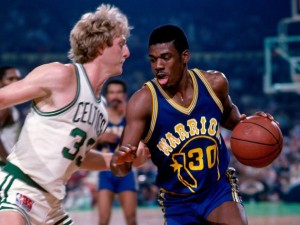 Lost Knick (1982-1983):
When it comes to squeezing every last drop from mere mortals, Hubie Brown is a coaching genius. When it comes to teaching the game, there is none better. When it came to stopping superstars, he made Dean Smith's North Carolina teams seem like the Showtime Lakers. Our greatest strength often doubles as our greatest weakness, and Brown was a unwavering "system coach" who called every single play, walked the ball up, and refused to budge from his signature 10-man rotation which he played every quarter. Yes, every quarter. What if Bernard was on fire? Too bad. Here comes Louis Orr!
"[King] was absolutely devastating in transition, which made it such a shame that he was stuck on Hubie's plodding Knicks teams for those peak years." – Bill Simmons, ESPN Writer
How Louis Orr Scored 100 Points:
On the day David Stern became the NBA commissioner, Bernard completed his famous back-to-back 50 point games. With two Knicks sidelined, Brown was finally forced to abandon his 10-man rotation, and Bernard dropped his 100 point combo meal on 40-58 shooting (note: Wilt's shot 36-63 on his 100).  Had Bernard's back-up Louis Orr not caught the flu, 50-50 would have never happened. Had Orr caught mono, the record books would have been shredded. King's flu in Game 5 of The Showdown in Motown has become part of his legend, but Louis Orr's flu is also a reminder of legend lost. Golden State and Knick fans knew that 1984 could have been happening for years. And now Hubie Brown knew: some birds you just can't cage.
"The 50-50 games were the turning point as far as being noticed".  – Bernard King
The Turning Point (January 1984):
Bernard began January 1984 by being named Knick captain and ended it with a 50 point game. While both dates are significant, the biggest turning point came in between. On January 13th, King took only nine shots – the Knicks fourth close loss that season where King had no more than nine shot attempts. The very next night King would score 42 points on 18-26 shooting, and Bernard would never shoot less than 10 times again (save injury). After 3.5 prime years, King would finally receive 40 minutes and 20 shots. January 14 is also the very same day when King's 30 points @60% for 40 games was born. The turning point wasn't 50-50, it was 40-20.  Bernard didn't really change — Hubie did. But there would be flashbacks.
"Put Bernard back in the game!" and "Get the ball to Bernard!"
– This author and 10,000 fans at my first Knick game in 1983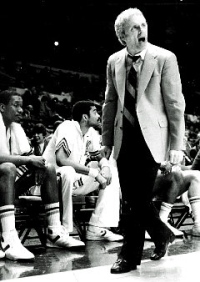 Hubie's Last Stand (April 1984)
Scene:           1984 Playoffs, Knicks vs. Pistons, Knicks Huddle
Act:                 #5 – The deciding game of historic series
Time:              36 seconds left in regulation, Knicks ball
Score:             Knicks 112, Pistons 111
Context:         Bernard King is Shredding History
This is crazy. This is crazy. This is crazy. Via Dennis D'Agostino's must-read "Garden Glory", let Bernard tell it:
"We were in a timeout, and the play was designed for Billy Cartwright. I've never questioned the coach's authority… You just don't question the coach. The coach is the coach, and you're a player. But Hubie was designing a play for Billy Cartwright, and the game was on the line…. Well, I had a problem with that [King laughs.] Here I am playing with two dislocated fingers and I've averaged 40 points a game for five games, so if the game is on the line, give me the ball. That's always been my history as a player, so I couldn't understand in that intense moment how the play could be designed for anyone else."

So… I said: 'Hubie, do I have the right to take the ball myself?' And he didn't answer me. Then I spoke up even louder, 'Hubie! Do I have the right to take the ball myself?' I was emphatic. Finally, he looked up at me and said, 'Yeah'.  Because what I was saying… was 'Hubie, I'm gonna break your play'. But I had to ask first; I'm not the type of guy to break a play in my professional career. I always did what was designed for me to do, so I had to ask the question before I could actually do it."
These were Bernard King's working conditions.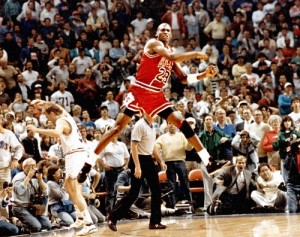 Imagine if Michael was denied that chance to shoot over Craig Ehlo? Would that ever happen? With Jordan gone in 1994, Scottie Pippen [HOF 2010] was averaging just 24 points on 41% shooting in his playoff series when coach Phil Jackson called the last shot for Toni Kukoc. Pippen famously refused to go back in the game.
In contrast, the surreal huddle exchange reveals both a phenomenal handling by Bernard, and a glaring flaw within Hubie. But it also arguably exposes a lesser flaw within King. For Bernard – who learned his work ethic and coach deference under legendary Brooklyn take-no-crap disciplinarian Gil Reynolds [see Genius Explained] — it took King until that moment in that huddle in that series to respectfully demand to be treated like the superduperstar he had been for years.
When Phil Jackson joined the Bulls, Michael Jordan was just a little less deferential. Jordan said:
"He's the coach, I'll follow his scheme, but I don't plan to change my style of play. I'm sure everything will be fine if we win, but if we start losing, I'm shooting."
Just how long would Jordan have lasted in Hubie's 10-man rotation?
Today, Bernard and Hubie have a great mutual respect for one another, and Brown often speaks with great reverence for King's "professionalism" and how he "never broke a play". But what if King didbreak more plays? What if he was a little less professional, and a little more like Mike? Would his teams have won more games?  When does "playing the right way" become the wrong way?
One clue is when your star is shooting 60% and can't be stopped. For younger Knick fans, it is when coach Mike D'Antoni asks Carmelo Anthony just to "fit in" as stretch spot-up shooter while he hands Jeremy Lin the keys to the Knicks. Had Anthony just went along to get along, he and the Knicks would likely not be flourishing today. Bernard's growth cannot be separated from Brown changing, and  Carmelo's can't be separated from D'Antoni leaving (and Mike Woodson arriving). Sometimes the boss is wrong.
That Game 5 playoff timeout huddle has been the story of Bernard King's career. He has been kindly asking for permission for his genius to be recognized ever since, and this week the Hall of Fame looked up and said "yeah".
Oh yes. Back to Game 5.
After the timeout, King took the pass, demonstratively waved off Bill Cartwright from the post, and went down the left side for one of his patented baseline jumpers for his 40th point. Isiah's subsequent 3-pointer would now only send the game into overtime instead of sending the Knicks home.
"In that 4th quarter and into the 5th quarter, Bernard King would just not let us lose"
– Hubie Brown

Chuck Modiano of POPSspot, for War Room Sports

I.   "Who is Bernard King": The NBA's Invisible Genius
II.   Genius Unchained: Bernard King vs. Isiah, Larry, and History 
III.  Genius Contained: Bernard King vs. Hubie Brown
IV.   Genius Explained: Bernard King vs. Youtube (coming Wednesday)
V.     The King of Peers: Bernard King vs. Media (coming Thursday)
VI.   The Jordan Rules: Bernard King vs. Michael Jordan (coming Monday)