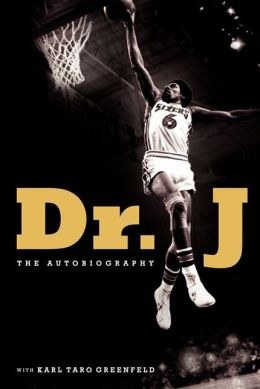 "There ain't no back in the day Nicca…Ain't no nostalgia to this sh*t here. There's just the street and the game and what happen here today."   – Melvin 'Cheese' Wagstaff
When talking hoops with people these days, it's sad because the legends of the past are often forgotten.  And that's the case when talking professional ball or street-ball.  You watch TV and you would think that the game was played by only Magic & Bird in the 80's, followed by Jordan in the 90's.  Growing up in Philadelphia I know better.  One of the most popular figures of my childhood was Julius "Dr. J" Erving.  He was larger than life in the city.  He was also a legend in street-ball.   Most of the older men in my neighborhood wanted to be him and all of the older ladies would have given him their love canal if they had the chance.  Not only was he considered a great ball player but he has always been considered someone who carried himself with class.
The great thing about biographies is the chance to hear stories and learn details about someone's life you had no knowledge of.   The Doc was an amazing ball player and he did carry himself with class but he was far from perfect.  This book is not only filled with amazing stories of legendary games and players but it also talks about his shortcomings and his personal struggles.  If you are a hoops fan and love the history of the game, this is a must-read.  The stories of playing one on one with Pistol Pete and George Gervin are amazing.  His relationship and thoughts on other legends such as Kareem and Bill Russell are also great.  There are also stories of Moses, Barkley, Magic, Bird, and many more.
Much was made of his story of fathering a child with a woman who was not his wife.  Not because he cheated but because in the words of Jadakiss, "It's no way she gonna have a baby out of her mouth".  Doc said she only became pregnant because she couldn't give him a twirly due to getting braces and they had "traditional" sex only one time.  Now when I first heard about that excerpt I laughed and said, "damn, Doc was foul for talking about the mother of his child that way".  When reading what he said and putting it into context, it doesn't come off the same.  Don't get me wrong, Doc is still a creep, but he was being honest and transparent when telling his story.
As a hoops fan and one who loves the history of the game, this book was amazing.  I may overrate it based on the fact that I'm a hoops junkie.  This was a great story that dealt with race, poverty, basketball, business, family, and making love to a lot of women.  That will always be a recipe for a great book in my opinion.
Jimmy "The Blueprint" Williams of The War Room, for War Room Sports