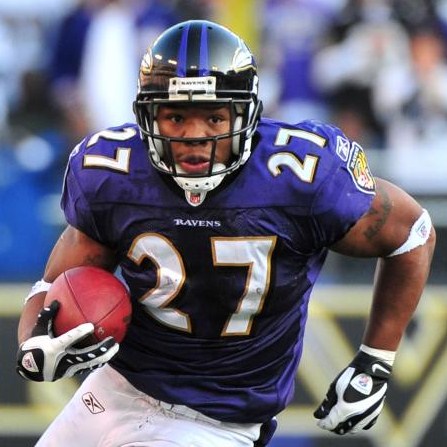 I'm not defending the actions of Ray Rice.  I believe he made a horrible decision that will change his life forever.  Whatever discipline comes to him, it is warranted.  Many people around the country are upset with the Ravens fans that are still supporting him by wearing his jersey.  They are quick to criticize them as close-minded, die-hard fans that only care about football.  It's not all about the fan base.  The answer lies within the city.
Baltimore is a very loyal place.  In Baltimore, the city has a very close family feel.  It is a major city (600,000+ population) with a small city feel.  Baltimore has a big chip on its shoulders.  Being in between Washington, Philadelphia, and New York, it often gets overlooked nationally.  If Baltimore embraces you as one of their own, they have your back through the thick and thin.  If the Ray Lewis incident happened in another city, he probably would have been cut and pushed aside.  Here in Baltimore, he just had a statue erected in front of M&T Bank Stadium.  The sense is we can talk about you but if someone outside the family does, then it's on.  I have been in debates with Ravens fans that have spoken badly about Joe Flacco, but as soon as I have criticized him, I have felt the wrath.  As a Baltimorean that isn't a Ravens fan, I really understand both sides of the issue.
So here's the truth about Ray Rice.  He isn't a wife-beating monster that should never play in the NFL again.  Nor is he the 1500 yard back that the Ravens can give the ball to 25+ times per game anymore.  The Ravens struggled with weather or not they should have cut him after a terrible 2013 season.  I honestly that they kept him because he was such a good guy, both on the field and off.  Ravens fans that wore his jersey to the game on Thursday against Pittsburgh were saying loudly that this is our guy and we still love him.  I hope Ray Rice has learned from his drunken actions from that night.  I also hope that his wife Janay and Ray continue to grow and support each other.  More than anything, I hope that their daughter will grow up and know that her daddy isn't the bad guy that hit mommy.  I hope that the family gets the support from those surrounding them that they will need.  If not from the NFL and the Ravens, they can always turn to Baltimore.