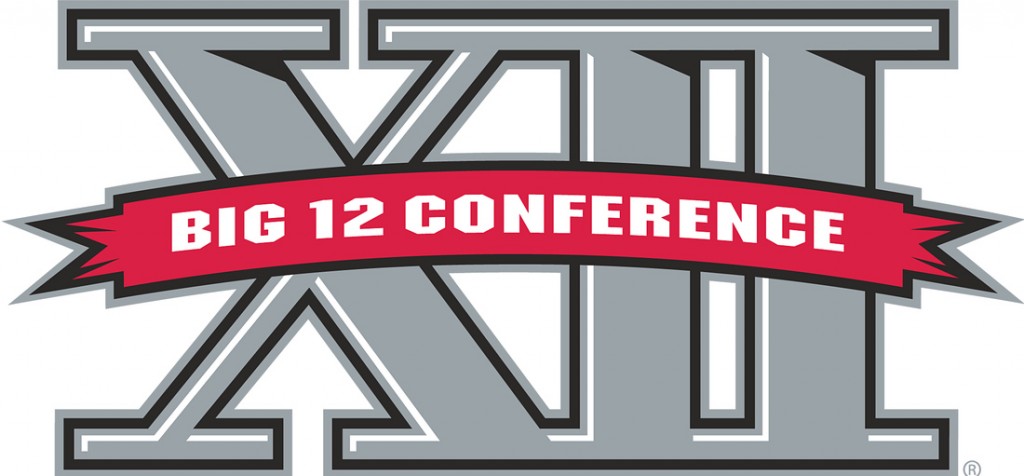 The regular season can't start fast enough for the Big 12. From the Baylor scandal, realignment controversies, and the prospect of the conference folding after their TV deal expires, the regular season would be a welcome relief for those in Big 12 country. The Big 12 will again boast some of the most exciting offenses in the nation in Oklahoma, Baylor, TCU, and Oklahoma St. Who will stand in the way of Oklahoma repeating as Big 12 champs? Will Baylor be weighed down by the sexual assault scandal? Will Charlie Strong have a breakthrough season at Texas? How will TCU fare after Treyvon Boykin and Josh Doctson? Will Oklahoma St finally get over the hump? 2016 should be another exciting season in the Big 12
Preseason Media Poll: First place votes are in parenthesis
| | |
| --- | --- |
| School | Points |
| Oklahoma (24) | 258 |
| TCU (2) | 222 |
| Oklahoma State | 202 |
| Baylor | 156 |
| Texas | 151 |
| Texas Tech | 141 |
| West Virginia | 126 |
| Kansas State | 88 |
| Iowa State | 59 |
| Kansas | 27 |
Oklahoma
Location: Norman, Oklahoma
Stadium: Gaylord Family Oklahoma Memorial Stadium
Capacity: 83,489
Mascot: Sooner Schooner
Conference: Big 12
Schedule: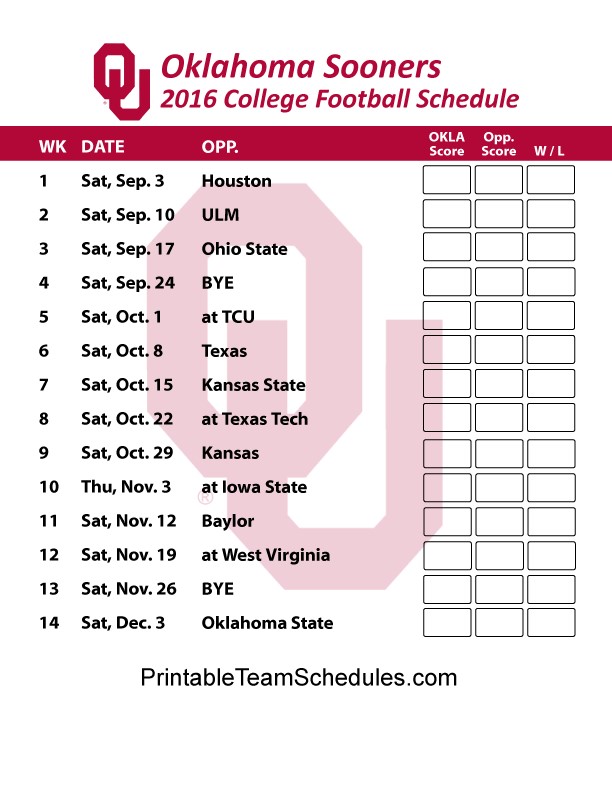 Head Coach: Bob Stoops
Offensive Coordinator: Lincoln Riley
Defensive Coordinator: Mike Stoops
Returning Starters:
Offense:7
Defense: 6
Key Losses: Durron Neal-WR, Sterling Shepard-WR, Derek Farnick-OG, Ty Darlington-C, Nila Kasitati-OG, Josiah St. John-OT, Trevor Knight-QB, Charles Tapper-DE, Eric Striker-OLB, Frank Shannon-ILB, Devante Bond-OLB, P.L. Lindley-OLB, Dominique Alexander-ILB (NFL), Zack Sanchez-CB (NFL)
Offense:
For the first time since Landry Jones graduated, Oklahoma found a QB in Baker Mayfield. They also sped up the offense and as a result, they finished 4th in the nation in scoring and 7th in total offense. Baker Mayfield became a Heisman contender and the Sooners were in the CFB Playoff. The Sooners also return quite possibly the best RB tandem in the nation in Samaje Perine and Joe Mixon. Sterling Shepard has graduated, but the receiving corps should be fine. Penn St transfer Geno Lewis and DeDe Westbrook are waiting in the wings to be Oklahoma's next great WR.
Defense:
Last season, Oklahoma finished 9th in the nation in pass efficiency defense and 39th in total defense. Consider the fact the Sooners play in the Big 12 where the pigskin is flying all over the place, and those numbers look even more impressive. There is depth and great talent on the DL with Charles Walker and Ogbinna Okoronkwo. The secondary led by CB Jordan Thomas and S Steven Parker will give these high powered Big-12 offenses fits. Dominique Alexander is gone, but the Sooners have a bevy of young linebackers who are ready to step up.
Special Teams:
Sophomore Austin Seibert is one of the most efficient punters in the nation. His punts are virtually unreturnable, which tilts the field position battle in the favor of the Sooners. Seibert also doubles as their place kicker, but he needs to improve on his 13-17 from inside 40 yards. Sterling Shepard was an outstanding returner and the Sooners will be hard pressed to match his production in the return game.
Biggest Concern Heading into 2016:
Oklahoma's biggest concern is heading into 2016 is their run defense. The secondary was fine last season, but the two games the Sooners lost last season were against teams who ran on them. Texas and Clemson both churned out over 300 yards on the ground vs the Sooners. It doesn't matter how efficient your offense is if you can't get the opposing offense off the field. Will they be able to turn hings around in 2016?
Oklahoma State
Location: Stillwater, Oklahoma
Stadium: Boone Pickens Stadium
Capacity: 60, 218
Mascot: Pistol Pete
Conference: Big 12
Schedule: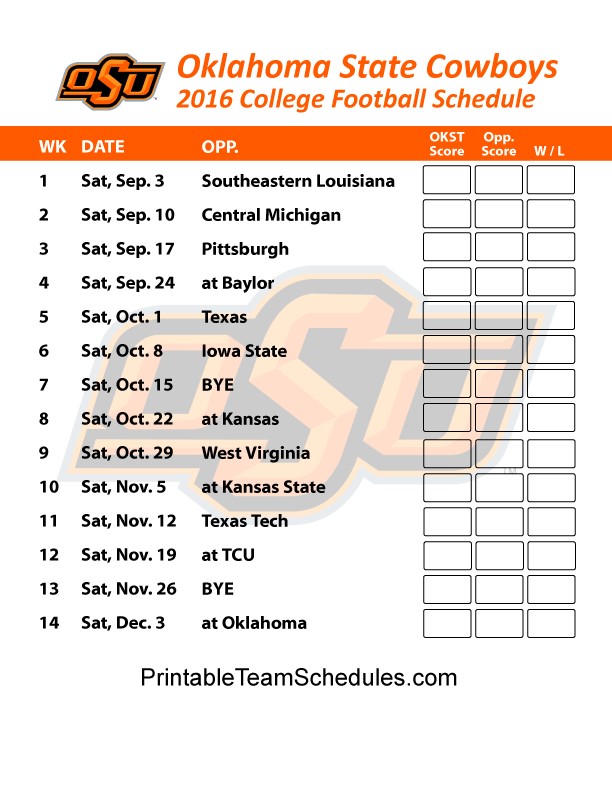 Head Coach: Mike Gundy
Offensive Coordinator: Mike Yurich
Defensive Coordinator: Glenn Spencer
Returning Starters
Offense: 9
Defense: 7
Key Losses: J.W. Walsh-QB, Jeremy Seaton-TE, Brandon Sheperd-WR, David Glidden-WR, Jimmy Bean-DE, Trace Clark-DE, Ryan Simmons-MLB, Kevin Peterson-CB, Michael Hunter-CB, Emmanuel Ogbah-DE (NFL)
Offense:
The 2016 Cowboys offense finished 22nd overall in the nation last year will be absolutely loaded. QB Mason Rudolph returns and will not have to split snaps with J.W. Walsh. The coaching staff now needs him to become more consistent and shine in their big games. Rudolph will have an embarrassment of riches at receiver with James Washington and Marcell Ateman. The running back position needs someone to step up and they are hoping Stanford transfer Barry Sanders Jr does just that.
Defense:
Which was the real Oklahoma St defense last season? The one who played well vs weaker offenses or the one gave up an average of 45 ppg in their last 5 games? The linebacking corps will return three senior starts in Chad Whitener, DeVante Averette and Jordan Burton, but they have to make more impact plays. Emmanuel Ogbah was a very athletic end who was very disruptive. Now that he's off to the NFL, who will replace him? The safety position is the rock in the secondary, but the corners need to remain healthy and more importantly, make plays.
Special Teams:
Fans are used to OSU having dynamite return men, but that wasn't really the case in 2016. Jale McCleskey in a feast or famine returner as he returned one punt for 67 yards and gained 44 yards total in his 21 other punts. Barry Sanders has returned kicks at Stanford and Coach Gundy hopes he can make a difference. The Cowboys return both their place kicker Ben Grogan and Zach Sinor. Both are very efficient and will look to build on that in 2016.
Biggest Concern Heading into 2016:
The defense, especially the run defense must improve in order for Oklahoma to take the next step. They gave up 187 yards per game on the ground and the new look defensive line will be called upon to rectify that. Baylor and Oklahoma combined for 648 rushing yards in back to back weeks vs the Cowboys. Will they be able to fix the run D?
Baylor
Location: Waco, Texas
Stadium: McLane Stadium
Capacity: 45,140
Mascot: Bruiser
Conference: Big 12
Schedule: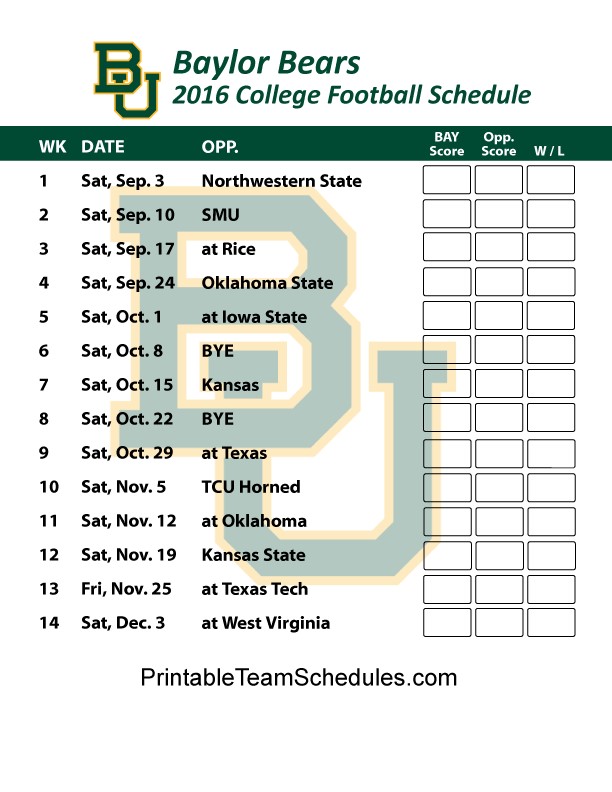 Head Coach; Jim Grobe (Interim)
Offensive Coordinator: Kendal Briles
Defensive Coordinator: Phil Bennett
Returning Starters
Offense: 5
Defense: 5
Key Losses: Jay Lee-WR, Gus Penning-TE, Spencer Drango-OT, Blake Muir-OG, Jarell Broxton-OG, Pat Colbert-OT, Corey Coleman-WR (NFL), Jamal Palmer-DE, Beau Blackshear-DT, Shawn Oakman-DE, Grant Campbell-MLB, Xavien Howard-CB (NFL), Andrew Billings-NT (NFL)
Offense:
Although Jim Grobe has stepped in for Art Briles, the offense should still be the same. They will bomb away with whomever the QB is and their slew of receivers. Baylor had injusry issues at QB, but they still finished first in the nation averaging 48 ppg and 616 ypg. Seth Russell is back healthy and will be throwing to an explosive receiving corps led by KD Cannon. The sneaky part of Baylor's successful offense is their running game. They boast one of the best backfields in the nation.
Defense:
The defense actually improved over previous ones. The secondary will grow into their best defensive unit due to the experience coming back to Waco. Baylor runs a 4-2-5 defense, but the DL must replace the production of Shawn Oakman and Andrew Billings. There isn't much depth up front, so being healthy is key. Conversely the linebacking corps has depth and enough veterans to help tout their brethren on the DL.
Special Teams:
Baylor has one of the best offenses in the nation, but they were only 71st in field position margin last season. The silver lining is Baylor doesn't punt that often. Their best returner Chris Pratt will be back scaring Big 12 coaches on kickoffs and punt returns.
Biggest Concern Heading into 2016:
The Bears need to be more disciplined. Over the last 3 seasons, the Bears have committed 365 penalties and 20 games with double digit penalties. Yes, the offense is great and can overcome those penalties, but what happens when the offense doesn't have it or they lose their QB to injury again? I be t Jim Grobe will instill more discipline this season.
TCU
Location: Fort Worth, Texas
Stadium Amon G. Carter Stadium
Capacity: 45,000
Mascot: Super Frog
Conference: Big 12
Schedule: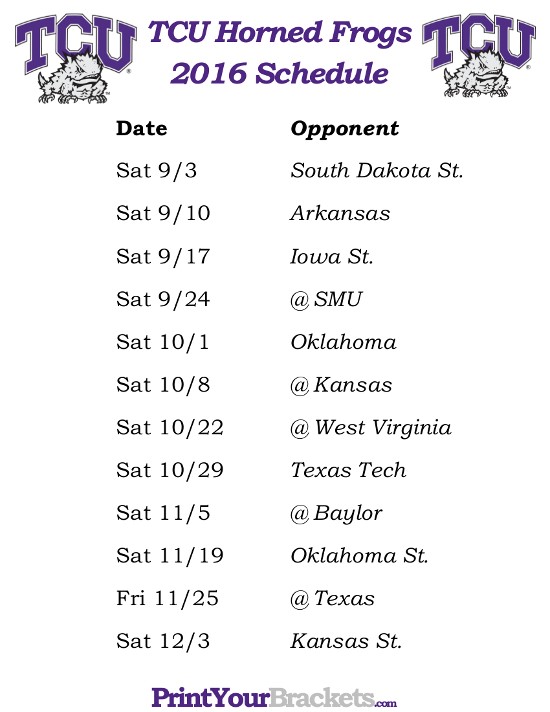 Head Coach: Gary Patterson
Offensive Coordinator: Jarett Anderson and Sonny Cumbie
Defensive Coordinator: Chad Glasgow
Returning Starters
Offense: 3
Defense: 7
Key Losses: Trevone Boykin-QB, Bram Kohlhausen-QB, Aaron Green-RB, Kolby Listenbee-WR, Josh Doctson-WR, Ja'Juan Story-WR, Halapoulivaati Vaitai-OT, Jamelle Naff-OG, Joey Hunt-C, Brady Foltz-OG, Jaden Oberkrom-K, Davion Pierson-DT, Mike Tuaua-DE, Terrell Lathan-DE, Corry O'Meally-CB, Derrick Kindred-FS, Ethan Perry-P
Offense:
Even with star quarterback Trevone Boykin banged up for stretches, the Horned Frogs still finished third in the nation in total offense and seventh in scoring. It might be more of the same, even with seven starters gone. The QB battle is between Texas A&M transfer Kenny "Trill" Hill and Foster Sawyer. The new QB will be handing the ball off to new backs in Tevorris Johnson and Kyle Hicks. They are both quick and very versatile. Although Josh Doctosn is gone, but keep your eye on KaVonte Turpin. He has the speed to take the top off any defense. Will he be able to replicate Doctson's impact? Only one starter is back on the line, but this is still a front five full of upperclassmen with a few different options to play around with. It's going to take a little while to come up with the right combination around veteran Joseph Noteboom at one tackle spot.
Defense:
TCU had some growing pains last year on D, but now they return 7 starters and they are primed to be just as nasty as a Gary Patterson D used to be. The linebacking corps in the 4-2-5 alignment will standout, starting with big tackler Travin Howard and with the combination of Montrel Wilson and Ty Summers as sound as any in the Big 12. This group won't make mistakes. Josh Carraway is one of the Big 12's best ends, and he'll have just enough help on the other side to keep the pressure and attention off. Aaron Curry came through as a decent tackle last season, and now he should be even more of a factor for an okay interior. Ranthony Texada is great-looking corner who's back to be the shut-down guy after being out most of last year hurt. It will take some time, but the secondary will be OK.
Special Teams:
Not too often teams dread losing their place kicker, but TCU must replace standout Jaden Oberkrom. We never know how good a kicker is until he kicks in live games. Although TCU lost 3 games last season, they could have easily lost 3 more if it wasn't for Oberkrom's leg. I wouldn't fret too much about their return game either. KaVontae Turpin is an electric player who will put TCU into great field position when their offense steps on the field.
Biggest Concern Heading into 2016:
It had to be QB. Trevone Boykin was a great QB and his playmaking will not be easily replaced. Will Hill or Sawyer step up and lead a pretty potent offense? Is Kenny Hill the player who was white hot vs a bad South Carolina team, or is he the QB who lost his job to Kyle Allen. This is his chance if he seizes it.
Texas
Location: Austin, Texas
Stadium: Darrell K. Royal-Texas Memorial Stadium
Capacity: 100,119
Mascot: Bevo
Conference: Big 12
Schedule: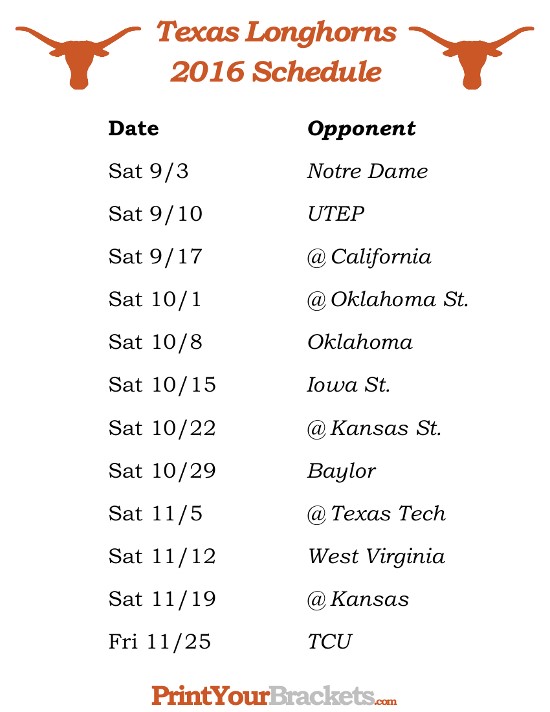 Head Coach: Charlie Strong
Offensive Coordinator: Sterlin Gilbert
Defensive Coordinator: Vance Bedford
Returning Starters
Offense: 7
Defense: 7
Key Losses: Johnathan Gray-TB, Daje Johnson-WR, Marcus Johnson-WR, Sedrick Flowers-OG, Taylor Doyle-C, Nick Rose-K, Shiro Davis-DE, Desmond Jackson-DT, Peter Jinkens-SLB, Duke Thomas-NB, Hassan Ridgeway-DT (NFL)
Offense:
The offense wants to speed things up, but they have a powerful rushing attack in Chris Warren III and D'Onta Freeman. The ground attack will carry the team and should be the strength, especially who's at QB. The QB competition is between veteran Tyrone Swoopes, Jerrod Hurd, and highly touted freshman Steve Buechele. There is no household name at WR, but they have a nice group; however, a #1 WR must standout to help the new QB. The offensive line should be the best of Charlie Strong era, but it's still a young group that will go through a few growing pains.
Defense:
The Longhorns will play around with the 4-2-5 alignment to combat the pass-happy Big-12, but they can easily switch to the 4-3 without a problem. The linebacking corps led by Malik Jefferson is loaded and ready to make an impact. Davante Davis and Holton Hill will become one of the Big 12's best CB tandems. The tackles are thin in the rotation, but Poona Ford and Paul Boyette are two good starters inside. The ends are deeper and have more upside. The pass rush generated 37 sacks last season and will only get better.
Special Teams:
I know Texas fans remember all too well the special teams clammed up vs Cal and Oklahoma St., but their special teams were pretty good last season. The Longhorns lost kicker Nick Rose and return man Daje Johnson. Texas has plenty of guys who could grow into great return men, but the jury is still out on the new kicker.
Biggest Concern Heading into 2016:
Stopping the run will be key to Texas finally turning things around. Last season, Texas gave up 1,137 rushing yards and 10 rushing TDs during their last four games. They ended up allowing 2,630 yards and 20 rushing TDs. The DL needs to become dominant in order to fix the run defense.
West Virginia
Location: Morgantown, West Virginia
Stadium: Mountaineer Field at Milan Puskar Stadium
Capacity: 60,000
Mascot: The Mountanineer
Conference: Big 12
Schedule: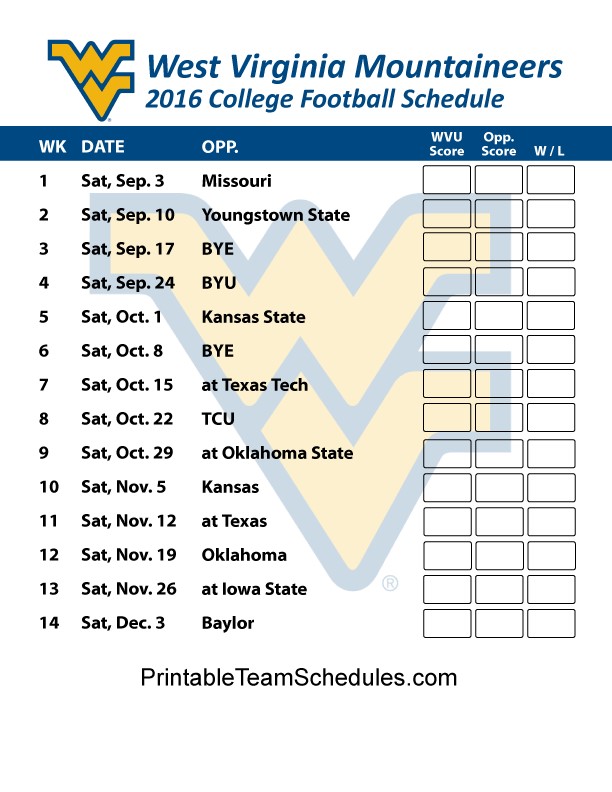 Head Coach: Dana Holgorsen
Offensive Coordinator: Joe Wickline
Defensive Coordinator: Tony Gibson
Returning Starters
Offense: 9
Defense: 4
Key Losses: Wendell Smallwood RB, Jordan Thompson-WR, Marquis Lucas-LT, Kyle Rose-NT, Eric Kinsey-DE, Isiah Bruce-DE, Nick Kwiatkoski-LB, Shaq Petteway-LB, Jared Barber-LB
Offense:
A Dana Holgorsen offense is known for throwing the ball around, but it was the running game that rolled last season finishing 16th in the nation for an offense that finished 23rd in the country. The ground game will still be great, but the passing game should improve. Sr Skyler Howard is a nice QB who should build on his great game in the bowl game vs Arizona St. Howard has a loaded receiving corps throw to in Daikiel Shorts, Shelton Gibson, and Ka'Raun White. Rushel Shell will step in for departing leading rusher Wendell Smallwood. Shell has more upside, but he needs to bring it every week. C Tyler Orlosky leads a veteran group that'll tinker around with the lineup this fall.
Defense:
For being in the Big 12, West Virginia came up with a strong defensive season allowing 24 points or fewer in seven games. Darrien Howard and Noble Nwachukwu will lead an experienced defensive front. The linebacking corps lost Nick Kwiatkoski along with Shaq Petteway; however, veteran backups of last year are ready to step up and shine, with junior Al-Rasheed Benton about to become a standout. The Mountaineers should be solid starting with Dravon Askew-Henry at one safety job. This could be the team's biggest work in progress as it tries to find the right starting five, but there's no one like Joseph.
Special Teams:
The Mountaineers lose a great punter in Nick O'Toole and having a good punter is an underrated aspect of any football team. The return game was pretty average, but nothing to fear, but it might not be a good idea challenging Jovon Durante and Shelton Gibson.
Biggest Issue Heading into 2016:
Rushel Shell is a very talented RB, but who will emerge as his backup? The key is nt wearing Shell down, so Kenny McKoy will be called upon to backup Shell. A change of pace would not only do this offense good, but also preserves Shell throughout the season.
Texas Tech
Location: Lubbock, Texas
Stadium: Jones AT&T Stadium
Capacity: 60,454
Mascot: Raider Red
Conference: Big 12
Schedule: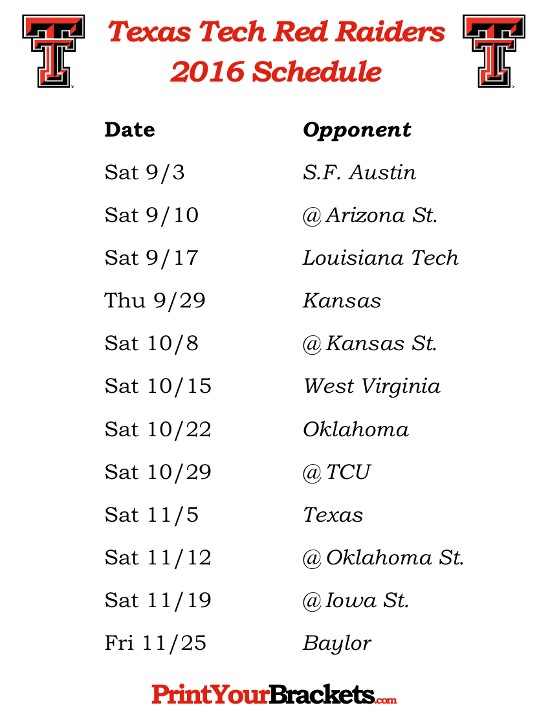 Returning Starters
Offense: 5
Defense: 7
Key Losses: DeAndre Washington-RB, Jakeem Grant-WR, Devin Lauderdale-WR, Brad Pearson-WR, Le'Raven Clark-LT, Alfredo Morales-LG, Jared Kaster-C, Pete Robertson-DE, Branden Jackson-DE, Demetrius Alston-DT, Micah Awe-LB, Dakota Allen-LB, J.J. Gaines-CB
Offense
The Red Raider attack averaged 45 points per game, 388 passing yards, and 580 yards overall. To no one's surprise, Texas Tech was 2nd in the nation in scoring, passing, and total yards. The scary part is this offense could be even better in 2016. QB Patrick Mahomes had a great 2015 and will only get better in 2016-as long as the OL gives him time to throw. The receiving corps doesn't have that one main guy, but they are a good group who will put up huge numbers.
Defense
To no one's surprise, The Red Raiders' defense was abysmal last season. They finished second to last in total defense, gave up an average of 548 yards per game and gave up 43.6 points per game. The offesense scored 45 ppg, but giving up 43.6 ppg left the offense with virtually no margin for error. DT Breiden Fehoko leads a front four who is looking to generate more pressure than last season. The secondary is a veteran group and the hope around Lubbock is they can become more physical. Dakota Allen was Tech's best linebacker, but he was kicked off the team. Who will be the lynchpin at linebacker?
Special Teams:
Texas Tech rarely punts, but their punters were effective when called upon. The kicking game was solid and both kickers are back. The key is finding a new kick returner to replace the very dangerous Jakeem Grant. He was dangerous, but was feast or famine at times. Tech is hoping Tyler Scalzi and Cameron Batson will provide some playmaking from the return game.
Biggest Issue Heading into 2016:
Texas Tech must get better defending 3rd down. The key to defending 3rd down is defending 1st and 2nd down. The Red Raiders were awful defending the run, so opponents ended up in far too many manageable 3rd down. As a result, opponents converted 3rd down at a whopping 49.7% rate. The Red Raiders must win 1st and 2nd down in order to be better on 3rd down.
Kansas State
Location: Manhattan, Kansas
Stadium: Bill Snyder Family Stadium
Capacity: 50,000
Mascot: Willie the Wildcat
Conference: Big 12
Schedule: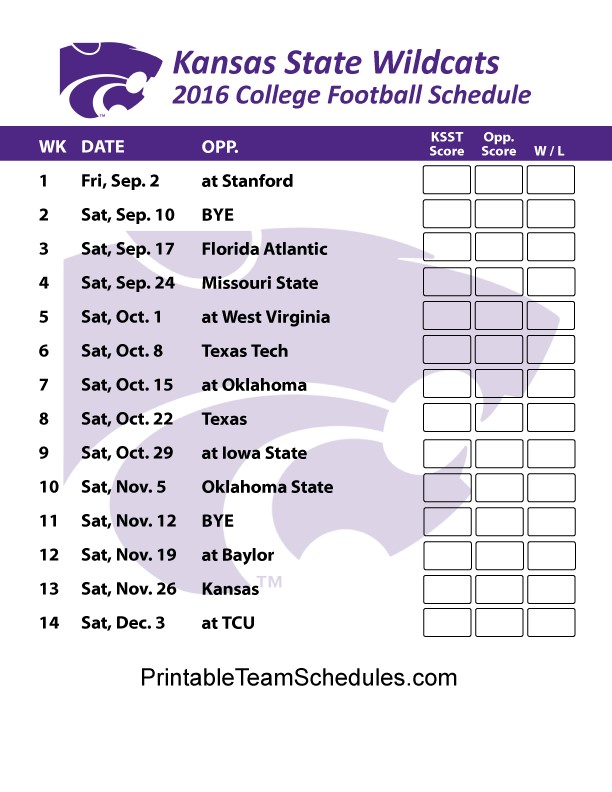 Head Coach; Bill Snyder
Offensive Coordinator: Dana Dimel/Del Miller
Defensive Coordinator: Tom Hayes
Returning Starters
Offense: 5
Defense: 7
Key Losses: Glenn Gronkowski-FB, Kody Cook-WR, Kyle Klein-WR, Cody Whitehair-LT, Boston Stiverson-LG, Matt Kleinsorge-RT, Luke Hayes-RG, Travis Britz-DL, Morgan Burns-CB, Nate Jackson-SS, Kaleb Prewett-FS
Offense
The Wildcats' offense struggled throughout 2015. Nothing worked and scoring points was as excruciating as a root canal. Joe Hubener was OK last season, but he was the only QB left standing. Hubener is battling for the starting gig against Alex Delton and Jessie Ertz. Can Charles Jones create some much needed pop in the run game behind a below average line? Kansas State is depending in JUCO transfer Byron Pringle to add some pop to the passing attack.
Defense:
The Wildcats' D should be much improved in 2016. They will have the pieces to improve on a bad pass D in 2015. Their strength in their linebacking corps that possesses toughness, depth and speed. Thos traits are critical when going against pass happy Big 12 offenses. The starting defensive line should be solid as long as they can hold up, but that's the issue. They don't have much depth, so health up front is a huge question mark. The secondary had a litany of issues in 2015, but the return of S Dante Barnett will give this secondary a much needed talent boost.
Special Teams
A staple of Kansas State football under Bill Snyder has and continues to be great special teams. They lost dynamic Morgan Burns who returned 4 kicks for touchdowns and averaged 33.5 yards per kick return. Will Dominique Heath be able to be dynamic in the return game? Jr Matthew McCrane takes over the kicking duties while Nick Walsh returns as the starting punter.
Biggest Issue Heading into 2016:
Can the Wildcats get to at least efficient on offense? The running game was terrible as they averaged 158 yards per game on the ground and only 11th in the nation in pass efficiency. There are times when the ground game doesn't have it, but the passing game helps out and vice versa. The problem was K-State could lean on neither unit.
Iowa State
Location: Ames, Iowa
Stadium: Jack Trice Stadium
Capacity: 61,500
Mascot: Cy the Cardinal
Conference: Big 12
Schedule: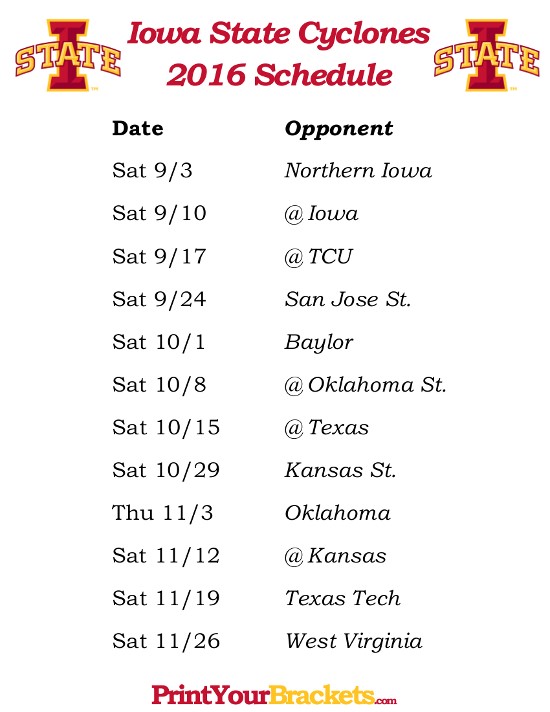 Head Coach: Matt Campbell
Offensive Coordinator: Tom Manning
Defensive Coordinator: Jon Heacock
Returning Starters
Offense: 6
Defense: 8
Key Losses: Sam Richardson-QB, Joshua Thompson-RB, Quenton Bundrage-WR, Juan Wesley-WR, Jamison Lalk-C, Brock Dagel-RT, Daniel Burton-LG, Dale Pierson-DL, Jordan Harris-LB, Levi Peters-LB, Qujuan Floyd-SS, Darian Cotton-FS
Offense
New OC Tom Manning wants to employ a power running attack, control the clock, and become super-efficient. RB Mike Warren will be the big beneficiary of this shift in philosophy, but behind Warren is a very thin group of backs. In 2015, the OL gave up 42 sacks last season, so getting the line to block and protect better is vital. Receiver Allen Lazard is the go to target out of an experienced group. They will make QB Joel Lanning's life easier.
Defense
DC Jon Heacock will have to rebuild a defense that finished 107th in the nation and was abysmal vs the pass. They finished 1th in both pass D and pass efficiency D. Ironically, the secondary might end u being the strength of the defense led by veteran CB Brian Peavy. The pass rush improved over the second half of the season, but there is room for improvement. DT Demond Tucker is going to become big time, but they need some ends to step up and compliment him. Led by Jordan Harris, the linebacking corps should see the most improvement with veterans and good depth.
Special Teams
The Cyclones were excellent punting and returning punts, but this issue is they play in the offense happy Big 12 where punts are rare. Allen Lazard and Trever Ryan were big time returners in 2015 and will only become more of a force in the return game this season. PK Cole Netten and Punter Colin Downing both return and build upon productive years.
Biggest Concern Heading into 2016:
In 2016, the Cyclones must win the turnover battle. The Cyclones don't have the firepower most Big 12 teams do, they can't afford to give away easy chances. They were -11 in turnover margin being on the right side of it just one time, a +1 in the win over Texas. Conversely, the defense must force more turnovers so this limited offense can get easier scoring opportunities
Kansas
Location: Lawrence, Kansas
Stadium: Memorial Stadium
Capacity: 50,071
Mascot: Big Jay
Conference; Big 12
Schedule: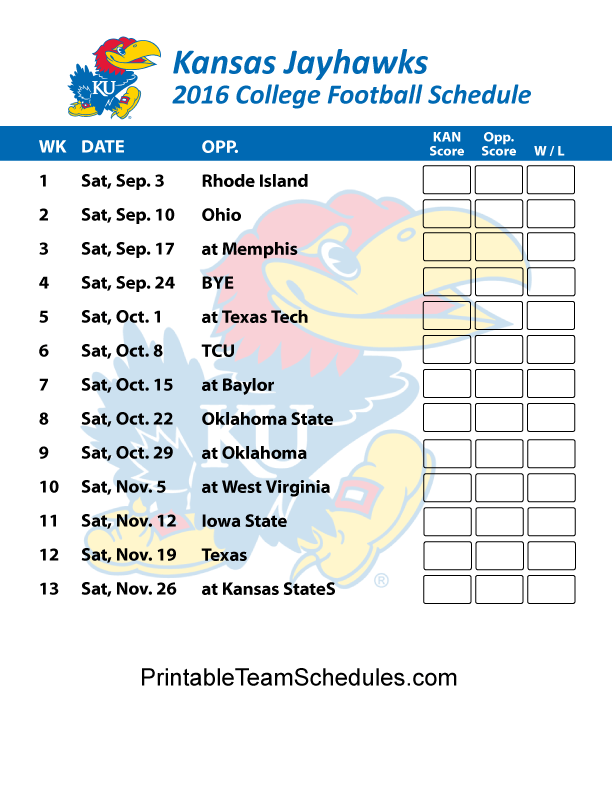 Head Coach: David Beaty
Offensive Coordinator: Rob Likens
Defensive Coordinator: Clint Bowen/Kenny Perry
Returning Starters
Offense: 6
Defense: 7
Key Losses: Taylor Cox-RB, Tre' Parmalee-WR, Kent Taylor-TE, Keyon Haughton-C, Larry Mazyck-RT, Bryan Peter-LG, Ben Goodman, Jr-DL, Corey King-DL,
Offense
Kansas failed to crank out more than 20 points in any of the last 10 games and averaged just 332 yards per game in a league where everyone scores. QB Ryan Willis started as a freshman and flashed plenty of potential; however, he needs more front end talent to grow with him. The receivers are a work in progress, but they need to find a true #1 target. Kansas has a good TE in Ben Johnson, but a #1 WR would make his life easier. Ke'aun Kinner is a nice RB, but he's not on the level of a Samaje Perrine. The key to Kinner finding success is the rebuilt offensive line gelling.
Defense
Kansas had the worst defense in college football. They allowed 561 ypg and 46 ppg, while giving u over 40 ppg eight times. Step one in rebuilding this defense is for the D-Line to become tougher. They got pushed around way too easily last season and didn't create much of a pass rush. The equally bad secondary might improve if the D-Line gets more pressure on the QB, but those corners need to become playmakers. This group is experienced, so expect improvement this season. The strong linebacking corps is led by the tough Marcquis Roberts and Joe Dineen. This unit is deep and is a nice building block.
Special Teams
To no one's surprise, the special teams was bad as well; however, there is one silver lining. Matthew Wyman did an excellent job kicking off and the kick coverage unit was pretty solid too. Kansas also needs to become more dynamic in the return game. They only ranked above 87th in kickoffs. The entire special teams unit returns, but is that a good thing?
Biggest Concern Heading into 2016
Kansas must extend drives. The defense might be able to improve if the offense were able to move the ball. The Jayhawks averaged only 17.7 first downs per game and things got worse after their first two games. Kansas got 52 first downs in their first 2 games, but 160 in their final 10 games.
Tabius Bixby, for War Room Sports