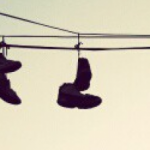 A few days ago Rap Radar posted a music video by recording artist Rico Love from his Discrete Luxury EP, entitled Bitches Be Like (which I'll stylize as Bxtches Be Like).  Amused by the title, my first impulse was to click the link to humor myself of what I thought I was about to hear.  Instead, I heard something very different.  A type of twisted social commentary is what I call it.
Bxtches Be Like, for those who are not well versed in social media, is an Internet colloquialism for describing what women stereotypically do: with the word "bxtches" replacing "women" as a name that is attached to the stereotypical behavior.
On the outset the song appears to be a loving but firm discourse. Love topics particular women who chase after material possessions and meaningless relationships because they don't know their own worth.  "You were always the life of the party/But when you gonna give your life to somebody/It's like you find more pain than pleasure/You know you can't play that game forever/How long you gon' carry on, carry on like this/Different city every night still looking for a nxgga who gon' wife it."  Click here to read the full review.