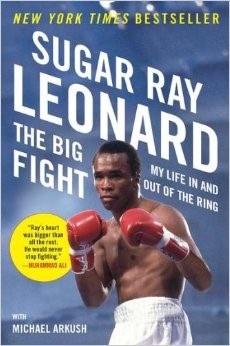 I always find it amusing when people judge an athlete's performance based on how they feel about them as a person.  I mean I get it, but it still makes no sense.   You can be a horrible human being and allegedly kill your ex-wife and her friend, get acquitted, and later be sent to prison for robbing someone of your own belongings.  That does not mean you were not one hell of a running back.  What does that have to do with Sugar Ray Leonard and his book you ask?  Well before reading this book I had a picture of Sugar Ray that has completely changed. Before starting this book I always looked at Ray Leonard (I'm not going to keep calling that man Sugar, Yo!) as a member of the Abnegation faction but now I see him as a member of the Dauntless faction.  If you've never read the Divergent books or seen the movie, that last sentence will make no sense to you; but if you have, you will recognize my genius.
I've read a lot of athletes' memoirs and boxers seem to be the most transparent and have the most interesting stories.  Then again, someone who makes a living trying to hurt another human being while also taking punishment from said human being has got to be off their rocker to begin with.  Mike Tyson has set the bar in terms of being transparent and having an amazing story, so Ray Leonard's book had a lot to live up to.  Although Ray Leonard's book was released first, I read the Tyson book first.  This is no Tyson story but it is interesting in its own way (S/O to Todd Bridges for inspiring Ray Leonard to tell his story).  I grew up in the Tyson era so I knew of many of his hardships and troubles.  My opinion of Ray Leonard before this book was of someone who was articulate, athletic, marketable, a nice guy who happened to be a pugilist specialist (No Bosh).  My brother B. Austin believes that Ray Leonard is overrated in terms of his boxing ability and I've always disagreed.  One thing we've always agreed on is his image.  That image has been shattered by his honesty in this book where he speaks about faking blackouts to make weight, sexual assault, drug abuse, and his obsession with finding "talent" in various cities for the purpose of fornication.  A lot of time is spent discussing how he disrespected his first wife and how he was addicted to intercourse with all types of women.  Don't get me wrong, all men love yoni (unless you live an alternative lifestyle, and if you do, God bless you) but boxers seem to be bigger addicts then most of us.
There are also parts of this book that make you appreciate Ray Leonard as a pugilist.  It's obvious how serious he took his sport and how he strategized before fights.  It's also great to hear the respect he has for his fellow boxers, especially the men with whom he had his classic bouts.  Another part of the book that made me appreciate Ray Leonard the athlete was how serious he took self-improvement and wanting to be a well-rounded person.  He worked on his speech and image.  He also talked about how many Blacks considered him a "sell-out" because he was well spoken.  I can relate to that.  Many of us have self-hatred that goes back to slavery and how systematically we were made to see ourselves as inferior (I won't get into that now).  I remember I was once called spoiled because I knew who both of my parents were (WTF?).
After reading this, I have a completely different idea of who Ray Leonard is/was. I respect him for being open and honest about his life even though he doesn't come off as the good guy at all.  We live in a world where everyone is judgmental and wants to hold people to higher moral standards than we do ourselves.  I've also read athletes' biographies where they talk about their life as if they did no wrong and they are the perfect person (S/O to Shaq), and we all know that's unrealistic and a bunch of cow dung.  I would recommend this book to all sports fans, especially people who are fans of the "sweet science".   Ray Leonard may not be the man he was marketed to be but he is brutally honest and maybe someone can learn something from his story.  I doubt it though, because "The Nookie" has been making men do stupid things since the beginning of time, and some things never change.