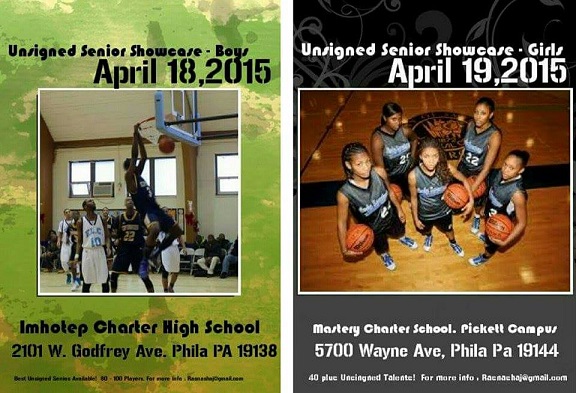 High school basketball with a purpose was played this past weekend in the hoops-rich city of Philadelphia, PA.  Division 2, Division 3, junior college, and prep-school coaches & scouts from up and down (but not limited to) the Eastern Seaboard descended upon Philly to get a glimpse of the City of Brotherly Love's top unsigned seniors (boys & girls), showcasing their talents in hopes of landing a ticket to further their basketball careers, as well as a ticket to higher education.
Put together by Retroaction Sports, the 6th annual boys' event took place on Saturday, April 18th, at Imhotep Institute Charter High School, while the inaugural girls' event took place the very next day at Mastery Charter School – Pickett Campus.
Prior to the showcase, two of the event's organizers from Retroaction Sports (Richard Guillen & Jamal Green) joined War Room Sports for a radio interview, where Green explained why they hold this event year after year.
"We originally started because we wanted to help kids in the Tri-State Area [and all over].  We just really wanted to give kids a shot and a chance to get recruited, mostly from the Public League and Catholic League, who really weren't getting highly recruited… We've been blessed to get a lot of kids in school over the past 5-6 years… Helping kids get into school is our #1 goal."
Richard Guillen followed up by letting us know that Retroaction Sports is much more than just a basketball program.
"The Retroaction Sports Movement goes way beyond this stuff [basketball] because we're just trying to help these kids earn their education and give them a little bit more flexibility at life."
In a packed gym at Imhotep Charter, dozens of talented high school seniors showed up to punch their tickets to an opportunity at the life flexibility Guillen spoke of.  As expected, when 17-18 year olds are playing in front of an audience that can change their futures, nerves and jitters plagued the early action of each game.  Once the participants settled down and got into a groove, nerves and jitters transformed into an amazing display of athleticism and sheer hunger.  When the dust settled after five extremely hard fought games, representatives from the numerous colleges and universities in attendance scrambled to get to guys that could potentially be important cogs in the next generation of their programs.
Several guys had moments throughout the day, but here are a few of my standout players from Saturday:
Amir Hinton – 6'4" Combo Guard – Abington High School (My most outstanding player of the showcase)
Khalif Tinley – 6'1" Wing Guard – Imhotep Institute Charter High School
Dom Morales – 6'2" Wing Guard – High School of the Future
On Sunday, the ladies took center stage.  I was very impressed with the level of play at their showcase.  Not because I didn't expect them to be so talented, but because it seemed as if no one caved to the pressure of playing in front of college coaches and scouts.  As expected, the girls didn't draw the same type of crowd as the boys the day before, but those who didn't show missed out on a great display of a fundamentally sound, intelligent brand of basketball.
In a couple of games stacked with immense talent, a few young ladies really stood out to me:
Romeira Tucker – 5'7" Combo Guard – Audenried High School
Ka'ryne Benson – 5'5" Combo Guard – Goretti High School
Aigner Bookard – 5'7" Point Guard – International Academy
Diamond Talley – 5'9" Small Forward – Central High School
All in all, it was a great weekend of basketball for an even greater cause.  What Retroaction Sports is doing in the community is a much needed vehicle for kids that dream of reaching greater heights with their love of basketball being a means to an end.  Throughout the weekend, I watched Rasool Hajj of Retroaction Sports work the crowd of college coaches, personally advocating on behalf of players (girls & boys) who'd sparked interest among the coaching fraternity in attendance.  I even saw him advocating on behalf of players who weren't having their best day at the showcase, but should be noticed nonetheless.  Being an alumnus of Philadelphia Public League Basketball myself, it is great to see guys working hard for the kids who didn't get a plethora of attention during their high school playing careers.  Talent is oftentimes discovered in places that aren't so obvious.  Having met Hajj when I myself was a young kid running up and down the basketball courts of North Philly, I can attest to his love for the game and his dedication to the advancement of the next generation.  If you possess similar traits, I encourage you to get involved.   Whether you're in Philly, Jersey, New York, Delaware, Maryland, Washington, D.C., and beyond, I encourage you all to visit www.RetroactionSports.Wordpress.com and find out what you can do to help next year's showcase be even greater.  You can also keep an eye on the website to find out about any other events the organization has going on throughout the year.  Big kudos to the work that Hajj, Green, and Guillen are doing, providing flexibility in the lives of Philly youth.