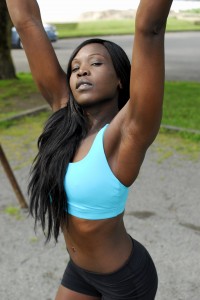 My love affair with iron started over 7 years ago.  I love lifting.  I do it when I am happy, sad, excited or even anxious.  I am down for iron during all seasons; I even walk to the gym in -20 degree Celsius to get it in. Being a fitness model and a bikini competitor, my go-to method of training is isolation training.  My goal is to build muscles and sculpt a jaw dropping physique accompanied by beautiful feminine curves. Isolation training is very ideal for muscle hypertrophy (muscle growth and increase in size) because isolation exercises are movements that involve one joint or one muscle group. You get to focus on that particular muscle and pay it full attention then allow it enough time for recovery.  I would train one or two muscle groups a day, for example; deltoids and triceps, dedicating at least 4 different exercises to each group.  Isolation training is also great for people who are healing from an injury or muscular imbalance.  Because my commitment and dedication to training resulted in amazing gains, I decided it is time to push the envelope and shake things up a little.  What is life without some spice?!  I want to be stronger, faster…better!!! As great as isolation training is, it does not always translate well to real life, but functional training (FT) does. For example, performing a 40lb/100m Farmer's Walk will make carrying your groceries from your car to your 4th floor condo a walk in the park. Or when picking up a child or a desk, you recruit the same muscles as picking up a medicine ball during a medicine ball slam. So basically functional training is specially designed to improve your performance in real life and real sports situations because different muscles have to work together to achieve the desired movement.  Functional exercises work multiple joints and emphasize the body's natural ability to move.  The best thing about Functional training is that it is suitable for everyone from a beginner to elite athletes.  It is for all people who want to train smart to step up their personal level.  To get stronger and fitter, improve their performance in their sport, prevent injuries, lose weight, look better or just to become their healthiest and fittest.  Here's a sample of one of my functional training exercises.
Sample Workout
50 Push-ups
50 Pull-ups
50 Barbell Squats
50 Dips
50 Burpees
50 Situps
50 Medicine Ball Slams
50 Jumping Lunges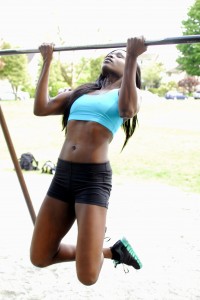 I usually perform these with little to no rest in between; only to collect energy when needed.  I incorporated two sessions of FT into my weekly training routine beside my three sessions of isolation training and one session of yoga with aerobic exercise 5 times a week.
There are many benefits to functional training that isolation training does not offer.  By doing this type of training, you will develop greater strength, balance, coordination, endurance, flexibility and focus. In addition, it is the best way of training to prevent injuries. Here are few benefits that I have experienced first hand:
1. STRENGTH: FT provides functional upper body, lower body and core exercises that will improve the strength of your muscles.  Functional training exercises work with multiple joints, challenging whole muscle chains, just like in real sports and real life.
2. ENDURANCE: FT training sessions are designed to improve your aerobic and anaerobic endurance so you can go harder for a longer period of time.
3. BALANCE AND COORDINATION: Coordination and balance are one of the key ingredients of FT.  It is the secret of being able to react appropriately to different situations or changing conditions.  Training our balance and coordination is not only to achieve our best performance but more importantly to prevent injuries.
4. FLEXIBILITY: Training for real sports and real life range of motion is a fundamental advantage of functional training! Muscles and joints prepared in this way perform better and resist injury better.
5. FOCUS: Every FT session has been designed to improve focus. Time interval work/rest periods help you to stay focused when performing and also to relax and collect energy when resting.  The exercises (see sample) are very challenging and by reducing resting times during the training sessions the training itself does not only get more efficient but you also train to stay focused when your body is already tired. Being able to focus will also help you avoid injury through mistakes and mishaps in your sport.
INJURY PREVENTION: For all levels of athletes injury prevention is a big gain and one of the reasons worth training for. For non-athletes staying healthy is a must in order to achieve the goals planned. To avoid injuries it is essential to perform exercises with proper form.
In order to perform optimally and get the best results from FT, do the following:
1.  Warmup with an aerobic exercise for 5-10 minutes making sure there is enough blood flowing through the muscles and the body is ready for intense training.
2.  Make sure you are not training on a full or an empty stomach.  Eat 3-2 hours before training.
3.  Cool down and stretch after your session.
4.  Hydrate well.
5.  Eat plenty of complex carbs, healthy fat, and lean protein; don't cut back on carbs, you will need the energy.
6.  Get enough sleep.
Note that functional trainer differs from fitness' latest craze and bastard child known as CrossFit.  There are no Olympic lifting style exercises such as clean and jerk or snatches.  Absolutely, no heavy lifting while racing the clock, and most importantly, proper form takes precedence in FT.  As you can see from the sample workout, most of the exercises are done with body weight or light weights, and the movements involved in performing them are very natural, e.g., pulling your own body weight, jumping, picking up a ball…etc.  The point of FT is to get stronger and prevent injuries so paying special attention to form is key, and never sacrifice form for speed.