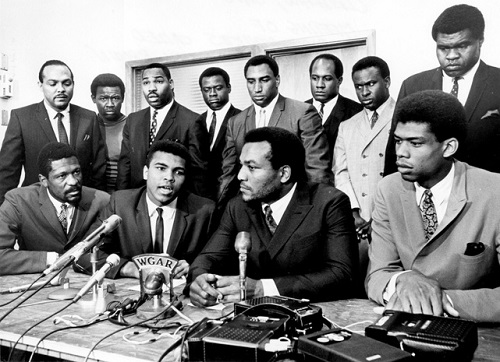 I'll be honest, I've never participated in the "Kobe v. LeBron" or "Kobe v. MJ" debates and I've refrained for a simple reason. None of the aforementioned names come anywhere close to being the "greatest" in basketball. I love Floyd Mayweather and he has a success story which is filled with hard work and dedication, yet in still he can never be the "greatest". I just watched the Super Bowl and was rooting for the Patriots, though after the victory I refused to engage in the "is Tom Brady the greatest?" discussion. Why? Because the greatest is named Jim Brown! The greatest in basketball are named Bill Russell & Kareem Abdul-Jabbar! The greatest boxer is named Muhammad Ali!
How do I define greatness, or the "greatest"? I define it by one's performance on and off the field. To be the "greatest" means that you persevered through far more than anyone else, emerged victorious and uncompromised. How can Michael Jordan, or LeBron James, or Kobe Bryant be the "greatest"? I've never heard of MJ speaking up for the inner city youth that die for his shoes, much less the Chinese youth that make them. I appreciate LeBron's speaking up on issues and his philanthropic efforts, but how does any of that exist without Bill Russell and Kareem Abdul-Jabbar? If we are to talk hardware, Bill Russell won 11 NBA championships and did so as both a player and coach in one of the most racially hostile cities in America (Boston). Kareem Abdul-Jabbar (aka Mr. Never White America's Negro) won 6 NBA championships. If we are to talk about more than championships, Bill and Kareem have been avid advocates and spokespersons for Melanin/Hebrew/African-American people! They stood with boxing's "greatest" Muhammad Ali, as he took on the racist and biased institution.
Jim Brown? Well he only won 1 NFL Championship, yet his fight of racism and injustice, his youth work and his constant advocacy have more diamonds in them than any ring!!!!
Thats how I define greatness……so sorry….MJ never has a chance, Kobe not even close, LeBron (I guess we can wait and see) can be 3rd at best! Brady, no way, Montana, never heard of him. Marshawn………heeeeyyyyy……..ask Jim about that one!