by Veree Bampoe-Addo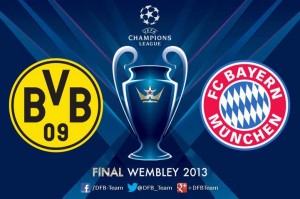 Saturday will mark the first time two German Clubs are meeting in the Champions League Final.  Bayern Munich vs. Borussia Dortmund. These two clubs meeting in the CL final is in no way a fluke – let's take a quick look at each of their paths: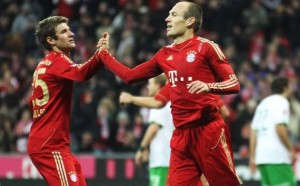 Bayern for one finds itself in the title game for the third time in the past four seasons.  They came up short in 2010 vs. Inter Milan when Diego Milito managed to find the net twice in a fairly boring match.  Then just last year when it seemed they had the deal sealed vs. Chelsea with a Thomas Muller goal in the 83rd minute, Didier Drogba equalized 5 minutes later to force extra time and an eventual PK shoot out ending in a heartbreaker.  In this year's tournament, Bayern defeated Arsenal, Juventus, and European League Super Power Barcelona in the knockout stages.  The aggregate of the two games with Barcelona was 7-0; it doesn't get any more impressive than that.
Shifting gears to Dortmund – I'd be lying if I said I've seen more than a handful of their games, but if you're able to top a group that includes 2012 Premier League Champ Manchester City and Spanish League Giant Real Madrid, chances are it's your year.  Not only did they win their group that included RM, but when the two teams met in the Semi-Finals they advanced courtesy of a 4-3 aggregate (they smashed Madrid 4-1 in the first leg).
Now to my prediction:
Wembley Stadium will be rocking on Saturday night, let's dub it the "German Takeover".  Two Rival German clubs both with a rich history.  Bayern of course the more notable club of the two, considering the amount of success they've had in the German League (all-time leader with 23 titles) and are coming into this Champions League title game on a high as newly crowned German Champs, dethroning who else – Borussia Dortmund who had held the title for the previous two seasons.  I'm picking Bayern because they're a lot more experienced and even though they've come up short in their last two tries; they're accustomed to being in this spot.  From a talent standpoint, Bayern has the better roster top to bottom.  German National Team superstars Mario Gomez, Bastian Schweinstagger, Thomas Muller, and Phillip Lahm might be too much for Dortmund to handle.  These guys were part of the National Team that finished third in the last World Cup (2010).  Throw in French National star Franck Ribery and Dutch icon Arjen Robben and Dortmund may be overwhelmed.  We can't overlook the fact that Dortmund has had Bayern's number in recent years – Bayern hasn't defeated Borussia Dortmund over the past 3 seasons (6 games total).  Hopefully all of this build up leads to a thriller of a CL Final like we saw last year.  Bayern Munich wins 3-1 to claim their first CL Title since 2001.
Veree Bampoe-Addo of The Sports Forum, for War Room Sports