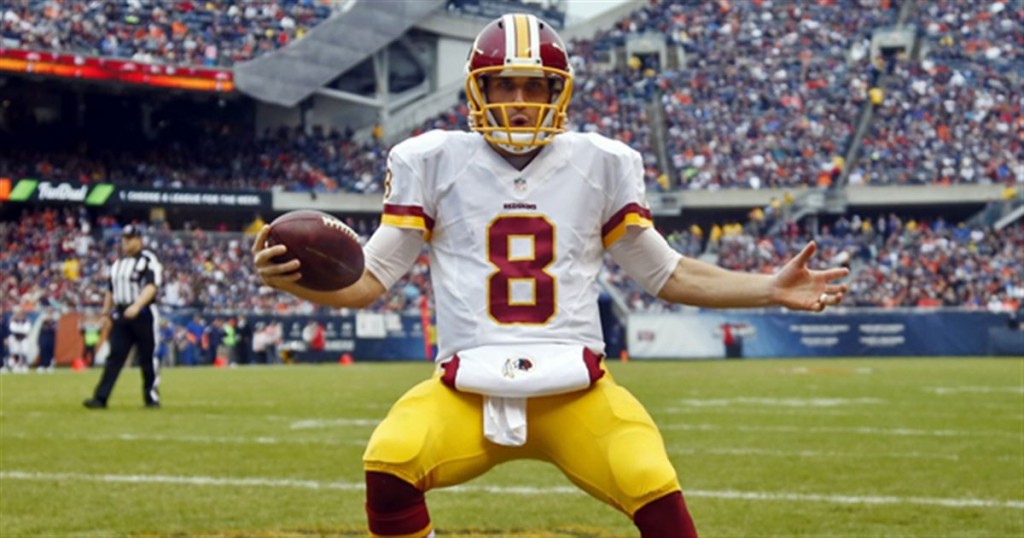 With the agreement to acquire Kansas City QB Alex Smith, the marriage between Washington and its QB, Kirk Cousins, is all but over. Though Smith's contract extension details have yet to come out, my guess is that it is front loaded for him and back end friendly, which would allow Washington to get out should he start to decline quickly. Cousins will become a free agent and command in the range of $27-29 million per year, making him the highest paid player in the league.
The issue was not if Washington would have saved money signing QB Kirk Cousins to a long-term deal two years ago. They obviously would have. If I had purchased a nice car in 2016, it would have cost me less than in 2018. But could I have afforded the maintenance and up-keep necessary for that vehicle to function at its maximum best? If the answer is no, why buy the car?
The issue was if they had signed him, would they have been any better off than the Baltimore Ravens have been since they re-signed Joe Flacco? Is Kirk Cousins a top 5-10 caliber QB that will keep you in the hunt for a Super Bowl every year? If the answers to these two questions are no, then Washington was right all along about Cousins.
Kirk Cousins is a more than adequate starting NFL QB. He was never as bad as ESPN talk show host Bomani Jones suggested, comparing him to Ryan Fitzpatrick. He also is not a top 5-10 guy, which is the only QBs teams should lock up with the big money.  The two glaring concerns I have about Cousins as a QB are: 1) that he is not a confident down field passer; and 2) he is not a good improviser. These happen to be the two QB aspects that defenses fear the most. They do not fear a guy whom they know will stay in the pocket and throw short passes most of the day. That is what Kirk Cousins has been.
It's about now when some reading this will respond with stats. They do in fact look good for Cousins over the past 3 seasons. They are also terribly misleading. At no time in football history have QB stats been as artificially embellished as they are today. There are several factors that have created this environment: 1) the generational influence of the West Coast offense which emphasizes the short passing game (of which Washington Head coach Jay Gruden is a disciple) and; 2) increased defensive sophistication in scheming, especially in taking away big plays.  As a result, what was at one time the 3rd or 4th option, the check down pass to a back has now become the second and sometimes primary target. This leads to higher pass completion percentages and appeals to the defensive-minded coaches as well, as it is more risk averse. These same coaches are from the school of thought that says, "just don't lose us the game". This philosophy leads to a game manager mindset in the QB and less down field passes.
Don't feel bad for Cousins. He is going to benefit greatly from a perfect storm of factors, most of all being the fact that the demand for quality QBs so far outweighs the supply. That is how the likes of Brock Osweiller and Mike Glennon could cash in and neither are near as good as Cousins. Some team will make Cousins the highest paid QB/player in league history. That's just the way this thing works.
It's not that you can't win a Super Bowl with Kirk Cousins as your QB. You can. The 2000 Ravens won with Trent Dilfer, the 2002 Bucs won with a Brad Johnson past his prime, and of course the 2015 Broncos won with a washed-up Peyton Manning. What did all 3 of those teams have in common: all-time great defenses and the inability to sustain the success on an annual basis. Bill Cowher kept my Steelers in contention with a QB list of Neil O'Donnell, Kordell Stewart, and Tommy Maddox. But they could not get over the hump until Big Ben came. The Steelers were also an aberration in that they draft and develop players on an exceptionally high level, which makes them less desperate to over pay to sign free agents or re-sign their own proven players.
Don't let this year's NFL conference champion QBs fool you. Yes, you can win with a less than top 5-10 QB, but good luck at sustaining a team in the Super Bowl hunt without one. There are only two viable tactics for getting an NFL QB: you either lock up the top 5-10 guy to a long-term deal or you get a guy at a discount and invest the rest in your defense and other areas of your team. What hamstrings a team is when it locks up a guy in the 12-15 range, which is where Cousins is, to a long term deal that won't allow it to add the talent around him.
Washington concluded this about Cousins and they were right. As one analyst put it, they wanted a prenuptial agreement with him and he found it insulting and refused to sign it, knowing what he could get on the free market. I don't blame either side.