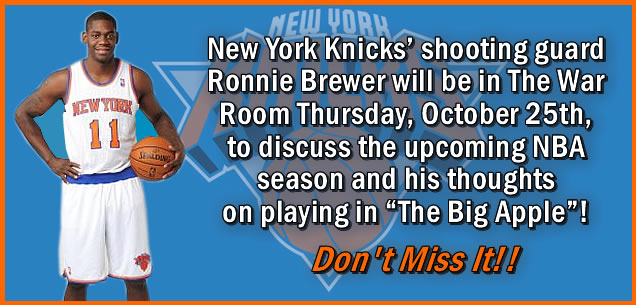 New York Knicks shooting guard Ronnie Brewer will be in The War Room this Thursday, October 25th to discuss the upcoming NBA season, his thoughts on his new team, playing in "The Big Apple", the Ronnie Brewer Foundation, and more!
Tune in Thursday, October 25th at 6pm ET to hear our conversation with Ronnie!  To tune in, go to www.WarRoomSports.com and click the "Listen Live" button…or dial 323-410-0012 to listen LIVE by phone.
In the meantime, check for Ronnie Brewer on Twitter @RonnieBrewerJr, check out his Facebook fan page at www.Facebook.com/RonnieBrewerJr, and check out his website at RonnieBrewerJr.com.
You should also join the War Room Sports Facebook page at www.Facebook.com/WarRoomSports and follow us on Twitter @WarRoomSports!
Finally, if you own an Android phone or tablet…an I-Phone, I-Pad, or I-Pod, please go to your Google Play and/or App Store and download the FREE War Room Sports mobile app!  It's the VERY BEST way to stay up on all of our media content from one central location!
Tags: All's Fair in Sports and War, Basketball, Internet Radio, NBA, New York Knicks, Ronnie Brewer, Sports Talk Radio, The Ronnie Brewer Foundation, The War Room, War Room Sports