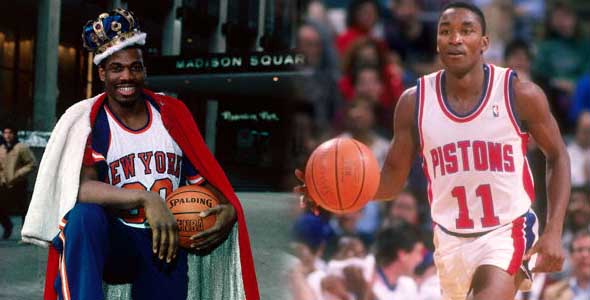 Part II of Bernard King: The NBA's Invisible Genius
"What he did to us I had never seen before. We caught him in the middle of a three-year stretch where he was playing better than any small forward in the history of the game." –Isiah Thomas
Bernard King — The NBA's Invisible Genius —  is also playoff legend. In his first two seasons, he led the Knicks to back-to-back first round upsets. In his very first Knick playoff game against the Nets in 1983, King scored 40 points on only 21 shots, and when he took at least 20 shots he scored 40 points seven times in eleven chances. Only once did Bernard exceed 27 shots. His two epic 1984 series against the Pistons and Celtics caught the NBA nation by storm, but the local explosion began in January.
King's 40 game-stretch of 30 points on 60% shooting highlighted by back-to-back 50 point games was the result of an offensive genius who was finally given permission to display his artwork [see Genius Contained]. At a time when ESPN was covering rugby, King's 40 game stretch got little attention, but his legendary post-season work is well-known. Instead, King's playoff legacy has been hijacked.
Isiah Hijacks Bernard in 94 Seconds: You have seen the video clip. Isiah Thomas puts on a 94-second performance for the ages by sending the deciding game into overtime. Even though Isiah lost the duel (44-35), game (127-123), and series (3-2), he still won the war. Today, "16 points in 94 seconds" trumps Bernard's historic series average of "42 points on 60% shooting". Only Jerry West and Michael Jordan have ever surpassed 40 points in a playoff series, but neither could approach 60% shooting.
"I've never seen any one player dominate a team like King. There is no way to stop him." —Dave Bing [HOF 1990]

Michael Hijacks Real Flu Game: What if you wrapped up the "Flu Game" by Jordan, "The Duel"  by Bird and Wilkins, and added a dash of Willis Reed? Then you get Bernard battling Isiah in Game 5 with a 102 fever and mangled hands that were getting freeze-sprayed throughout the game. In Jordan's famous 1997 "Flu Game", he scored 38 points on 48% shooting. In Bernard's Flu/Duel/Freeze-Spray Game he topped Jordan with 44 points on 65% shooting. There would be no pictures of an old-school King bending over or being held up by his teammates — only his legendary game face. Jordan's game ranks #2 in ESPN's 25 best playoff games since 1978. King missed the cut. On to the Celtics.

"He had splints on both of his middle fingers, both dislocations… Bernard is ill and can't come to the shootaround. They're feeding him intravenously… Now, we can't hit him on the break because he can't dribble with the pain in his hands. So we're thinking, how the hell are we going to win with this guy?"  – Hubie Brown [HOF 2005, Contributor]

Celtics Hijack Bernard: Watch the tapes: they literally hijacked him. They fouled him. They smacked him. They mugged him. You don't think those Celtics played rough? Watch tape of Larry Bird leveling Bernard just a couple of years earlier. Lebron couldn't relate, and Kevin Durant would snap in two. Now watch Larry just walk away. Not even a "my bad". Watch Bernard dust himself off. No problem. That was basketball in the 1980's before sports media turned every minor NBA scuffle into The Watts Riots.

"One guy would foul you, and the foul is already called, and then two other guys would hit you.  And that's a fact."  – Bernard King

 The Bitch Is Back: Before and during the series, those Celtics talked smack:

"He ain't getting 40 on us. We're going to stop the bitch." — Cedric Maxwell [Retired Jersey, 2003]

"They're in the grave, and we've got the shovel in our hands".  — Kevin McHale [HOF 1999]   

King would drop 43 and 44 in Games 4 and 6 and bring some humility back to Boston for Game 7:

"Nothing Max and I tried to do worked." – McHale

"We held him. We pushed him. We were draped all over him. The guy was just unreal." — Maxwell

King vs. Hall of Fame East Wing: The 1984 Celtics played four Hall-of-Famers in their prime and their 5th best was a former NBA Finals MVP [Maxwell]. All of Bernard's fellow starters would have been Celtic back-ups. That's not conjecture. Guard Ray Williams — the Knicks third leading scorer at 15 points per game – became a Celtic backup the very next season and averaged only 6.4 points. Larry Bird couldn't make Ray better.

In Game 7, Bird would turn in a stellar 39-point triple-double, King would get leveled early by Robert Parish, and the Celtics would move on and beat The Lakers for the championship. Bird's Game 7 and series was treated by media as proof of Bird's edge over King while few asked: "What if Bird and King swapped teammates?"

 "The best thing about having that series over was saying goodbye to Bernard King… If they had gotten by us, they would have had a good shot at a championship" – Larry Bird

King vs. Bird: Before Lebron James was born, Bernard King and Larry Bird were raising the small forward position to new heights. Both were named Most Valuable Player in a split-decision: the media chose Larry and players and coaches chose Bernard [see King of Peers]. So it was fitting they would meet. Well, they sort of met.

For seven games Bernard can be seen chasing Larry all over the court while King received tag-team beat-downs from Maxwell and Mchale.  Bird was left to "guard" an aging Truck Robinson, and float like a free safety.  Anyone who has ever played a hard game of pick-up basketball – let alone a grueling NBA series — understands this advantage.  Often missing from media analysis was how Bird's hall-of-fame teammates made him better – especially defensively [see King of Peers]. Few asked: "What if Larry had spent his energy guarding Bernard?"

"I didn't guard Bernard. I knew I had no chance guarding Bernard." – Larry Bird

King vs. "The Winner Myth": In their first five seasons, Wilt, Michael and Lebron all put up prolific numbers – except for wins. During his only five seasons without Oscar Robertson or Magic Johnson, same goes for Kareem.  Kobe after Shaq had a 3-year hangover before help came. ALL these legends had losing seasons, and only once during those 23 seasons was 50 wins exceeded. As for the Knicks, Willis Reed and Walt Frazier were definitely winners (must read: When the Garden Was Eden), but they needed each other. In their six seasons apart, the Knicks never had a winning record.

"At the end of the day, rings don't always define someone's career." – Lebron James

King vs. Ewing's Ghost: Patrick Ewing is also a winner and owns a phenomenal unsung achievement: his Knicks advanced in the playoffs for eight consecutive years. The handful of legends to match this all had superior teammates. Sadly, King and Ewing would only start one game together — the 1991 All-Star Game. Bernard's astonishing return to All-Star status with a new knee, new team, and new game (post-up to face-up) came six years later. Think about that.

Just how many Knick championships were lost during that time? In his senior year at Georgetown, a swarmed Ewing opened up the floor for his teammates while averaging only nine shots per game –fourth most on the team. We already know how close King came with Billy Cartwright as his #2. With Bernard, Ewing gets to keep his Russellesque role, and both men experience career firsts: single-man coverage. Today, HBO would be running Knick documentaries called "When the Game was Theirs". After finally getting The Hall call today, King reflected:

"The only regret I have is that [Ewing] and I didn't team together. Because I believe in my heart of hearts that we would have won a championship.". — Bernard King

Chuck Modiano of POPSspot, for War Room Sports

I.   "Who is Bernard King": The NBA's Invisible Genius
II.   Genius Unchained: Bernard King vs. Isiah, Larry, and History 
III.  Genius Contained: Bernard King vs. Hubie Brown
IV.   Genius Explained: Bernard King vs. Youtube (coming Thursday)
V.     The King of Peers: Bernard King vs. Media (coming next Friday)
VI.   The Jordan Rules: Bernard King vs. Michael (coming next Saturday)