Hello War Room Nation!
It's Kamal Hylton of NBA Nation Australia and War Room Sports giving you your weekly fix of NBA Quick Takes. This week I bring you a great interview I did with San Antonio Spurs and Australian Boomers guard Patty Mills as well as my take on a Toronto Raptors halftime show that truly illustrate the marriage between Hip-Hop and Hoops.
Patty Mills Interview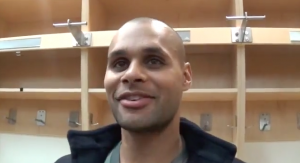 Covering the NBA for a basketball mad country like Australia has been an absolute joy, a real eye opener, not only in the way the Aussie hoops community supports me and helps push my work, but in how readers/viewers REALLY appreciate the work I've been doing. They especially love getting updates on their fellow Aussies, so when the Spurs came to town and played the Toronto Raptors, I had to have a chat with point guard Patty Mills.
(Video courtesy of NBA Nation Australia)
Patty was such a nice and engaging guy, it felt like you were speaking with an old friend and I easily could've spoken with him for hours. One thing that comes across clear is how proud he is of being an Aussie in the NBA and how much his fellow players like Aron Baynes, Dante Exum, Matthew Dellavedova, and Andrew Bogut support each other. With the country talent pool growing and the national team program on the rise, this is going to be a fun group of players to watch. It's a mirror image of what's going on up here in Canada. Players like Andrew Wiggins, Anthony Bennett, Cory Joseph, and Tristan Thompson support each other in the same way and it's beginning to bear fruit on a national and international level.
A big thanks to Patty Mills for taking the time out to give me an interview and for more video interviews make sure to visit NBA Nation Australia.
Phife Dawg at the ACC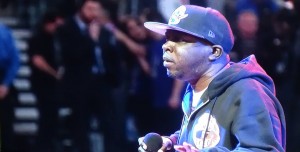 The union that Hip-Hop and hoops share has been going strong for ages, from streetball games to rappers giving NBA stars shoutouts on tracks and more. I even have my own pre-game ritual I do before every Toronto Raptors game I cover. On my way to the arena I listen to the Tissue In The Tape podcast. So when "The Five Foot Assassin" Phife Dawg from A Tribe Called Quest did the halftime show at the ACC during Raptors vs. Clippers, I was excited. I usually tune out the halftime performance at NBA games but when it's a show like this or when Drake performed during Drake Night earlier this season, my ears perk up.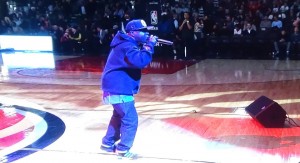 It was a great performance that got the crowd pumped up and me doing a head nod/chair dance combo in the press box, however it also got me thinking that something was missing. Phife Dawg's performance was outstanding, but it also made me think about how amazing the show would've been if Q-Tip and Ali Shaheed Muhammad were there. A Tribe Called Quest was subject of arguably one of the greatest documentaries out there called Beats, Rhymes & Life: The Travels of A Tribe Called Quest by actor/director Michael Rapaport that came out in 2011.
If you haven't seen it already, here's the trailer. It's a movie that has something for everybody whether you're into music, movies, or just want to be entertained.
To catch all my NBA writing, photos, and videos visit NBA Nation Australia or on Twitter @NBANationOz.