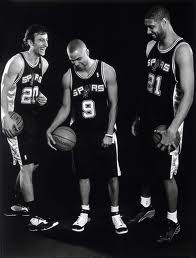 How many times have you sat in front of the TV during the NBA draft and wondered who in the HELL did my team just draft?  What country is he from again?  Why did they draft him?  I've never heard of this guy, can he play?  Instead you always hear about international players being drafted and stashed for years to come.  What is our reaction?  "There goes another wasted pick!"   We could have had this player who is ready to play right now.  Believe it or not, international players have proven very well in the states in recent years.  Let's take the San Antonio Spurs for example.  Tony Parker (Belgium) and Manu Ginobili (Argentina) have both been part of three NBA championships playing with the likes of Virgin Island's own Tim Duncan.  There are other superstars such as Dirk Nowitzki (the greatest international player of all-time), the Gasol brothers, Andrei Kirilenko, and Andrea Bargnani, who have all played at an all-star level.  But there is a new crop of international players making their wave in the NBA today.  The 7 John Doe of the NBA are:
7.  Houston Rockets Omer Asik #3 Center
Houston Rockets tried all summer to lure the likes of Dwight Howard to their organization at all cost.  Instead, he took his talents out west to LA LA Land.  As a consolation prize they picked up a back up center name Omer Asik from the Chicago Bulls.  Who is second year OMER ASIK?  Hmmmm from Turkey?  He was an afterthought, especially when they made the blockbuster trade to acquire James Harden.  Have you seen his numbers?  No afterthought anymore.  Mr. Asik, in his first game as a Rocket grabbed an astounding 19 rebounds against the Atlanta Hawks.  However, he did go scoreless, missing all seven of his attempts from the floor.  Since then, he has managed 4 double-doubles in 7 games.  His early season averages are 10.5 ppg, 12.9 rpg, and 1.3 bpg.  James Harden may be a sexier trade pickup but OMER ASIK is starting to turn some heads himself.
6. Denver Nuggets  Kosta Koufos #41 Center


First off this Kosta Koufos is from America, go figure; but he does have Greek decent and also plays for the Greek national team.  The 7-foot Kosta Koufos played his college ball at THE Ohio State University.  He could easily be part of a trivia question of who was the guy to replace Greg Oden at OSU (then again, who is Greg Oden?).  Kosta is in his fourth year in the NBA and has finally found a home in Denver.  In his first six games of the season he is averaging 7.4 ppg, 6 rpg, and 1.9 bpg.  He has already posted his first double-double of the year with 15 points and 10 rebounds against Utah Jazz.
5.  Minnesota Timberwolves Nikola Pekovic #14 Center
The Yugoslavian center started off playing in the Euroleague before making his way over to the Minnesota Timberwolves.  He enters his third season with the Timberwolves and has taken on a more active role since all-star Kevin Love has been out with an injury.  Pekovic has shown that he can muscle with anyone in the low post as he is averaging 15.3 ppg, 6 rpg, 1 bpg in the first 7 games.  Nikola has two 20-point games so far.  The Timberwolves' front court of Andrei Kirilenko and Nikola Pekovic will be even tougher when Kevin Love returns from injury.
4.  Minnesota Timberwolves Alexey Shved  #1 Point Guard
Alexey Shved is a Russian born player who has been in professional basketball since 2006…at the age of 16!  He is a member of the Russian national team and has played the majority of his professional ball in Moscow before joining the Minnesota Timberwolves.  Like his teammate Nikola Pekovic, Alexey benefits from injuries to Rickey Rubio, who is sidelined with a knee injury.  Alexey is a 6'6″ versatile player that can play the 1 or the 2 guard.  He has range and a quick release.  He is currently averaging 9 ppg, 3.9 apg, and 3.1 rpg in 7 games.  His season highs so far are 16 points and 7 assist.  He is gaining valuable experience in his first year as he is seeing around 22 minutes a game.
3.  San Antonio Spurs Tiago Splitter #22 Power Forward
This Brazilian basketball player is probably the most recognizable player out of the group.  Not for his play, but because ESPN personality Stephen A. Smith screams his name out in embarrassing fashion.  "TTTIIIAAAGGGOOOO SSSPPPLLLIIITTTEEERRR!!!!"  I don't know any team that recruits international players better than the San Antonio Spurs organization.  Splitter is in his second year with the Spurs and has earned the trust of coach Gregg Popovich.  Tiago is averaging 6ppg, 4 rpg, and 0.9 bpg while giving an average of 15 tough minutes per game.  Against the Lakers earlier this year he produced 9 points, 9 boards, 2 assists, 2 steals and 1 blocked shot.  He is getting valuable playing time in crunch time, and if Popovich endorses him, then you know he can play.  Oh and one more thing, Tiago… Stephen A. Smith has given you enough motivation to take care of business!
2.  New Orleans Hornets Greivis Vasquez #21 Point Guard
This Venezuelan basketball star played college ball at University of Maryland.  Greivis Vasquez was the top point guard in the country his senior year receiving the Bob Cousy Award.  The 6'6″ point guard was traded from Memphis in 2010 to run the point down there in New Orleans.  Vasquez is averaging 12.8 ppg, 8.8 apg, and 4.2 rbg in 8 games.  His signature game so far was 24 points, 9 assists and 5 rebounds against the Houston Rockets.  He is comfortable at point guard and should be able to put up consistent numbers from that position.
Orlando Magic Nikola Vucevic #9 Center
Nikola Vucevic played three years of college ball at USC.  The Switzerland native is in his second season in the NBA and was part of the Andrew Bynum/Dwight Howard trade this past summer.  The Orlando Magic franchise is benefiting from Vucevic's early play.  After 8 games he is averaging 11.1 ppg, 8.4 rpg, and 0.9 bpg so far this season.  He has recorded 4 double-doubles with his best game coming against the Phoenix Suns.  He managed to  put up 18 points, 13 rebounds, and 3 assists.
These players may be average JOE right now; but each of them deserve some mentioning.  Which player do you think has a chance to be the next Dirk Nowitzki, Pau or Marc Gasol, Manu Ginobili, or Anderson Varejao?
LeRoy McConnell III of "A Fan's Point of View", for War Room Sports