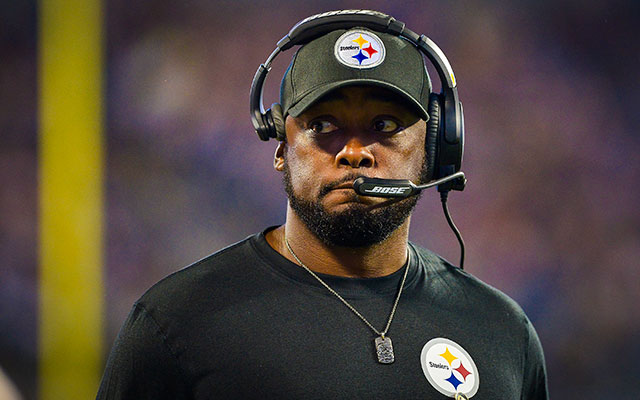 The divisional round of the NFL playoffs are underway this weekend.  If your team is still alive with the hope of reaching and winning a super bowl, be grateful.
After all, you could be a Bills, Vikings, or Browns fan.
This brings me to the baffling criticism more than a few of my fellow members of Steeler Nation have for head coach Mike Tomlin. Yes, that Mike Tomlin.  The Super Bowl winning coach with a 64% lifetime winning percentage; the same one who has not had a losing season in his first ten.
A summary of the critique is that he was a token fast-track hire due to the Rooney Rule, which is the NFL rule that mandates a minority coach be interviewed for all head-coaching jobs; 2) he inherited a great team, and situation with an upper echelon QB in Ben Roethlisberger; and 3) that he has lost to a lot of bad teams.
Let's address them all from the last forward:
Under Tomlin the Pittsburgh Steelers have absolutely loss to a lot of bad teams.  There is no way around this.  Even if we overlook losses in 2012 and 2013 when the team was only 8-8 itself, there is still more than enough of a sample of mind boggling losses to include 3 in 2009 as defending champs to the likes of a 4-12 Chiefs team, and 5-11 Raiders and Browns teams.  (The Raiders loss was especially appalling, given it was at home to a career backup journeyman QB.  Tomlin has gone 1-3 to very bad Raider teams).  In 2014 there was the home loss to the 2-14 Buccaneers and another loss to a 4-12 Jets team.  And who can forget the playoff loss to a Denver team in 2011 as defending AFC champs?   Yes, by definition that Denver team was not a bad team, by virtue of making it to the playoffs.  But you still can't lose to a team led by Tim Tebow.
So that criticism is valid and is on Tomlin.
The other two are crap!
Was Tomlin handed a great situation, team, and upper echelon QB?  The answer to that is mixed:  yes, great situation for the stability the Steelers management provides but Ben was hardly an upper echelon QB at the time.  As matter of fact, he was coming off his worst year as a pro, throwing 23 picks in 2006.  Upon Tomlin's arrival in 2007 he had one of his best two years of his career.  Has it ever occurred to any of Tomlin's haters that just maybe he has had as much of a hand in Ben's success as the other way around?
Sure, the team was a year removed from winning it all in 2005, but went 8-8 and missed the playoffs in Bill Cowher's last year of 2006.  I would not call that great.
Has it occurred to you that Tomlin might know something about coaching, even without Ben?  After all, in the 17 games Ben did not start under Tomlin, the Steelers actually have a winning record (9-8), including a 3-1 start in 2010, when Ben was suspended.  When Bill Belichick started this year at 3-1 without Tom Brady, it was lauded as evidence of his coaching brilliance.  Why not the same for Tomlin?
I am not suggesting that he is as good a coach as Belichick.  He is not!  I only insist that our critiques have a semblance of consistency.  The fact is that over his career, Belichick is 50-53 in games not started by Tom Brady.  Green Bay's Mike McCarthy is 3-5-1 when Aaron Rogers does not start. Sean Peyton is 0-2 without Drew Brees for the Saints.  Winning consistently with or without an upper echelon QB is nowhere near as easy as this faction of Steeler Nation would have you believe.
How have others done who have inherited even better situations?  Let's look at when George Seifert took over the reins from Bill Walsh for the 49ers, and when Barry Switzer took over for Jimmy Johnson and the Cowboys.  Both inherited SB champs and HOF QBs in Montana and Aikman, much further along in their development than was Ben when Tomlin took over the Steelers.  Seifert would repeat in '89 and win yet again in '94.  After 8 years, he won over 70% of his games.
A cautionary tale for Steeler nation is that it wasn't enough for the 49er faithful and they ran him out of town.
They have not won a SB since.
Switzer won in his second year in 1995, then presided over the gradual decline of the Cowboys to become an afterthought by the late 1990s.  Only now are they beginning to emerge from the wilderness.
I ask you Steeler Nation: would you rather have had Barry Switzer?
Winning consistently in the NFL is never a sure thing.
Winning Super Bowls, even with a HOF caliber coach and QB is even less of a sure thing.
There have been a total of 5 such combinations over this era to include Shula/Unitas, Allen/Juergensen, Grant/Tarkenton, Shula/Marino and Levy/Kelly that NEVER won a Super Bowl.  This group of 5 has a cumulative record in the super bowl of 0-10!!!!!!
Sure, Shula won when paired with Griese, but the point remains that they don't grow Super Bowl winning coaches on trees, nor are they bottled and sold.
The last suggestion (which is that Tomlin's hire was tokenism) is as insulting to the Rooneys as it is to Tomlin.
If any organization in sports deserves the benefit of the doubt when it comes to which coach to hire, it is the Pittsburgh Steelers.  When they picked Tomlin to be their coach, they had only two for the better part of the previous 40 years.  Both won Super Bowls.  Tomlin has won a Super Bowl.  They got this!
If those of the football world were only as outraged by the reasons for the Rooney Rule as they are about the Rooney Rule, we may not need a Rooney Rule!
On an even larger level, the snipes at Tomlin reflect a larger, uglier American reality reaffirmed by the recent presidential election.  The simmering narrative that anyone Black who ascends to a position of prestige and or privilege did so without merit and at the expense of "hard-working Americans", which is dog-whistle-code for "White folks."
When Ronald Reagan employed his brand of the "Southern Strategy" to lure what would become known as "Reagan Democrats," ground zero for this demographic was the greater Pittsburgh, PA region. As the steel mills of the area closed, Steeler fans spread all over the country, which is what in part makes up Steeler Nation today, but that mindset is as prevalent today as it was when Reagan won the White House in 1980.   Donald Trump used the same formula, only on steroids, to win the same office in November.
As for solutions, within football alone, there aren't any.  If Tomlin continues to win, it's what he is supposed to do with all that was "given" to him.  If he does not, it's validation that he is not a good coach and should have never gotten the job.  He could walk on water and his critics will complain that his feet got wet.
This solution is above and beyond football and requires the critics to look at themselves in the mirror and reassess their expectations. This requires rational self-assessment…..a quality that fanatics (fans) have very little history of displaying.