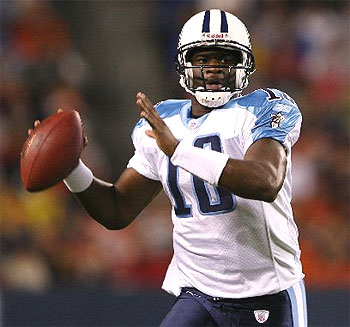 As a die-hard Eagles fan, I would love to see nothing more than Kevin Kolb traded once the lock-out is officially lifted, to the Arizona Cardinals for Rodgers-Cromartie (immediate upgrade at right corner) and a second round pick.  However, once Kolb is traded, that leaves the Eagles with a huge void at back-up QB, leaving only second year man Mike Kafka as Michael Vick's primary back-up.  I don't know about you, but I'm not comfortable with Mike Kafka having to start two to three games.  Hence the reason the Eagles must seek out a veteran back-up to Vick.  I've heard rumors of Brett Farve, Mark Bulger, etc. coming to Philly but I want Vince Young, and here is my argument now.
First, the offense that Andy Reid and the Eagles have installed for Vick fits the skill set of Vince Young.  Plus we know Andy has a proven track record of developing QBs who were labeled as underachieving passers, such as McNabb and Vick, so why couldn't he do the same for Young?  Now let's look at Vince Young the player.  Last season, Young appeared in 9 games (8 starts), and had the 4th best third down passer rating in the league, only trailing Brady, Roethlisberger, and Kitna.  At times in his short career, he has done pretty well, he's had several come from behind victories, and he's been effective in the short and long passing game.  According to NFL Films, last season Vince was the most accurate passer of balls that were thrown in the air beyond 35 yards and we know how that plays into Desean Jackson's game.
Looking at Young's first 4 seasons in the NFL, 2006 through 2009, he has amassed a regular season record of 26-13 as a starter.  That's a .67 winning percentage for you math guys.  He's lead 11 come from behind victories in his career, including 9 come from behind or tied performances in 2009.  That season, he started the final 10 games and led the Titans to an 8-2 record after they began season 0-6.  So the leadership skills are there.  He also made the Pro Bowl that season but we know that's a bogus award/recognition.  
His career numbers through the first 5 years of his career are: 54 games played, 8,098 yards passing, 42 tds and 42 ints, with a 57.9 percent completion rate, 264 rushes for 1,380 yds and 12 tds.  If you compared that to Vick's first 5 seasons, Mike played 58 games, threw for 9,031 yards, 51 tds and 39 ints, with a 52 percent completion rate.  There's no need to even add rushing numbers, as they are not even comparable. However, as a passer, Vince Young is on par with Michael Vick through the first 5 years of their respective careers, with Vince actually being a more accurate passer.  So there is definitely something for the Eagles to develop here, and let's not forget this guy was a top 3 talent when he came out of Texas in 2006.  If anyone has a better option out there to back up Michael Vick for this Eagles season, who may be called upon to start two to three weeks in case Vick goes down, I would love to hear it.
Nairann Merceir, Philly Sports Correspondent, for War Room Sports
Tags: All's Fair in Sports and War, Andy Reid, Antonio Rodgers-Cromartie, Arizona Cardinals, Ben Roethlisberger, Brett Favre, Desean Jackson, Donovan McNabb, Jon Kitna, Kevin Kolb, Marc Bulger, Michael Vick, Mike Kafka, Nairann Merceir, NFL Films, Philadelphia Eagles, Sports Talk Radio, Tennessee Titans, The War Room, Tom Brady, Vince Young, War Room Sports