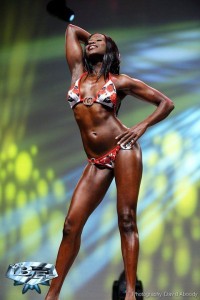 Is sculpting a beautiful physique a sport?  You bet your ass it is.  By clocking in about 5 miles in total cardio a day/6 days, I complete a marathon every week.  And if you think that's crazy wait until I mention the time allotted for resistance training and the optimal nutrition program that can only be described as borderline psychotic.  In pop culture, the word "bodybuilder" became synonymous to a freak-show, but reality of the matter is this sport has branched into many categories such as female BB, figure, male and female fitness modeling, and bikini modeling, and is reaching the mainstream through fitness shows/expos and magazines.  This is where a 5'7", long-legged, "tight tush", 30 year old comes in.  Definitely not your average freak and I refuse to be; therefore I would like to be referred to as a "body-sculptor".
There are different organizations that govern the sport. I've done my research and have chosen the WBFF since the way they do "their thing" suits my personality and look.  Besides, with a slogan such as "the best of the best competes with the WBFF", how can I not?  As I like to believe, I have the best "tush" this side of the Atlantic.  The WBFF, which stands for World Body and Fitness Federation, holds events in state of the art, sold out venues, with cheering crowds and beautiful bright, colorful stage lights.  It provides an excellent platform for athletes to market themselves through magazines submissions and supplement contracts.
The pressure to succeed pushes all athletes but some choose to react to it in what I (this is my blog so only my opinion matters) consider negative.  Some females in my sport opt for enhancement such as breast implants (due to drastic loss of body fat, in case you didn't know, mammary glands are made up mostly of fatty tissue), Botox, lip injection (we all know a "sista" has no need for that), and "supplementation" to obtain in a short period of time that desired muscle group that refuses to grow with natural progression.  Unfortunately, sometimes, the result is a jigsaw puzzle made up of Ken and Barbie body parts (i.e. – freak-show material).  The fortunate ones look like Hugh Hefner's girlfriends.  Nonetheless, the public loves abnormality and that's what brings them to the shows.
So, after some months of grueling training and consumption of an entire chicken farm, a Diva Bikini/Fitness Model is ready for the stage.  Before "D-day", there are small, but very important details that need to be tweaked first.  A banging, blinged-out suit in the price range of $250-$1000 is custom made.  Nails, hair, and 5″ clear heels are acquired.  Yes you read it right, "acquired".  The morning of the show, makeup and hair crew is at hand and a beautiful coat of bronzing tan is applied to make a girl feel like a perfect dolled up statue, or at least that's how I feel.  Then I put on my Cinderella heels and hit the stage with a strut that makes Rupaul burst into tears of prideful joy.
Maggie Mangiel, for War Room Sports