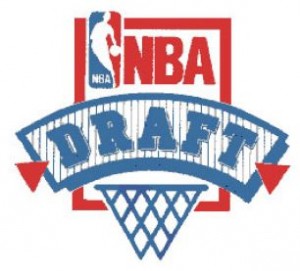 20. Moe Harkless 6-8 220lbs Freshman St. John's SF 19 years old
2011-12 stats: 36.1 mpg, 15.3 ppg, 8.6 rpg, 1.4 bpg, 1.6 spg, 44%fg, 68%ft
Projection: Mid first round, could rise up into the lottery before it's all said and done.
Strengths: Moe Harkless is a promising prospect with plenty of potential and upside.  He has a natural ability to score, while still being raw offensively.  He is always around the ball, is a great offensive rebounder, and is good taking guys off the dribble to the basket.  He is already a formidable defender and with strength and maturity, he will be even better.  If Harkless puts in the work, he could be the steal of the draft 4 years from now.
Weaknesses: Harkless really needs to work on shot selection.  I know he pretty much had the green light during his one and only season at St. John's, but there were times when he shot his team out of games.  He also needs to work on his outside shot.  If he becomes a more consistent shooter he could be a 20 point scorer in the NBA.
19. Terrence Ross 6-6 195lbs Sophomore Washington SG/SF
2011-12 stats: 31.1 mpg, 16.4 ppg, 6.4 rpg, 45% fg, 37% 3ptfg, 77% ft
Prediction: Late Lottery to Mid first round
Strengths: Terrence Ross is an elite athlete with ability to score in various ways.  Usually a player this young and with his athleticism wouldn't be such a good scorer from the outside, but he is.  Ross has worked himself into being a knockdown shooter.  He also thrives in transition and is a highlight reel waiting to happen when he finishes at the rim.
Weaknesses: I would like to see Ross go to the basket and draw fouls more often.  He took only 2.7 free throws a game, which is too small of a number for a player of his caliber.  He also needs to lock in defensively.  He could potentially be a lockdown defender with his combo of height, length, and athleticism.
18. Quincy Miller 6-10 210lbs Freshman Baylor SF
2011-12 stats: 24.4 mpg, 10.4 ppg, 5 rpg, 45% fg, 81% ft, 35% 3ptfg
Prediction: Mid to late first round pick
Strengths: Quincy Miller is a talented prospect when you factor in his offensive skills, to go along with his height.  His ability to score from the perimeter for a player his height is rare.  He really has a natural stroke when shooting the ball.  He is effective shooting the ball off the dribble, coming off of screens, and as a spot up shooter as well.
Weaknesses: Miller tore his ACL and missed his whole senior year of high school because of it.  It was clear that he wasn't at 100% during his one and only season as a Baylor Bear.  Anytime a player has a knee injury, it's a red flag.  Miller relied too much on his perimeter game and didn't take it to the hoop as much because of the injury.  Miller if healthy, has the ability to be a versatile defender because of his height and quickness.
17. Tyler Zeller 7-0 250lbs UNC Senior C/PF
2011-12 stats: 28.1 mpg, 16.3 ppg, 9.6 rpg, 1.5 bpg, 55% fg, 80% ft
Prediction: Mid to late 1st round
Strengths: Tyler Zeller was a productive, four year player at UNC, in one of the best conferences in all of college basketball.  He has some skills and traits that will allow him to play in the NBA for a long time.  For one, he hustles and plays hard at all times.  He might not be the best athlete out there, but his effort and toughness make up for it.  Zeller is skilled in the post, has both a left and right hand hook shot that's effective.  He averaged almost 10 rebounds a game, and he has range on his jump shot out to 18 feet.  On the right team, Zeller could come in and start and give you quality minutes right away.
Weaknesses: Zeller doesn't have the upside that most prospects have, because he's limited athletically.  He pretty much is what he is, and will have to get used to the speed of the game and can be over matched by swifter, better athletes.  If you are looking for a franchise player he isn't that guy.
16. Kendall Marshall 6-4 190lbs UNC Sophomore PG
2011-12 stats: 33 mpg, 8.1 ppg, 10 apg, 2.6 rpg, 46.7 % fg, 35% 3ptfg, 2.8 tpg
Projection: Mid first round pick
Strengths: Kendall Marshall isn't a flashy player by any means, but he knows how to run a team, doesn't turn the ball over, and is probably the best passer in this draft.  He showed how good he was when UNC struggled during the 2010-11 season while Larry Drew II was running the point.  When he took over as starter, the team took off and played great.  Harrison Barnes, Tyler Zeller, and John Henson all became better because of Marshall's play at the lead guard.  He is effective in the half court and running the fastbreak.
Weaknesses: Marshall has gotten better, but his jump shot still needs plenty of work.  His lack of shooting ability could hurt him at the next level because unlike Rondo, he isn't a top flight athlete and it's going to make him easier to cover.  His lack of athleticism makes him a mediocre defender and will get exposed at the next level.
15. Meyers Leonard 7-0 250lbs Illinois Sophomore C 20 years old
2011-12 stats: 31.8 mpg, 13.6 ppg, 8.2 rpg, 2 bpg, 58% fg, 73% ft
Prediction: Late lottery to mid 1st round
Strengths: Meyers Leonard is a skilled big man with legit NBA size and length for a center.  He's only 20 years old, played two years at Illinois, starting his 2nd and final year.  For a man his size, he's very athletic, jumps out of the building, and is quick and agile.  He won't have any problems coming out and defending the pick and roll in the NBA, while being able to recover and get back to the paint and block shots.  Offensively, he has the ability to score with his back to the basket and he can hit the jump shot out to 15 feet. He will force bigs to come out and check him on the perimeter because of his shooting ability.
Weaknesses: He is young and a bit raw and there is always a big gamble when drafting young big men.  I would like to see him rebound the ball better and play with more of a mean streak.  He at times can fall in love with floating on the perimeter offensively.
14. Jared Sullinger 6-9 268lbs Ohio St. Sophomore PF/C
2011-12 stats: 30 mpg, 17.6 ppg, 9.3 rpg, 1 bpg, 51% fg, 40% 3ptfg, 77% FT
Prediction: Late Lottery, might slip out of the lottery
Strengths: Jared Sullinger has an highbasketball IQ, was very productive during his two years at Ohio State.  While' he's not the greatest athlete, he uses his large lower body, length, and proper angles to score points in the paint.  Sullinger has also extended his game to the perimeter, he has a nice touch out to the college three point line, where he shot 40% for the season.  Sullinger is a good rebounder, and became a better rebounder out of space, due to the fact he was in better shape than during his freshmen year.  Sullinger also measured in at 6-9 in shoes at the NBA Draft Combine in Chicago.
Weaknesses: Weight will always be a topic of discussion with Sullinger.  While he's lost about 40lbs since joining OSU out of high school two years ago, he really could still afford to lose about another 20-25lbs.  He's already not the greatest natural athlete and getting in the best shape possible and staying that way will make a more effective player and keep him in the league.  Udonis Haslem weighed well over 300lbs during his college career and lost 65lbs and has made himself into a decent  NBA player.  Sullinger was a horrible defensive player in college and that also can be attributed to him not being in shape.  He is either going to have a long, solid career, or we will see him out of the league like Sean May.
13. Terrence Jones 6-9 250lbs Kentucky Sophomore PF/SF
2011-12 stats: 29.3 mpg, 12.3 ppg, 7.2 rpg, 1.8 bpg, 50% fg, 62% ft
Projection: Late Lottery to Mid first round
Strengths: Terrence Jones is a very skilled big man.  He projects to be a stretch 4 in the NBA, and he also possesses the ability to put the ball on the floor and take bigger guys to the hole.  He is a tough, rugged rebounder, especially on the offensive end.  He is very athletic and long, tries to finish everything in the paint with authority.  Has the tools to be a solid defender in the NBA.
Weaknesses: Jones is a lefty, and offensively he can only go left and use his left hand to finish.  He really needs to develop his off hand offensively if he's going to score consistently with his back to the basket in the NBA.  At times during his college career, Jones would take games off and had to be ripped into or sat down by his coach.  In the NBA he's going to need to play hard every night.  Also, he needs to improve his free throw shooting.  He's a great rebounder and finisher at the rim and will draw plenty of fouls, so if he can get up in the mid to high 70′s, it would be good.
12. Austin Rivers 6-5 200lbs Duke Freshmen SG/PG
2011-12 stats: 33.2 mpg, 15.5 ppg, 43% fg, 36% 3ptfg, 66% ft, 3.4 rpg, 2.1 apg
Projection: Late Lottery
Strengths: Austin Rivers came into this past year's college basketball season full of hype and at times he lived up to it.  Rivers was forced to play with the ball in his hands plenty because Duke lacked a true point guard who could play.  The bottom line with this kid is, he can flat out score the ball.  He's really comfortable in pick and roll situations, slashing to the basketball and has the ability to get by defenders at will.  He's a fierce competitor just like his father was when I watched him play growing up as a kid.  I thought Rivers was more around the 6'3 range and was surprised when he measured in at 6'5 at the Draft Combine, which tells me he can get away with playing the 2 in the NBA.
Weaknesses: Rivers needs to work on shot selection and his decision making with the ball in his hands.  He is an okay shooter, but needs to become more consistent with his shot from 3-point range.  He didn't share the ball much at Duke, but he was often left with the ball late in the clock, forcing him to take bad shots.  Defensively, he was flat out atrocious and in my opinion it was more lack of effort and not having a defensive attitude than anything.  If he plans on being a starter in the NBA, he needs to defend.
11. Damian Lillard 6-2 190lbs Weber St. Junior PG
2011-12 stats: 34.5 mpg, 24.5 ppg, 5 rpg, 4.1 apg, 47% fg, 41% 3ptfg, 89% ft
Projection: Lottery Pick ( Top Ten)
Strengths: Damian Lillard is well known by degenerate college basketball fans like myself, but most haven't heard of him until the draft process started.  He is not only the best point guard in the draft, but one of the best scorers and shooters.  He played on a team in Weber St. who even in a weak conference was outmatched on most nights, and he carried his team while being doubled and triple-teamed.  He tested out very well athletically at the combine, with an amazing 40 inch vertical leap.
Weaknesses: Level of competition always comes up, he played in a weak conference and never made it to the NCAA tourney during his time at Weber St.  Lillard has shown great scoring and shooting ability, but is he more of a scorer than a traditional lead guard?  I'm not sure if he's going to be able to score at that rate in the NBA and he will need to have more of a pass first mindset in my opinion.
10. Arnett Moultrie 6-11 235lbs Miss St. Junior PF
2011-12 stats: 35.8 mpg, 16.4 ppg, 10.5 rpg, 55% fg, 78% ft
Projection: Late Lottery to Mid 1st round
Strengths: Arnett Moultrie is a very athletic big with both post and perimeter skills offensively.  I have him ranked higher than some do on their boards, but I've been watching him since he played at UTEP and I really think he's going to be a good NBA player.  He is going to be effective in the pick and roll game because of his ability to hit the mid range shot and ability to finish with authority at the rim.  He averaged over ten rebounds a game and is very good on the offensive boards.
Weaknesses: Moultrie at time falls in love with the jump shot and doesn't play in the post as often as I think he should.  He also should be a much better defender and shot blocker with his athleticism.  He averaged just under 1 block a game during his college career.  He will also need to hit the weight room and get stronger in order to deal with NBA bigs on a nightly basis.
9. Dion Waiters 6-4 222lbs Syracuse Sophomore SG/PG
2011-12 stats: 24.1 mpg, 12.6 ppg, 47% fg, 36% 3ptfg, 73% ft, 2.5 apg, 2.3 rpg
Prediction: Top 10 pick
Strengths: Dion Waiters is a combo guard with great scoring ability, especially in pick and roll situations.  Even though he came off the bench for the Orange (he was the Big East 6th man of the year), he was clearly the best player on the team and arguably the best in the Big East.  Waiters does a majority of his damage from mid range and in the paint where he uses his strong frame to fend off defenders and finish at the rim.  He was close to leaving Syracuse after his freshman year due to rumored problems with head coach Jim Boehiem, but came back this past season in better shape, with a better attitude and a commitment to the defensive end of the court.
Weaknesses: Waiters is a tweener, a bit small to play the two and isn't a natural point guard.  His jump shot from year one to two has gotten better, but he is still a streaky shooter.  I believe he needs to become a more consistent shooter in the NBA in order to make guys play him close and he can then drive by defenders.  He did put forth more of an effort defensively this season, but he could still be a better defender with his size and strength.
8. Jeremy Lamb 6-5 180lbs UConn Sophomore SG/SF
2011-12 stats: 37.2 mpg, 17.7 ppg, 5.0 rpg, 1.7 apg, 1.2 spg, 48% fg, 33% 3ptfg, 81% ft
Prediction: Top 10
Strengths: Jeremy Lamb is a sophomore shooting guard prospect from UConn, where in his freshmen season he played Robin to Kemba Walker's Batman, helping lead them to the 2011 NCAA championship.  At 6-5 with a 6-11 wingspan, Lamb has good height for an NBA two guard and elite length to go along with supreme athleticism.  In his sophomore season, his minutes, points per game, and rebounds all increased as well as his overall game.  Offensively, Lamb is a very good shooter running off of screens and stand-still situations.  He is a good slasher and finishes well at the rim in transition.  Defensively he uses his quickness and length to bother the opposition and make shots more difficult to make.  As I've said before, I really don't like to make comparisons but watching Temple basketball growing up, Lamb (along with U of Washington's Terrence Ross) really reminds me of Eddie Jones.
Weaknesses: Lamb goes through stretches in games where he is invisible and seems to just be out there instead of taking over the game.  In college he had the ability to be a difference maker on both ends of the court, but he just didn't assert himself as he should.  At 180lbs he really needs to hit the weights and and add good muscle and size to his frame, and I think that should come with age.  Remember he's only a sophomore.
7. Harrison Barnes 6-8 227lbs UNC Sophomore SF/SG
2011-12 stats: 29.2 mpg, 17.1 ppg, 5.2 ppg, 1.1 apg, 1.1 spg, 44% fg, 36% 3ptfg, 72% ft
Prediction: Top 10
Strengths: Harrison Barnes has one of the more polished offensive games in the 2012 NBA Draft, if not the best.  Barnes was the number one high school prospect in the country in 2010, hailing out of Ames, IA and came into college with very high expectations, ones that were too high if you ask me.  But in his two years in Chapel Hill, Barnes overcame the hype, criticism, pressure, and left a better player than when he came.  Harrison Barnes has perfect NBA size, length and strength for a small forward and the scoring capabilities to go along with it.  A pure shooter from mid range and from distance, Barnes can fill it up once he gets going.  Barnes decided to take smaller defenders to the mid post this season as well and increased his free throw attempts from 3.4 the prior year, to 5.1 per game this past season.  The scouts who questioned Barnes' athleticism where shut up when he posted a 38.5 standing vertical leap, the highest at the combine.  He worked out for the Bobcats recently, who hold the number two pick and there is a good chance he goes there.  If not to Charlotte, he won't make it out of the top ten for sure.
Weaknesses: There are stretches in big games where Barnes seems uninterested and not fully involved.  He clearly had superior talent than most of the players in the nation and probably could have scored more points and dominated games nightly, but he often deferred to his teammates, or bailed out defenders who couldn't check him by shooting jump shots too often.  He is a scorer, but at the college level he didn't display the ability to get others open shots or rebound at a high level.  He has the physical ability to defend at an elite level, but didn't defend that way in college on a consistent basis.
6. Andre Drummond 6-11 278lbs UConn Freshman C/PF
2011-12 stats: 28.4 mpg, 10 ppg, 7.6 rpg, 2.7 bpg, 54% fg, 30% ft
Prediction: Top 5-6 pick
Strengths: Andre Drummond might be the most athletic big man I've seen in my 20 plus years of watching high school, college and NBA basketball.  Yes, that's including Olajuwon, Shaq, David Robinson, and Dwight Howard, but I'm not saying he has the skill of these players.  But if he puts in the work, and gets with the right big man coach, he could be really good.  He is very raw offensively in the post, but did get better as the season went along and was a force on the offensive boards.  Anything he catches near the rim is either a dunk or you have to foul him.  Defensively, I've never seen a man his size with the ability to switch on pick and rolls, having the ability to defend wing players and stay in front of them.  He averaged almost 3 blocks a game in just 28 minutes and changed a lot more.
Weaknesses: Drummond is a late comer to the game and you can tell at times when it comes to his basketball IQ.  At times he isn't where he should be on the floor and ends up out of position when he could be under the basket for easy offensive rebounds and putbacks.  Drummond is very limited offensively with his back to the basket right now and needs serious work.  Drummond was over aggressive when it came to shot blocking and the results was early foul trouble and a seat on the bench.  He only shoots 30% from the foul line, yes 30% people.  He's going to get fouled plenty in the NBA and he seriously needs to improve his mechanics at the foul line.  Drummond has the athletic ability, all the physical tools to be a great center in this league, but does he want to be great?  Will he work hard at his craft and maximize his talent?  He is probably the biggest risk-reward player in this draft.  He can either make GM's look smart for passing up on him or cause a GM to lose his job for not picking him.
5. Perry Jones III 6-11 233lbs Baylor Sophomore PF/SF
2011-12 stats: 30.7 mpg, 13.5 ppg, 7.6 rpg, 50%fg, 70% ft
Projection: Late Lottery  to mid 1st round
Strengths: I have had Perry Jones III rated as one of my top NBA Draft prospects since his freshman year at Baylor.  If you've watched him play, and I've watched damn near every game's he played in college, there might not be a more talented or complete basketball player in this draft.  There aren't many 6-11 ball players with his skills, athleticism, and basketball IQ, anywhere in the world.  Jones can score with his back to the basket, face up out to 20 feet and hit the jump shot consistently, and put the ball on the floor and take it to the basket, finishing or drop it off to a teammate for a bucket.  When he wants to, he can dominate the glass on both ends of the floor and shut down his opposition offensively.  For stretches against Kentucky in the Elite Eight game, Jones was the best player on the floor.
Weaknesses: Jones is an enigma.  He was the most talented player in the country in my opinion, and he flat out disappeared at times.  Against Missouri, who had not one player who could check Jones at all, he averaged 6 ppg, and 5 rpg in those two contests.  In two games against Kansas, he averaged 11.5 ppg and 4 rpg.  These were four of the biggest games of the season and he was basically a no-show.  This right here is the lone reason why Perry Jones III most likely won't be a top 5-10 pick and might even drop out of the lottery.
4. Thomas Robinson 6-9 244lbs Kansas Junior PF
2011-12 stats: 31.8 mpg, 17.7 ppg, 12 rpg, 50% fg, 68% ft
Prediction: Top 5
Strengths: Thomas Robinson is a high energy, athletic, power forward, who has improved in each of his three years at the University of Kansas.  He spent a majority of his first two seasons there playing behind the Morris twins, who where both 1st rounders themselves, but Robinson was always the better pro prospect in my opinion.  Robinson's offensive game has gone from alley-oops, layups and dunks, to scoring with his back to the basket and occasionally hitting the mid-range jump shot.  Defensively, he's very versatile.  I can see him guarding some 3′s at the NBA level as well as his natural position at the four.  Robinson is a beast on the boards and when it comes down to it, he is going to play hard and compete nightly.
Weaknesses: Robinson's game in the post has come a long way, but he is still sort of robotic at times.  It's like he's thinking too often instead of just feeling his man and reacting.  He's become a much better shooter than when he first arrived at Kansas, but he really needs to become a more consistent jump shooter from mid range.
3. Michael Kidd-Gilchrist 6-8 232lbs Kentucky Freshman SF
2011-12 stats: 31.1 mpg, 11.4 ppg, 7.4 rpg, 2 apg, 49% fg, 74% ft
Projection: Top 3 pick
Strengths: Michael Kidd-Gilchrist is more competitive and plays harder than any pedigreed, celebrated high school player I've seen.  He was able to put his ego to the side and accept his role on Kentucky's team this past season, and I know Anthony Davis received plenty of deserved praise, but Kidd-Gilchrist set the tone for that team with his defensive intensity and hustle.  He was given the assignment of checking the opposite team's wing player and even point guards as well.  Offensively he has the ability to beat his man off the dribble, take the contact and finish or draw the foul.  I know his game from the perimeter needs refining, but this kid is a winner.  At 18 years old he's already 233lbs so by the time he fills out, he will have a body similar to Ron Artest with way better athleticism.  He has the chance to be an elite, all league defender.
Weaknesses: To say his jump shot is broke would be an understatement.  He really needs to get with a shot coach and learn better shooting habits.  Defensively he's fine, but his offense needs work, and hopefully the team who drafts him will get a player who's willing to work and maximize his potential.  Bottom line, we know what kind of effort you are going to get from MKG on a nightly basis, but will he ever become a player who can get his own shot and be a one or two option in the NBA?
2. Bradley Beal 6-5 202lbs Florida Freshman SG/PG
2011-12 stats: 34.2 mpg, 14.8 ppg, 6.7 rpg, 2.2 apg, 44% fg, 34% 3ptfg, 1.4 spg
Predictions: Top 3
Strengths: Bradley Beal is a sweet shooting, 18 year old shooting guard prospect who left the university of Florida after one season.  He has good height for an NBA two guard and an unusually strong frame at 202lbs for a kid so young.  Beal came into college with a reputation as a dead-eye shooter, some scouts compared him to Ray Allen and while he didn't actually shoot the lights out as a freshman at Florida, you saw flashes of his sweet shooting stroke.  Anyone who watched Florida play this past season knew that he played on a team dominated by three veteran guards who have made it a habit to take bad shots and not get others involved, so it was hard for Beal to get into a flow constantly all season.  Beal was the second leading rebounder on the team at 6.7 per game, and one thing that always translates to the NBA is rebounding.  Beal was also the team's best perimeter defender and has the frame to be a good defender at the next level.  Beal also did a good job getting to the foul line, attempting almost 5 per contest and hitting them at a 77% clip.
Weaknesses: Beal wasn't as aggressive as he should, he was clearly the best player on the team and often deferred to his elder teammates too often.  Beal wasn't a consistent shooter from distance during the season, but has impressed all the teams he's worked out for.
1. Anthony Davis 6-11 220lbs Kentucky Freshman PF/SF
2011-12 stats: 32 mpg, 14.2 ppg, 10.4 rpg, 4.7 bpg, 1.4 spg, 62% fg, 71% ft
Prediction: Top pick in the draft
Strengths: Anthony Davis has lived up to the hype and some in his one year at Kentucky, leading the Wildcats to a national championship and winning the national player of the year, along with the defensive player of the year award.  Davis had a rare growth spurt between his sophomore and junior season, growing from 6-4 to 6-9 and eventually stopping at 6-11.  He went from a player who was unknown and playing in the lowest level of high school basketball in Chicago, to being the number one ranked high school player in the 2011 class in a year.
He is a rare talent, while he is now 6-11, Davis still has the speed, quickness, and mobility of a wing player and it allowed him to dominate the college game defensively.  He has the ability to switch on pick and rolls, actually guard wing players as well as he does bigs in the paint.  His ability to block shots is as good as I've seen in a long time, his second jump is amazing and he doesn't throw the shots away, he controls them after the block and starts the fastbreak.
Offensively, he still has the ball handling skills and shooting touch of a guard and it allows him to take defenders his size away from the basket and beat them off of the dribble.  He has some game with his back to the basket, but is still working on it.  You have to keep a body on him, because he will kill you with putbacks on the offensive boards and alley oops.
Weaknesses: Davis obviously needs to add good weight and strength to his frame, and with time and maturity it should come.  Remember he's only 19 years old.  Other than that, he has no other glaring holes in his game.
Brandon Pemberton of "Brandon On Sports" & "Sports Trap Radio", for War Room Sports