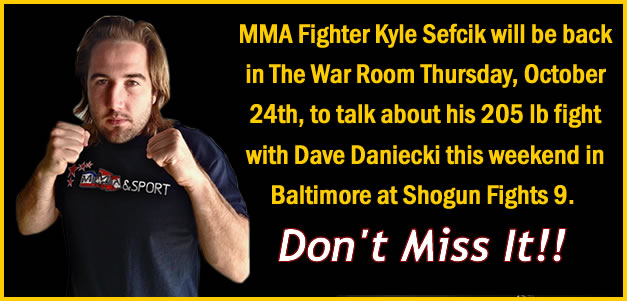 MMA Fighter Kyle Sefcik will be back in The War Room this Thursday, October 24th, to discuss his upcoming bout with Dave Daniecki at Shogun Fights 9, in Baltimore, Maryland on Saturday, October 26th!
Tune in Thursday, October 24th at 6pm ET to hear our conversation with "K-Sef"!  To tune in, go to www.WarRoomSports.com and click the "Listen Live" button…or dial 323-410-0012 to listen LIVE by phone.
In the meantime, join the War Room Sports Facebook page at www.Facebook.com/WarRoomSports and follow us on Twitter at www.Twitter.com/WarRoomSports (@WarRoomSports)!
If you are in the Washington, DC/Baltimore area and are interested in attending Shogun Fights 9 at First Mariner Arena in Baltimore on Saturday, October 24th, to see Kyle and others, go to http://www.shogunfights.com/ for ticket information.  You can also visit Kyle's site http://www.mmaandsport.com/ for details.
Finally, if you own an Android phone or tablet…an I-Phone, I-Pad, or I-Pod, please go to your Google Play Store and/or Apple App Store and download the FREE War Room Sports mobile app!  It's the VERY BEST way to stay up on all of our media content!