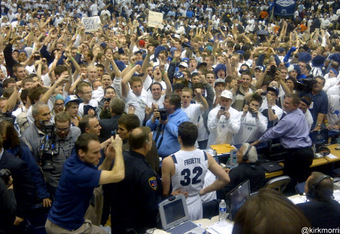 I wanted to talk about all the attention Brigham Young University's (BYU), All-American basketball player and potential NBA first round pick, Jimmer Fredette has been getting. Jimmer was voted the 2011 NCAA Men's Basketball Player of the Year, Wooden Award winner, Naismith Award winner, Adolph Rupp trophy winner, and Oscar Robertson trophy winner. Now, we have been very descriptive here in The War Room in regards to Jimmer's rare skill set and his dominance of the NCAA this year. This dominance has included multiple 40 point performances off of an array of long three pointers, pull up jumpers, cross over dribbles, in and out dribbles, hesitations, lefty layups, floaters, between the legs and behind the back dribbles, and supreme confidence.
It was reported last week that Jimmer was banned from attending classes at BYU because the university felt that he was too much of a distraction on campus and in the classroom. Now let's be mindful, BYU is not used to having such a college star grace its campus even though they have had 2 Super Bowl winning QB's in Jim McMahon and Steve Young, and an NBA championship guard named Danny Ainge.
In my opinion, I think that is a bit much to tell Jimmer that he has to take the rest of his classes during his senior year online, but hey, BYU abides by their own rules (see BYU Honor Code) My only questions are: Will he be able to attend his graduation? If not, that means he has to get his degree scanned and emailed to him. My second question is, Did the university do this for fear that the female students would be more tempted to break the honor code with Jimmer because of his fame and stardom? I can't call it, I just wish Jimmer and his current girlfriend (Whitney Wonnacott) the best and I hope he has a successful NBA career.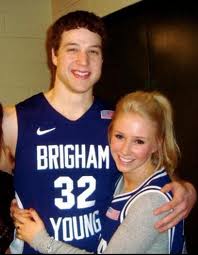 Aquil "Quil" Bayyan of The War Room, for War Room Sports