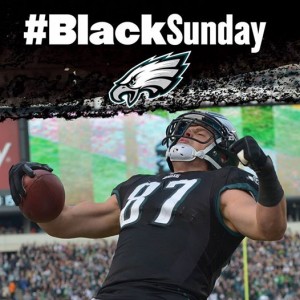 The Philadelphia Eagles head into their bye week flying on the highest note possible: On the heels of total shutout of those New York football Giants 27-0. 27-zip. 27-to-nada.
However you say it, the score is beautiful.
This is the game when LeSean McCoy finally got going, notching 149 rushing yards. The tight ends got into the act, with Zach Ertz and James Casey both getting in the endzone. Nick Foles finished the game with 21 for 34 with 248 yards for 2 touchdowns, but also threw two interceptions.
The Eagles defense showed up big time, completely stifling an offense that had averaged 35 points its last few games. But the streaking Giants simply had no answers for the Eagles, who got eight sacks (6 on Eli Manning and 2 on backup Ryan Nassib), limiting the two-time Super Bowl MVP to 13 for 23, 154 yards for exactly 0 touchdowns.
Connor Barwin was an absolute beast, getting to Manning for three sacks. Vinny Curry had a blast getting to the quarterback and sacking the Giants' QB twice. Brandon Graham, Trent Cole and Brandon Blair also got into the each, notching a sack each.  Much as the New York media wanting to claim dismay at the portrayal of "Lil Eli Manning" in the Eagles cartoons, that's exactly what he looked like on the field Sunday night.
It's the first shutout for the Birds since 1996, and the first at Lincoln Financial Field.  Oh, the previous shutout, which took place in December of '96. Against the Giants. In that game the Eagles won 24-0.
Darren Sproles, who added to the team's touchdowns on Sunday night, left the game in the fourth quarter with a knee injury. We'll wait for news and hope that everything is okay with the most dynamic Eagles player this season.
It was the most complete win the Eagles have put together all season. The victory becomes all the more important as the Dallas Cowboys improved to 5 -1 earlier in the day, beating the Seattle Seahawks. Philadelphia retains its lead in the NFC East and has shown just how good–and dangerous–they can look when everyone is on their game. It's a wonderful sight to behold for Eagles fans, and something that hopefully makes their next several opponents very nervous as they study the Birds' Week 6 game film.
Cary Williams is a talker, but his line following the game was great:
"Who said we were a soft 4-1? We're 5-1 now. Is that soft, too?"
Follow Philly Sports Muse on Twitter and Facebook
Brandyn Campbell of Philly Sports Muse, for War Room Sports
Tags: All's Fair in Sports and War, Brandyn Campbell, Connor Barwin, Dallas Cowboys, Darren Sproles, Eli Manning, Football, James Casey, LeSean McCoy, New York Giants, NFL, Nick Foles, Philadelphia Eagles, Philly Sports Muse, Seattle Seahawks, Vinny Curry, War Room Sports, Zach Ertz