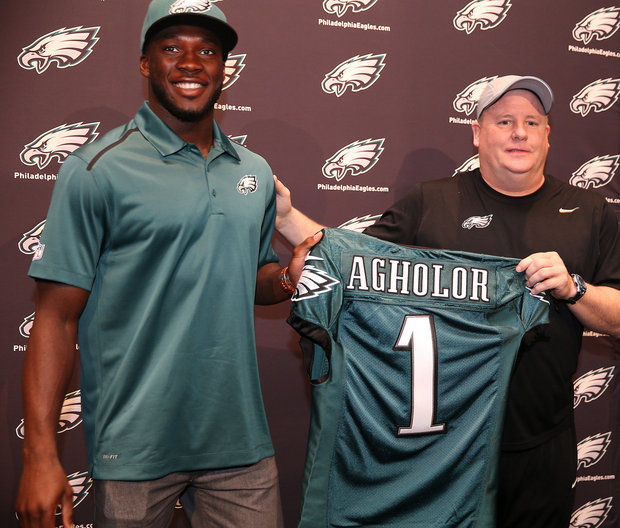 The 2015 draft has come and gone, and the dust is beginning to settle for the Eagles and teams around the NFL. How did Chip Kelly do in this draft, the first where he had full control of the process?
Despite the incredible speculation and trade scenarios leading up to the event, the draft was decidedly without drama for the Eagles. They didn't land Marcus Mariota, and they didn't draft any offensive linemen. But they did load up on defensive backs, an area of need for many years.
The draft grades are pouring in, and there seems to be consensus about the Eagles' performance: no one was wowed, but it wasn't a miss. Better than average – every grade I've seen has been in the "B" range.
Heading into the draft, the team needed to find a dynamic wideout to replace Maclin, and they did that nicely with the first-round selection of Nelson Agholor. They needed to find a likely starter at corner, and they now have some options there, with the pickup of the versatile Eric Rowe. The Jordan Hicks pick was too high, given his injury history. They needed help at safety and picked up a few options for that position. Philadelphia needed to address holes in the offensive line left by the departure of Todd Herremans and the likely exit at any moment by Evan Mathis (what WAS that this weekend?!).
Draft expert or casual fan, no one truly knows the success or failure of this draft until we see how the six drafted players perform for the team in the next few years. As the Daily News' Paul Domowitch said in an article today, "There is no right or wrong with respect to the 2015 NFL draft right now. There are only opinions."
A few other perspectives on the Eagles'  2015 draft performance:
A roundup of draft grades from national media, including a B+ from Mel Kiper, Jr.:
"He has put a premium on guys that will buy in, and I think he got those types and hit a couple home runs in the process. Nelson Agholor to me just screams 'high floor'. He's a great route runner, plucks the ball out away from his body, has the proven toughness of a return man – you should hear Polian talk about that – and is sneaky explosive. He can get behind defenses. I also think Eric Rowe at No. 47 overall was a steal. He is a great kid and offers up versatility (CB or S), and I thought he'd be a good value as early as the end of Round 1."  –Birds 24/7
An NFC East personnel exec weighs in on the Eagles draft:
"He loved the selections of first-round wide receiver Nelson Agholor and second-round defensive back Eric Rowe, really, really loved them. But he hated the third-round selection of linebacker Jordan Hicks (way too high)." – Philadelphia Daily News
A B+ for the Birds from Brandon Gowton, an extensive round-up of grades from other outlets:
"My first impression of the Eagles draft class is that it looks solid. There aren't really any picks that make no sense at all to me. The team did a nice job of addressing needs by selecting players who fit their scheme and culture." – Bleeding Green Nation 
Follow Philly Sports Muse on Twitter and Facebook