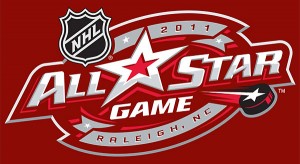 I'd just like to take a minute give kudos to the NHL for their "outside the box" thinking in regards to the format of this weekend's NHL All-Star Game in Raleigh, North Carolina.  This isn't the first time that they have tweaked the format of their All-Star EXHIBITION game.  The NBA, NFL, and ESPECIALLY MLB should all take note.  Though it is my opinion that the NFL has the worst all-star game in professional sports, I singled out Major League Baseball because they TOTALLY dropped the ball when they made the results of an exhibition game the determinant for home field advantage in the most important set of games in the entire sport.
Over the years, the NHL has experimented with several different formats such as East vs West, USA vs the World, etc.  This year's format may be the most interesting one yet from a fan's perspective, and most of the excitement will take place before the first puck is ever dropped.
The fans have voted in 6 "starters" (3 forwards, 2 defensemen, 1 goalie) from both conferences.  The NHL then selected another 36 All-Stars, which will give each team 12 forwards, 6 defensemen, and 3 goalies when the teams are eventually set.  That pool of 42 players then nominated 6 of their peers to serve as captains for the two teams (1 captain and 2 alternates for each team). 
Tomorrow (Fri, Jan 28) at 6pm, a televised Fantasy Draft will be held on the NHL Network, where the captains of each team will select their perspective rosters, with the order determined by a coin toss.  Then on Sunday (Jan 30), the selected teams will do battle.  I personally think this is a great format for and All-Star EXHIBITION.  Can you imagine if the NBA had a pick-up All Star Game?  Can you imagine if the NFL Pro-Bowl……..nevermind…….I don't know what it will take for me to ever be interested in the Pro-Bowl again.  However, my advice to the other professional leagues is…TAKE NOTES…and remember, in the words of my Homie Duke from Rocky IV…"THIS IS SUPPOSED TO BE AN EXHIBITION!"
Devin "Dev" McMillan of The War Room, for War Room Sports
Tags: Carolina Hurricanes, Devin McMillan, MLB, NBA, NFL, NHL, NHL All-Star Game, North Carolina, Pro-Bowl, Raleigh, Rocky IV, The War Room, War Room Sports