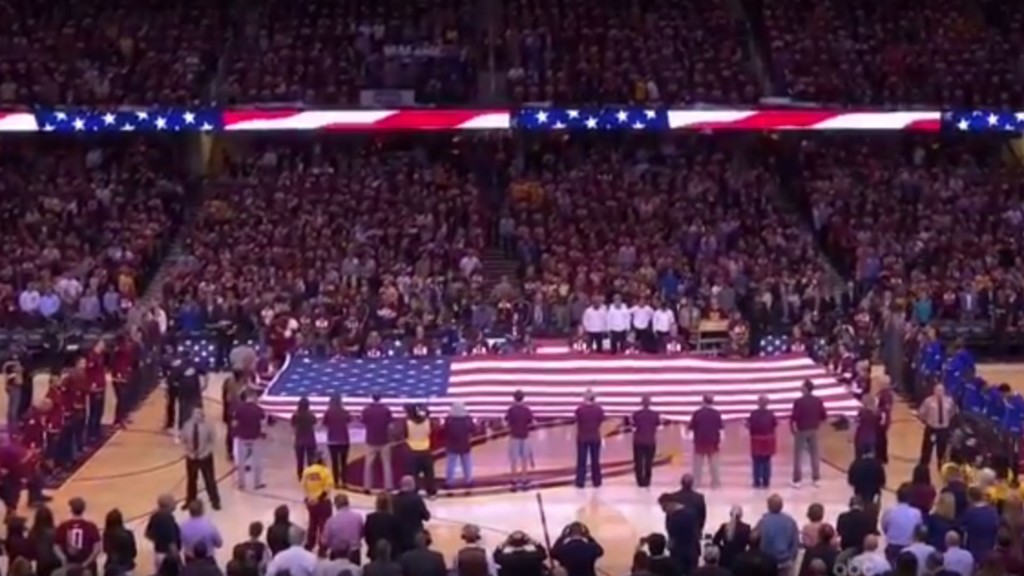 On Thursday, I'll be attending my first Washington Wizards game of the season.   They would be on a 15-game home winning streak as my Lakers roll in to make their one and only DC appearance of the year.  One could make the case that I shouldn't stand for the National Anthem in protest of how bad my Lakers have been these past 3 years.  But of course the issue is much larger than this notion.
Long before Colin Kaepernick decided not to stand for the National Anthem, I was conflicted about the whole issue.  On the one hand, the mere fact that I do have the right "not to stand", is in of itself, a reason to stand. There is something to be said for that rationale. There certainly are places where if I were to dare not follow the company patriot line, even at a sporting event, I would be subjected to much more than mean stares.  For me, that would be about the extent of my "persecution", here in America.
Then on the other hand, should Black people feel obliged to honor a country that has treated us as it has?  And while that treatment has certainly varied and even subsided over the course of time, only volunteer denial would assert that it has ended.  Would standing be an honor to those before me never afforded full American status, or those who died trying to attain such, or a dishonor?
While the decision is personal for all, my conclusion is ultimately this: what good is it to have a "right to protest" and then not use it to raise awareness about the very fragility of one's life?
So there it is.  I will not be standing again anytime soon.
Now surely some will read this and will say, "if you don't like it here leave!"   I will likely take them up on that offer upon retirement.
Still others will say, "sports is supposed to be an escape from such issues".   To a limited extent, it can be.  But when I enter that arena at about 6:59 PM, whatever realities existed about being Black in America will neither be suspended nor dissipate because I stood for the National Anthem.  Likewise, when I leave at about 9:30 PM, those realities will still be here.  In fact, my standing will only co-sign maintaining the status quo.
The last most common response is, "I support your right but wish you found another way to do it".  To that I say, such as what?
Voting isn't enough!
The accumulation of wealth isn't enough!
Education isn't enough!
Pulling up your pants in favor of a suit and tie isn't enough!
And even going to church for Bible study and prayer isn't enough.
While I don't dismiss all of the above as useless, I do contend that they have all been tried and are simply not enough to address the shameful treatment of Black folks in America since our forced arrival.  So who among us with serious intent to address the problems would offer more of the same solutions?   If we do the same, we'll get the same.  But if we dare to do something different, at the very least we can spark some conversations that may lead to positive change.
The best option as I see it, based on history and my personal experience, is to engage in organized struggle to include protest.  It is neither easy nor simple.  But I see no collective progress made that did not require this, and sports is as viable a venue to spark such struggle as any other.
Gus Griffin, for War Room Sports
Tags: America, Black People, Colin Kaepernick, Gus Griffin, Los Angeles Lakers, National Anthem, NBA, War Room Sports, Washington Wizards, WRS