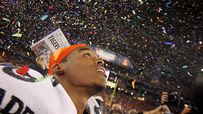 Why is it that we now live in a society where we live to put you up only to knock you down?  When did we become social predators showing the fangs of jealously instead of patting your fellow man on the back?
When you put an inkling of doubt into someone's head, you will never get it out.  There will always be whispers of "what if he did it, what if he didn't".  There are countless examples of what I mean, but for this instance I will choose just one.
Cam Newton is one of the best, if not the best athlete to have hit college turf.  He's won The Heisman, he just won the BCS Championship along with his team, but yet he is being overshadowed by exploitation, greed, and the wrong doings of others, and you better believe that sooner or later it's going to bite him right where it counts.  Instead of a "congratulations", he is getting the "Scarlett Letter" of sports stamped right on his chest…the BIG "C" for cheater.
I'm not going to pretend that I know all the facts, because really nobody does.  This investigation has been so screwed up from the beginning that I'm not sure the real truth will ever come out.
Here is what I do know…                                                                      
First, the story is the Auburn quarterback and his father had put him on the auctioning table to be bought by the highest bidder.  Now we find out that he had no idea what was going on and that his father acted alone.
It didn't matter that the NCAA had all the facts.  All they wanted to do was make this go away.  So what do they do decide to do?  Deem him ineligible following the NCAA amateurism rules, only to reinstate him the next day, finding they had no sufficient evidence to keep him from playing football and winning every trophy he was eligible to receive.
After all is said and done, this blemish on Cam Newton's record is very present and does not seem to be going away anytime soon.
If the NCAA later finds Newton was involved along with his father and other unknowns in selling himself on the black market of football, then I will come to the conclusion that the NCAA has found no more use for Cam Newton and has thrown him to the wolves to satisfy the blood craving of those who need to see an artificial justice to make themselves feel relevant and important.
 My ramblings are not about the boy and whether or not he made a poor choice, but a much bigger picture.  A picture of how the NCAA and the universities & colleges recruit these young men and women, only to have them "slum it" for four years eating Oodles of Noodles, secluding themselves and cutting off their social circles, because if you just so happen to buy them a drink, they may get kicked out of their selected program.  These kids have special talents, but they are much more than the talent they have.  They belong to a family that may depend on them.  They give up a lot to reach their potential, only to become sacrificial lambs.  They are human and they make mistakes and may want or need more than what these prospective organizations can offer.
I do not condone rule breaking but there is nothing to lose in changing the rules.  I am sure I will be perceived as giving these guys an excuse to take the gifts that are given to them, but this is my opinion and if you don't like it then you should stop reading right now.  Like it or not this is a business, a profitable business that should be held accountable for their part in why this happens to what seems like all the time with young athletes.   I can't tell you how it is to be a highly skilled athlete in college, but I can tell you what it is like to be me in college, and it wasn't all gum drops and rainbows.  I had a full-time job plus a full course load, so I can imagine what these highly publicized athletes have to endure.
Maybe one day someone with authority in the NCAA will look at the rules and see that they are a little lopsided.  Maybe one day it will change, but for now I'll look to papers to see which young athlete will be next to get the "Scarlett Letter" of "C" on their chest.
Stephanie C. Curry, Guest Blogger for War Room Sports
Tags: Auburn Tigers, BCS National Championship, Cam Newton, Heisman Trophy, NCAA, Rules, Stephanie C. Curry, The War Room, War Room Sports