I just want to take a minute to go the route of my Homie & co-host Aquil Bayyan and offer a public apology to one Mr. Derrick Rose.  Prior to, during, and shortly thereafter the 2008 NBA draft, I loudly proclaimed that Mike Beasley should have been the #1 pick instead of the young Mr. Rose.  I saw Rose's athletic upside in his lone season at the University of Memphis but never in a million years thought he could also become a prototypical point guard on top of that.  Less than 3 years after draft day, he is averaging 24.5 points, 8.1 assists,  and 4.3 rebounds per game, he's in the midst of a VERY legitimate MVP campaign, and though I don't give him this title quite yet, he is arguably the best point guard in the NBA (I personally still reserve that title for Deron Williams).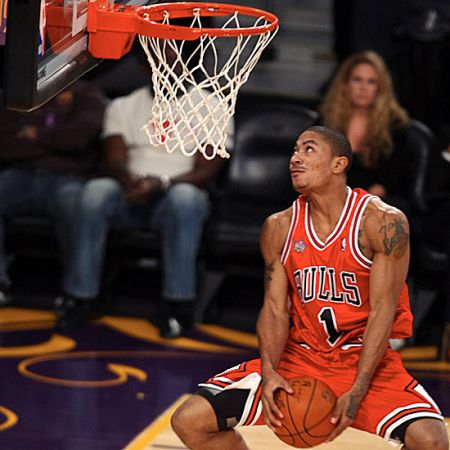 Now hindsight is always 20/20 and I never actually said he wouldn't be good, but I was unaware of the intangibles that this youngster possesses that sets him apart from the "pretender" category.  His desire to be great is extremely evident in both his work ethic and his level of what seems to be GENUINE humility.  When he came into the league, his jumpshot had a body-cast on it.  He, unlike Raon Rondo (yeah I said Raon…I left the J out on purpose…think about it for a minute) has put in tireless work to become a better shooter…and a better shot has disallowed people to continue to play off of him and limit his athleticism by forcing him to shoot.  Let's put this into perspective…he's no Ray Allen, but he has arrived at a point where you must respect his jumper, leaving defenders at his mercy and vulnerable to ape-like highlight reels and poster shots (yeah I said ape-like…get over it…it's a compliment).  He has also become a much better passer and playmaker than I'd expected.
So ball on young Mr. Rose and continue to prove all the doubters wrong…if you still have any.  This is one sports analyst that you've won over.  Now go collect your MVP trophy and take a bow.  
Devin "Dev" McMillan of The War Room, for War Room Sports