Posts Tagged 'Super Bowl LI'
Monday, February 6th, 2017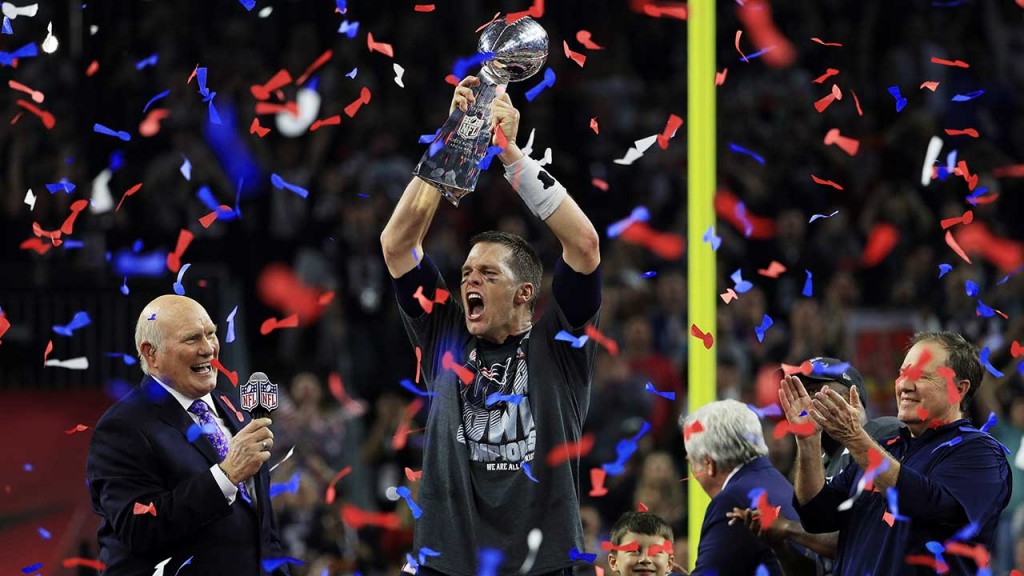 For New England Patriots Super Bowl LI gear, click HERE or click the link below.
New England Patriots Super Bowl Championship Gear
Sunday, February 5th, 2017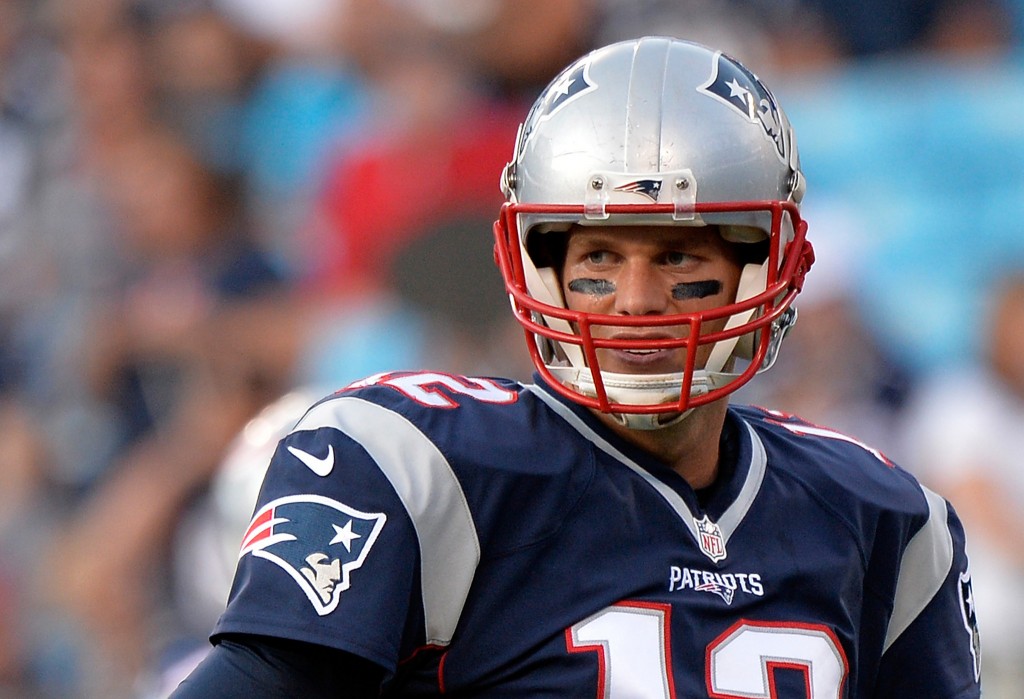 Tom Brady is a beast: a straight up mercenary of NFL defenses.
Don't give me all the Spygate, Deflategate, or any other gate asterisks. As much as I would like to cite these factors as the reason he has tormented my Steelers so much, it just does not stand up to scrutiny.
Before the spying was revealed in 2007, the Patriots were 4-1 with him under center, including two playoff wins in Pittsburgh, against my Steelers. His touchdown to interception ratio was 7:3 and his QB rating was 97.9. Pretty damn good, right?
Since the spying was revealed, the Patriots are 5-1 with Brady under center, including scoring 55 points against my team in 2013, most ever against a Pittsburgh team. His TD/Interception ratio is 19:0 and his QB rating is 127.3.
No typos there, folks.
If they were spying before, I wish they would go back to spying today.
He is indeed on my Mount Rushmore of NFL quarterbacks.
The case here isn't that he is not on the shortlist of greatest of all time. Only that he is not THE greatest of all time, and that isn't as much due to him as it is us. The primary thing we use to put Brady over say Aaron Rogers is Super Bowl rings. Why is that flawed? Because the "how many rings you got?" is the most superficial and intellectually lazy argument in sports.
If it's all about the rings, then Jim Plunkett and Doug Williams were both better than Dan Fouts, right? Mark Rypien and Trent Dilfer were better than Dan Marino, right? Of course not, GTFOHWTBS!!!!
Likewise, Tom Brady is not better than Aaron Rogers or Joe Montana, just as Bill Russell was not better than Wilt Chamberlain or Mickey Mantle was not better than Willie Mays.
Football is the ultimate team sport. So how silly is it that we assign credit for winning Super Bowls to one position in these debates? Brady has been instrumental in the Patriots great run. He has not won Super Bowls by himself.
And even if we were inclined to credit him based on individual performances, Brady has been a shadow of his regular season self in the Super Bowls. Consider them one by one: against the Rams he was still in the game manager mold. His MVP in that game was as much based on sports writers' anti-kicker and defense bias as it was Brady's performance. Everyone knows Vinatieri was as or more valuable in that game. Against the Panthers he threw 3 interceptions. In other words, he kept both teams in the game.
Against the Eagles, Deion Branch won MVP. Any time a receiver, not named Jerry Rice, wins Super Bowl MVP, it's an indictment of the QB performance. And don't let me start on who the real MVP was that game, playing on a barely-heeled broken leg. Hint: the writers are still dissing him in HOF voting and his initials are T.O.!
Granted he torched Seattle, arguably the best defense that he has faced in any Super Bowl. But we all know that but for the worst call in football history (not just NFL but AFL, USFL, College, and High School), the Patriots don't beat Seattle and Brady would be a .500 QB in Super Bowls going into tonight's game. As a matter of fact, both he and Belichick are a few plays here and there from being 0-6 in SB's.
By contrast, Joe Montana's TD/Interception ratio in 4 Super Bowls is 11:0! That too, is not a typo.
So win or lose tonight, Tom Brady is not the greatest QB of all time.
Monday, January 23rd, 2017

The date was January 17, 1999. I was in the West Towers Dormitory of Howard University. It was my sophomore year and The Atlanta Falcons had risen as the formidable force in the NFC. They had beaten the 49ers and were coming off a regular season 14-2 and were getting ready to go up against The No.1 seeded Vikings. The game went back and forth and The Vikings were keen on showing why they were pretty much unstoppable that season. When the game went into overtime, I felt as though this might be it. Two plays later and that man [Morten] Andersen kicked a FG that sent the Dirty Birds to the Super Bowl. "Elation" cannot explain the feeling I experienced until that elation quickly turned into despair only 2 weeks later, when the Falcons got a hiding at the hands of John Elway. Very painful…..let's move on.
After that Super Bowl, the Dirty Birds became a regular NFL team that really didn't accomplish much. We went from season to season just coasting along and remaining relevant in the NFL. It wasn't until we drafted Michael Vick in 2001 that we began to see a resurgence of Atlanta magic at the Georgia Dome. Those years of having a deeply athletic elite QB made a big difference in some foundation work of where the Falcons would eventually end up. Then, the dog fight situation happened (grrrr), Vick gets suspended, and then we get a number 3 draft pick with Matt Ryan in 2008.
When Ryan joined the Falcons, I was optimistic given what he had done at Boston College. Since he joined, The Falcons have been to the playoffs 5 times where Matt was only able to record 1 win. Matt Ryan went from "Matty Ice" to "Matty can't win in January". 2012 was promising because we saw the Falcons go 13-3 in the regular season and then make it to the Conference Championship Game, only to be ousted by the San Francisco 49ers, even though the Falcons started off the game 17-0.
From that point up until now, we have barely broken .500 and not even gone to the playoffs. Last season, long time coach Mike Smith was replaced by Dan Quinn; a no nonsense thoroughbred Defensive coach that came up through the Seattle system. Immediately we saw a turnaround in the way the team played by starting out the 2015-2016 season 5-0, only to be hampered by injuries, bad situations on penalties costing us vital plays, and overall sloppiness. The season ended 8-8 and most fans were wondering what next and how do we build on these mistakes.
2016 started out promising.  Flashes of the previous season prevailed in certain games, but it wasn't until the game against the Philadelphia Eagles in November that we began to see the Falcons firing on all cylinders, only losing one game from that point up until now, making it a 7-game winning streak going into the Super Bowl.
The last two games of the playoffs have been nothing short of a phenomenal display of the ability of this team. Beating teams with powerhouse quarterbacks such as [Russell] Wilson and [Aaron] Rogers shows just how far and how prepared this quad is. The offensive weaponry at the disposal of Matt Ryan justifies why he leads the league in touchdowns to several different receivers. Julio Jones and Mohamed Sanu Jr are having epic seasons and the ground game controlled by [Tevin] Coleman and [Devonta] Freeman are just gems to watch. Then you have the mostly rookie defense who get stronger by the day.
All in all, it has been a fairytale story for the Falcons. From relative obscurity to playing in the Super Bowl for the second time in their history remains remarkable for fans like me that were introduced to this franchise via association, by living in the city.
Sunday, February 5th, the Dirty Birds will have the opportunity to take us back to the days of Jamal Anderson and the antics that defined the Dirty Bird, but this time flying away sky high in Texas.
Nwaji Jibunoh, International Correspondent for War Room Sports
Located in Lagos, Nigeria, Nwaji Jibunoh is War Room Sports' International Soccer Contributor.  Nwaji also contributes commentary on U.S. sports from an international perspective.  He's an Atlanta Falcons fan, Howard University alum, and former tight end for the North Atlanta High School Warriors.