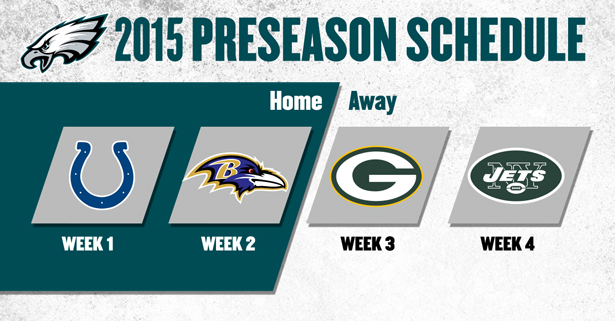 The Philadelphia Eagles' 2015 preseason opponents were announced on Thursday, getting us one small step closer to football season.
We don't know the exact dates and times, but we know the opponents and where the games will take place. That's all we really need right now. A morsel to whet the appetites of hearty fans.
The preseason will begin for the Birds with a home opener against the Indianapolis Colts (game held between August 13 – 17). Week 2  (Aug. 20 – 24) will see the Eagles face off against the Ravens in Philadelphia. In Week 3 (Aug. 27-31), the team hits the road to Green Bay for the all-important dress rehearsal for the season, and they will round out the preseason against the Jets in New Jersey (Sep. 3 – 4).
That's a schedule stacked with playoff winners from last season (Colts, Ravens and Packers). It may just be the preseason, but at this stage any football is something to be excited about. Full details of the schedule will be released later in the offseason.
Follow Philly Sports Muse on Twitter and Facebook