by Gus Griffin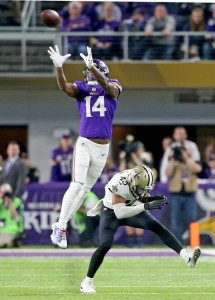 Nothing in sports is second-guessed and dissected more than coaching. Few other things in the lager society are second-guessed and dissected more than parenting. Without question, coaching is hugely influential on the development of a player. Likewise, parents are even more so in the development of their children. Another common thing between coaching and parenting is the degree to which both are prematurely judged by people who are not privy to all the factors that go into coaching or parenting. The last play of the Saints vs. Vikings playoff game made me think of this.
As you all likely know by now, the Vikings were down 24-23 with less than a minute remaining and in desperation mode. Vikings' QB Case Keenum lofted a pass up for receiver Stephon Diggs, who leaped to catch the pass and then ran another 40 yards or so for a game winning TD. He was able to do this due to one of the worst defensive non-plays I have seen in my life, on any level of football. Saints DB Marcus Williams lowered his head and blindly missed him, completely allowing Diggs to run for history.
I was, as I imagine most of you were, speechless.
Then I noticed a few comments on social media questioning how he was coached? Still others theorized that he was afraid to get a penalty. I thought to myself, "What the hell are these people talking about?". Youth football players are taught at 6 years old to see what they hit.
Sometimes a rock is just a rock.
This had absolutely nothing to do with inept coaching. The young man simply messed up. He has had a very solid rookie season with 4 interceptions and if he survives this mentally, he seems to have a bright NFL future. But there is no need to overanalyze this. It's not throwing the ball into traffic on the goal line in the Super Bowl when you have Marshawn Lynch in the backfield. Now that was boneheaded coaching and we didn't need to know any other factors to conclude that when the Patriots beat Seattle in the Super Bowl a couple of years ago.
These two examples are extremes. Sunday with the Saints, coaching was clearly not the issue. With Seattle, coaching clearly was the issue. But most coaching decisions, like most parenting decisions, have a great deal more nuance and gray factors to consider, and only those involved or very close to the situation are privy to these factors.
One of the best examples was how the late former Eagles coach Buddy Ryan handled the substance abuse problem of a young talented receiver named Chris Carter. When the team cut Carter, everyone familiar with his talent wondered why take such a young dynamic weapon away from QB Randall Cunningham? To that Ryan would only say, "All he does is catch touchdown passes". For years, Ryan took ridicule for that comment and the decision to let Carter go. The receiver would go on to resurrect his life and career in Minnesota, which eventually led to his enshrinement in the Pro Football Hall of Fame. Carter would set the record straight years later, acknowledging that his release was all about how unreliable he had become, due to his substance abuse problem, and had nothing to do with his on-field performance. Had that come out, Ryan was afraid that Carter would be blackballed from the league. So, Ryan took the hits for years, never revealing the real reason until Carter was ready. He was actually trying to protect his player.
Go to any town hall meeting, hair salon, or barber shop, and listen closely for that inevitable moment when the discussion turns to today's youth. That will start the clock toward the "it all starts in the home" declaration. The issue is not if the statement is largely true. It is! The issue is that it is often a simplistic cookie-cutter, broad-brush explanation for the behavior of youth by people who have little interaction with the very youth they castigate. Regardless of parenting, there will always be youth who decide to drink and drive with disastrous results. It does not mean parent modeling or condoning of such behavior was the root cause. Likewise, players will sometimes fail well below their professional standard. It doesn't mean bad coaching is the root cause.
Whether it's coaching or parenting, I don't know why so many are so hell bent on making such conclusive public critiques while being so poorly informed about the individual situation. I do believe it often says more about the critic than it does about those being critiqued.
Gus Griffin, for War Room Sports