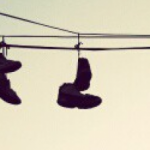 The Donald Sterling ordeal was something else!  After being surreptitiously recorded ranting his feelings about black people to his mistress, V. Stiviano, Sterling's appallingly primitive views on race set in motion a tidal wave of disgust throughout the national media.   The width of his racism was captured in his infamous quotes.  Speaking of his black players, "I support them and give them food, and clothes, and cars, and houses."  He continues, "I'm just saying, in your lousy fxxxing Instagrams, you don't have to have yourself walking with black people," and "Don't put him [Magic Johnson] on an Instagram for the world to see so they have to call me. And don't bring him to my games."
Though Stiviano is racially mixed, post-racial America's charge on a boldly different perspective on race and race relations hasn't capitulated Sterling's D.W. Griffith-aesthetic.  Because of this, NBA Commissioner, Adam Silver fined Sterling $2.5 million dollars in addition to banning him from the NBA "for life." Among more interesting things is that the NBA is taking action to force Sterling to sell his $575 million dollar franchise, that could sell for upwards of $1 billion dollars.  There are plenty of sharks roaming the shores of the LA Clippers' franchise; filthy rich sharks, and some famed rappers are a part of this pod.
If the NBA's board of governors can force Sterling to sell, a roll call of potential buyers are ready.  With a combined net worth of over $60 billion dollars, the most likely to win a bidding war are business tycoons Oprah Winfrey, David Geffen and Larry Ellison.  Guggenheim Partners, Magic Johnson, and Mark Walter are another group of bidders that have a good shot at the LA Clippers.  The sharks that are least likely to win in a bidding war are rappers. Sean Combs, Dr. Dre, and Rick Ross have all publicly expressed interest but compared to the above mentioned, probably lack the capital needed to purchase a majority stake.
They can afford to be minority owners, however.  Nelly is a minority owner of the Charlotte Bobcats and Jay-Z recently sold his minority stake in the Brooklyn Nets.  And Drake has partnered with his hometown team, the Toronto Raptors, helping them with a variety of initiatives, including launching a clothing line in conjunction with the franchise.  Click here to read the full article.