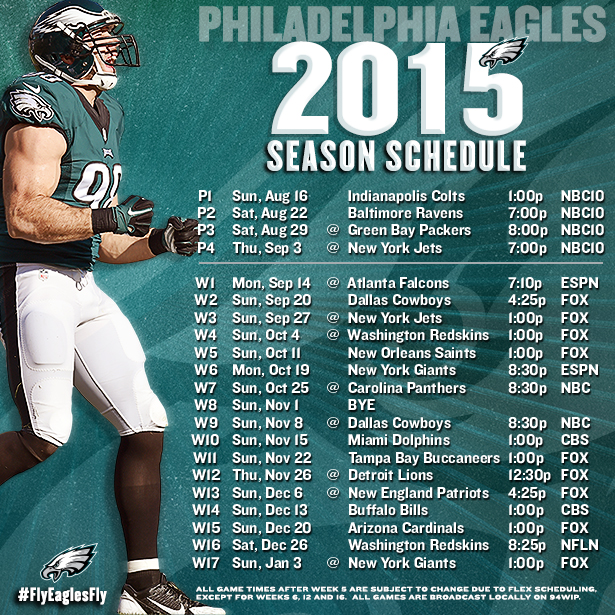 There are still five long months to endure until football is back, but hope arrived in the form of the Philadelphia Eagles 2015 schedule release on Tuesday evening.
The season starts for the Birds with the Monday Night Football opener on September 14 at Atlanta. The thrill of a new season continues to soar when the Eagles meet the Cowboys in Week 2 for the home opener at the Linc.
Philadelphia's next meeting with a divisional foe comes on the road in Washington on October 4. The first game against the Giants comes on October 19 at home in another Monday night matchup. Philadelphia's season will end against the Giants on January 4 at the Meadowlands.
Anticipation is on high for Chip Kelly's third season with the Eagles, as evidenced by the fact that the team will be featured on national broadcasts no less than six times: Week 1 (at Atlanta) and Week 6 (vs. Giants) on Monday Night Football; Week 7 (at Carolina) and Week 9 (at Dallas) on Sunday Night Football; a Thanksgiving Day feast at the Lions in Week 12; and Week 16 (vs. Redskins) on the NFL Network. 

The NFC East matchups will be filled with emotion, but a few other games also leap out as being heated battles. Namely, Week 13′s game against the Super Bowl winning (bleah) Patriots at New England. Immediately following is the Week 14 contest against the Bills at the Linc, or the return of Shady McCoy to his former home. It's always good when it's personal.
Fansided calls the Eagles 2015 schedule the 3rd toughest in the league. Philadelphia has their work cut out for them this year regardless of who they face, with a number of key pieces, especially at quarterback, that will need to step up and perform quickly. There remain many unknowns, but with the schedule release this week and the draft finally arrive next week, critical pieces of the puzzle have slowly started to fall in place.
What do you think of the Eagles 2015 schedule?
Follow Philly Sports Muse on Twitter and Facebook