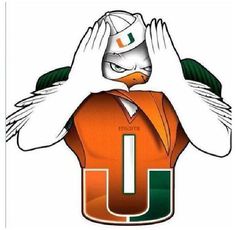 CORAL GABLES, Fla. – The University of Miami Athletic Department is excited to announce a cutting edge partnership with EON Sports VR to create a state of the art virtual reality (VR) channel, Canes VR, for the Hurricanes' loyal and passionate alumni and fans.
The partnership between Miami and EON Sports VR, the world's leading virtual reality sports training and fan experience company, is among the first offerings nationally in intercollegiate athletics to provide fans with an all-access virtual reality channel.
Through EON Sports' proprietary technology, the University of Miami can upload dynamic content to their customized VR channel to provide their fans an immersive behind-the-scenes experience in a customized virtual reality environment.
To access the VR channel, Hurricane fans will have the opportunity to purchase a UM-branded VR headset. Practice footage, scrimmages, huddles, and interviews are just a few examples of the types of content to be streamed to the channel.
"We're incredibly excited to be working with EON Sports to put this virtual reality channel together. At the University of Miami, we strive to be on the cutting edge of digital, video, social, and web technologies and EON and their team have helped immensely in that endeavor," said Jason Layton, Miami Senior Associate Athletic Director for Communications and Sales. "After an investment in broadcast and video production, we wanted to expand into other ventures, including 360º video and we're able to do that with this immersive product. As we look forward to an October launch, we're excited to show off what our team has been working on in conjunction with EON Sports."
The University of Miami is aiming to debut the new technology to fans in early October providing content from both their men's, and women's teams.
"We are thrilled to partner with the University of Miami, and together, look forward to providing the Hurricanes fan base with a new & immersive way to experience Hurricanes content," said Adam Pummill, COO of EON Sports VR. "Fans are always looking for ways to get closer to the action. With Canes VR, they'll experience content like never before."
Fred Perdue for War Room Sports
Follow and Interact with Fred on social media @FPerdueSports