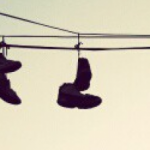 Album Rating System:  5 out of 5 records
"This dick ain't free," is a gender bending, emphatic statement, that should be the mantra for black male youth growing up in a hyper-sexual society, where Kendrick Lamar redefines black masculinity on "For Free," the second track on his second studio album, To Pimp A Butterfly. I don't know if redefining black masculinity is on purpose or if it is by virtue of his conscious subject matter, but in TPAB Kendrick tackles social issues of the hood – manhood, love, sex, religion, mental illness, self-esteem and gang-banging, with a stream of effortless maturity. Either way – damn, this album is a breath of fresh air!
Kendrick's maturity is not only a by-product of his upbringing but also of his spirituality. If you were to put a mirror up to the new faces of Christianity those faces may have a different look, especially with regard to perspective. It's a perspective that is as simple as Kendrick talking about self love in "i" but as complicated as loving and hating the same person in "u", or how he can be enraged and want to unify the black community at the same time in "The Blacker the Berry." This may seem like truckload of contradictions but it is actually an honest and transparent look at what a human being looks like.
I'm sure if we examined Kendrick's heart among all the brilliant things there would be to study love would stand out. This kid's heart is massively suffocating. He possesses a true love for black people, especially his Compton family. Though on the outset he abhors his homies' gangster lifestyle, his affections for them are made clear on his album cover – Kendrick loves his niggas and truly wants to see them do well. The same love and respect he has for his homies he has for women, too. In "Complexion" he raps "Beauty is what you make it, I used to be so mistaken/By different shades of faces/Then wit told me, "A woman is woman, love the creation"/It all came from God then you was my conformation/I came to where you reside/And looked around to see sights for sore eyes/Let the Willie Lynch theory reverse a million times with…"
If I didn't know any better the production on the TPAB sounded like Dr. Dre was operating in the spirit of Rico Wade, 1/3 of the Atlanta production team Organized Noize who produced albums for OutKast and Goodie Mob. This isn't a slight to Dre, as I think this is arguably some of his best work to date, but the funk-jazz infused Hip Hop is sonically similar to Aquemini. The main difference in the production is the use of Be Bop jazz interpolations dispersed throughout TPAB in arrythmic patterns that plays up the coffee shop poetry feel. And of course, in Dr. Dre fashion, he tells a lengthy story that connects every song together in perfect succession.
The last song "Mortal Man" sums up the album. "Mortal Man" is riveting because toward the end of the song Kendrick has a conversation with Tupac Shakur, posthumously, of course, but carefully using excerpts of Tupac's interviews creates a chilling dialogue between the two. After the two share their outlooks on life Kendrick pulls out a poem he wants to read to 'Pac about the metaphor of the caterpillar and the butterfly. He explains it beautifully and then asks for 'Pac's perspective, to which Pac doesn't answer. The album ends with Kendrick saying, "Pac! Pac! Pac!" Some may see this as Kendrick being a Tupac incarnate but I think that Kendrick's ideas on black emancipation are a bit more mature than Tupac's. Tupac's warrior-like passion is rooted in a kill-or-be-killed mentality, whereas Kendrick's passions are rooted more in his love for God. If anything Kendrick Lamar is an evolved Tupac, and Pac's silence is a clear indication that the torch has been passed.
TPAB download here —-> https://itunes.apple.com/us/album/to-pimp-a-butterfly/id974187289
© Copyright Eddie Savoy Bailey III, 2015
Written by: Eddie Bailey of The Savoy Media Group
Twitter @SavoyMediaGroup
Email: writingbattleraphistory@gmail.com
Blog: writingbattleraphistory.wordpress.com
#WBRH