Posts Tagged 'Greg Lanesey'
Friday, February 25th, 2011
Sunday, February 20th, 2011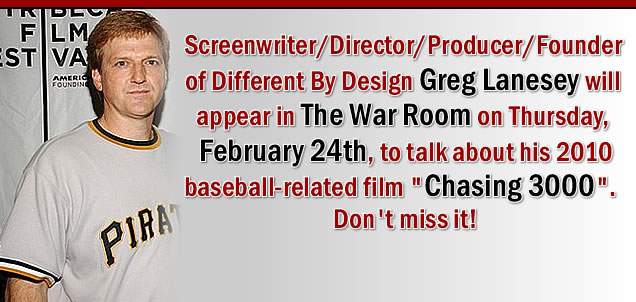 Writer/Director/Producer/Founder of Different By Design Greg Lanesey will join The War Room Starting 5 this Thursday, February 24th to talk about his baseball-themed movie "Chasing 3000″, starring Ray Liotta!
Tune in Thursday, February 24th at 6pm EST to hear our conversation with Greg!  To tune in, go to www.WarRoomSports.com and click the "Listen Live" button…or dial 323-410-0012 to listen live by phone.
In the meantime, check out the Different By Design website at www.dxdproductions.com and purchase your copy of Chasing 3000 at http://goo.gl/F6MMo.
And while you're at it, join the War Room Sports Facebook page at www.Facebook.com/WarRoomSports and follow us on Twitter at www.Twitter.com/WarRoomSports (@WarRoomSports)!