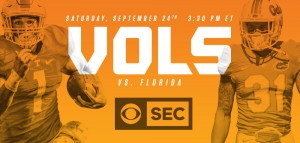 Florida Junior defensive back Quincy Wilson is very confident heading into Saturday's matchup against No. 14 Tennessee, going so far as to guarantee victory over the Volunteers.
Wilson referred to Tennessee as 'ducks'.
"We have a message from DBU ('Defensive Back University') to Tennessee," Wilson said. "Have you ever seen a duck pull a truck? Ducks don't pull trucks. Nobody has ever seen a duck pull a truck. Florida Gators are going to win, simple as that."
The Gators hold 11 consecutive victories over the Vols, so the brash confidence and bravado from the young defensive back is well understood.
Florida is ranked No. 19 heading into the game, with both teams maintaining 3-0 records.
"Yeah, we're going to go out there and play Gator football and win," Wilson said. "I know what type of players we have on our team. I know what everybody can do, what we show in practice, how hard we go. I know that we can't be stopped."
The Gators defense ranked No. 1 nationally in total defense and scoring defense, due in large part to the quality of opponents it's played to this point.
Both teams are marred with injures. Redshirt sophomore starting quarterback Luke Del Rio, who reportedly suffered a sprained MCL following a questionable hit last Saturday, will miss a couple weeks. Sophomore right guard Tyler Jordan will also be out as he deals with an eye problem stemming from surgery he had last season. Most expect sophomore wide receiver Antonio Callaway to be active for the game, but he's dealing with a quadriceps contusion that had him noticeably hobbled for the last week. The Vols will be missing two of their best defenders in linebacker Darrin Kirkland and No. 1 cornerback Cameron Sutton, who are both dealing with ankle injuries. Joining Sutton on the injury list last week were linebackers Quart'e Sapp (ACL) and Jalen Reeves-Maybin (shoulder), though Tennessee expects Reeves-Maybin to go while Sapp, a reserve, has been lost for the season.
The UF-Tennessee Rivalry has been hyped up all offseason and the back and forth between both teams has been intense as ever and looks to be a very physical game on Saturday.
Fred Perdue for War Room Sports
Follow and Interact with Fred on social media @FPerdueSports