Teams have personality. Between the owner, the coach, the players, and the fans, a team develops certain behaviors. As we approach the official beginning of the NFL season, WingFan would like to continue the countdown to kickoff by walking you through each AFC North team and our assessment of their persona. Let's take a look at what each team brings to the table:

Team: Pittsburgh Steelers
Persona: Robert DeNiro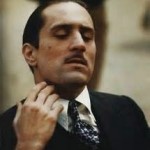 There can only be one Godfather and the Pittsburgh Steelers take that title.  They have six Super Bowl wins ('74, '75, '78, '79, '05, '07) – the most in NFL history.  The 1970's Steelers dynasty was nicknamed "The Steel Curtain" and the way they played was brutal, hard-nosed, and downright gangster.  Robert DeNiro is as gangster as they get:  young Vito Corleone in Godfather II, Al Capone in The Untouchables, Jimmy Conway in Goodfellas, Lorenzo in Bronx Tale, and Sam Rothstein in Casino.  The Steelers weren't just a great team but their defenses are full of legendary athletes who toe the line between genius and psycho – "Mean" Joe Green, Jack Hamm, Jack Lambert, Melvin Blount, Kevin Green, and Jerome Harrison.  DeNiro's got a psycho side too:  Travis Bickle in Taxi Driver, Max Cady in Cape Fear, and Gil Renard in The Fan.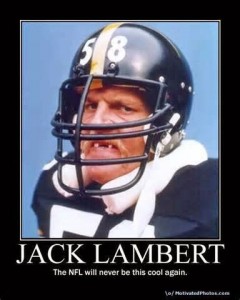 You can't become a legendary actor by being a "one trick pony" and DeNiro is more than capable of being versatile.  You can't become the most decorated team in the Super Bowl era without having a versatile offense either.  The Steelers believe in running with power, passing with grace, and digging down deep when it counts. DeNiro believes in method acting, physically pushing his body's limits to pull off the role, and digging deep
within himself to find his character's true being.  Players like Terry Bradshaw, Lynn Swann, Franco Harris, Jerome Bettis, Hines Ward, and Ben Roethlisberger are great Steelers because they do more than one thing.  They are receivers who make blocks down field.  They are quarterbacks that shake off a big hit and throw the winning pass.  They are running backs who run for the touchdown even if they have to make a hole for themselves.
The Steelers have a "miracle" play called the "Immaculate Reception".  One of the best "miracle" roles DeNiro ever had was as Lenard Lowe in Awakenings.  The late Robin Williams played a doctor in a mental hospital that discovers a "miracle drug" which brings Lenard Lowe back from his catatonic state.  Quarterback Terry Bradshaw made a desperation throw in the closing seconds of a 1972 playoff game against the Oakland Raiders.  The receiver was immediately hit by a defender and the ball popped high up in the air. Just as the ball was falling to the turf to assure a Raiders' victory, good ole Franco scoops the ball up just before it touches the ground.  The crowd went bananas as Franco raced to the end zone for the game winning touchdown. Roles like Lenard Lowe and plays like the "Immaculate Reception" are the reason that fans fall over themselves whenever the steel curtain calls.
Team:  Baltimore Ravens
Persona:  Mike Tyson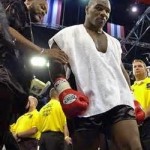 Mike Tyson definitely deserves a place on football's "The Grid Iron" and Baltimore is an historic iron city that perfectly fits "Iron" Mike.  Iron Mike had a signature way of entering the ring where he never wore a traditional boxing robe; instead he wore a towel shirt. He basically used to cut through the center of a regular white towel so he could fit his head through, and then he draped it over his shoulders.  The Ravens had a signature way of entering their stadium too.  The team captain and inspirational leader, linebacker Ray Lewis, would do a little dance nicknamed the "Squirrel Dance" (see pic below).  Just like a towel shirt, Lewis' dance was unlike anything you'd ever seen before.
Baltimore won two Super Bowls with that Squirrel Dance, and Mike won multiple championship titles with that towel shirt because these guys are not only ballers – they're brawlers.  Sometimes the Ravens' games look like street fights and sometimes the score ends up looking as ugly as Mitch Green after a street fight with Tyson (see pic).  Take the Ravens first Super Bowl victory in 2001, for example, when they pulverized the New York Giants 34-7 – that's one ugly score!  The Ravens and Tyson also had a mean knockout punch.  While Tyson literally punched his opponents' lights out, the Ravens turned out the lights in the 2013 Super Bowl in another way.  After the Ravens ran back the 2nd half kickoff to take a dominating 28-6 lead over the 49ers, the Super Dome experienced a power outage and the lights went out for about a half hour.  Commentators used the outage as an opportunity to say that the Ravens just knocked the 49ers lights out.
While Ray Lewis and Ed Reed were the defensive leaders known for packing a Tyson-like punch, running back Ray Rice might be the hardest hitting player on the team.  The Ravens star ran into some trouble with his lady when cameras caught him knocking her lights out in a Las Vegas casino (see "The Dark Side" post for details).  Tyson had some trouble with the ladies, too.  Tyson's issues with domestic disputes with his ex-wife Robin Givens are well documented, and of course, there was that whole beauty pageant episode that sent Tyson to jail for a couple of years.  The seriousness of these issues should not be discounted but Rice's fiancee still decided to marry him after he knocked her out.  Deciding to marry Rice after such an incident might be as crazy as Robin Givens deciding to marry Tyson in the first place – I guess the NFL's version of "Iron Mike" found his "Iron wife".
Team: Cincinnati Bengals
Persona:  Charlie Sheen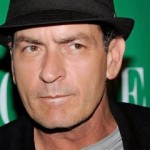 Charlie Sheen's Hollywood shuffle is kind of like the Bengals Ickey Woods Shuffle – success that eventually turns into a spectacle.  Back in the late '80s/early '90s Woods was a popular running back who created a touchdown dance called "The Ickey Shuffle."  After every successful touchdown you could count on Ickey to take the ball and hop a little left and hop a little right – the dance was pretty funny and slightly endearing.  Sheen had a feature role in the movie Wall Street and the Bengals were featured in two Super Bowls. ('82 &'87) but they never won either game.  Ever since then, the Bengals and Sheen have mostly followed up their big time appearances with comedic performances like a bunch of Hot Shots.
It's not that the Bengals don't have talent, they just seem to underachieve instead of succeed.  In the early 2000's the team got another chance like Charlie got "Two and a Half Men".   They picked Heisman Trophy winning, Carson Palmer.  Palmer's performance in his first couple of seasons was about as impressive as Sheen's first couple seasons on Two and a Half Men – but then the shuffle showed up.  Sheen's success brought about an ego that destroyed the show's chemistry and the Bengals success brought about Chad Ocho Cinco, who basically destroyed the team's chemistry.  In both cases, the executives didn't know how to corral the wild personalities so a spectacle ensued.  Sheen, like Ocho Cinco, found other ways to express himself – mostly on YouTube.  Every time Ocho Cinco scored a touchdown, he did the River Dance or acted like Tiger Woods putting the football with a pile-on, it was sophomoric at best.
After a couple of good seasons, the whole show blew up.  The next thing you know, Charlie and Ocho Cinco are on TV with their "goddesses" trying to see who can go broke faster – Ocho Cinco won.  By 2012, the Bengals fired the Ocho show and CBS fired Sheen.  In 2013, TMZ reported that Ocho Cinco was losing approximately $46,000 per month and starting to look desperate.  Here's the moral of the story kids:  instead of being a respectable team that shows appreciation for the resources given to them, the Bengals seem to go "Charlie Sheen" every year and shuffle their way into obscurity.
Team: Cleveland Browns
Persona:  Kathy Griffin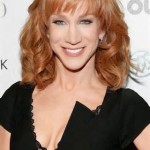 Sure Kathy's burnt orange hair matches The Cleveland Browns uniforms perfectly, but their lives on the D-List are what make this combination really click.  While Griffin made the D-List popular, it's rumored that the Browns were her true inspiration.  The Cleveland Browns have only made the playoffs once in the past twenty years and they have not won a championship in the Super Bowl era.  To their credit and the credit of Kathy, they do have four NFL championships from the 1950's and early 1960's.  Those are valid wins, but it's like Kathy getting a Grammy for her reality show – we're quietly clapping.
Kathy Griffin worked hard to achieve her D-List status.  Cleveland is the kind of hardworking middle-American city that appreciates effort and no one epitomizes effort like Hall of Fame running back Jim Brown.  At the time of his retirement, Brown had the NFL record for most rushing yards with 12,312 total yards.  Kathy Griffin actually holds the record for most stand-up specials produced for one network (Bravo), with 16 specials. Kathy also speaks out for causes she believes in like Jim.  Jim was very outspoken about Civil Rights in the early 60's and Kathy goes out of her way to speak out for LGBT-related causes.  She hosts New Year's Eve with Anderson Cooper, she makes cameos in movies, and she puts out stand-up routines like it's breakfast – she's a hard worker and so was Jim Brown.
The hardworking nature of the Browns is why this year might be a very interesting social experiment in Cleveland.  In this year's draft, The Browns chose quarterback Johnny "Football" Manziel.  His celebrity preceded him to the NFL.  His college games were ultra exciting.  He's friends with Justin Bieber (pop icon), Floyd Mayweather (boxing icon), and Tyrese (YouTube Video Ranter).  The question is: Will Manziel's A-List celebrity status fit-in with the Cleveland D-List persona?  Johnny Football better hope so because unlike "The View" kicking Kathy Griffin off their show, The Browns run this show and they just named Brian Hoyer the starting quarterback.  Looks like Manziel might find it hard to get face time in the near future – except on Tyrese's next YouTube video.