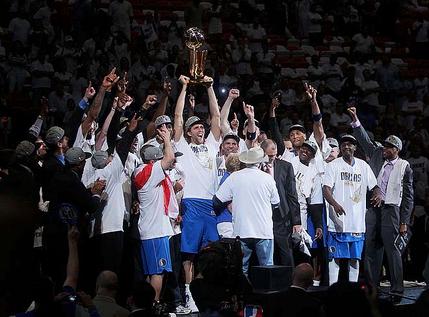 The King is dead.  Long live the King!
Or should I say The Kaiser?  King James, with a little boot in the backside from Dirk Nowitzki and a brand of defense the likes of which Mavericks fans have never seen, has abdicated his NBA throne to the "Ghost-Faced Drilla" from Wurzberg, Germany.  That's right, the man so many had perhaps unjustly labeled soft and unable to lead a team to a championship now sits in the top spot of The Association's monarchy. 
Mavericks' legend Mark Aguirre paid Dirk perhaps the highest compliment, "Answer me this: If you switched Dirk with Wade, or Dirk with LeBron, would the Mavs be in the Finals?  No way."
I must admit, during the first half of the series-clinching Game 6 victory, I was thinking I wouldn't be able to publish this article; what with Nowitzki languishing in an unfathomable 1-12 shooting funk.  But like so many times before, when the stakes were highest, Dirk was at his best, shrugging off the slump to seal the victory with five clutch buckets in the last 7:22 of the game.
"We're world champions," Nowitzki said after taking a private moment to wipe away a few tears of joy in the locker room.  "It sounds unbelievable."
It wasn't always this way.  I've been an avid Dirk defender over the years, but there have been moments when he just wasn't able to put this team on his back and lead them over the hump.  In the final three games of the 2006 Finals, Dirk went 20-55 and missed a number of key free throws down the stretch.  In 2007, his MVP season, Nowitzki shot 38% from the field (2-13 in the clinching Game 6) as the Mavs became the first #1 seed to fall to a #8 (Golden State) in a seven-game series.  2008 saw another first-round playoff exit against Chris Paul and the upstart Charlotte Hornets.  The next two seasons would end with second and first round losses, respectively.
This year, there was something different about Dirk.  Perhaps galvanized by past failures, Nowitzki would not be denied.  After a pedestrian regular season by his standards, Dirk turned it up a couple of notches once the playoffs started, playing his best basketball when it mattered most.  When the Mavericks needed a big bucket or clutch free throws to overcome a huge deficit or seal a victory, Dirk delivered.  He was clearly the best player in a postseason that culminated in a championship.     
Now on to the man Nowitzki supplanted as king.  Last season, in game 5 of the Eastern Conference Semifinals, Lebron James looked up and came to the perhaps premature realization that no matter how good he played, no matter how many spectacular dunks he threw down, he could never win a championship with the collection of talent around him in Cleveland—so he checked out of the series mentally, and the Cavaliers quickly followed suit.  Lebron will deny it, but if it looks like a duck, sounds like and duck, smells like a duck…
Fast forward a little over a year to the NBA Finals, and the situation is very different, but it's also the same.  Lebron is a member of the most talented (if not the deepest) team in the league, yet he frequently distanced himself from the front lines of this pitched battle for the NBA Championship, deferring to Dwyane Wade and Chris Bosh whenever possible. Actually, James' fourth-quarter game of hot potato throughout the series was worse than deference, it was desertion.  Pat Riley, Wade and Bosh, are thinking of asking for a $14.5 million refund.  They're thinking they recruited the wrong superstar.
James was not gracious in defeat, lashing out at his and the Heat's critics:
"All the people that were rooting me on to fail, at the end of the day they have to wake up tomorrow and have the same life they had before," James said. "They have the same personal problems they had today. I'm going to continue to live the way I want to live and continue to do the things that I want with me and my family and be happy with that."
"They can get a few days or a few months or whatever the case may be on being happy about not only myself, but the Miami Heat not accomplishing their goal," James said. "But they'll have to get back to the real world at some point."    
James' latest big-moment disappearing act prompts us to reevaluate his motives for running out on his home-town-team instead of sticking it out through good times and bad, for better or worse (a-la a certain seven-foot German). Lebron claimed he joined Wade and Bosh in Miami so he could win multiple championships, but now there appears to be more to the equation than that.  It looks more like Bron-Bron couldn't bear the burden of leadership, of being his team's hoops messiah.  How else can you explain his habit of fading, no, sprinting into the background when the spotlight is squarely focused on him and him alone?
Compare this to the play of Nowitzki and his own teammate, Dwyane Wade, who combines physical brilliance with mental fortitude and inspirational leadership.  Wade demands the ball at the end of games and James is all too willing to give it to him, especially on the game's biggest stage.  Confession:  I wrote two versions of this article; the one you are reading, and one proclaiming Wade king if the Heat had won the series.
To be fair, perhaps LeBron James never wanted this mantle that was foisted upon him at the age of 18.  He never dubbed himself "King."  Whether he wanted it or not, as the most physically-dominant player this game has seen since Wilt Chamberlain, the crown was his to wear.  But now it appears that it was too heavy for those chiseled shoulders to bear.  Who knows, maybe by the time the Kaiser is ready to cede the throne in a few years, LeBron will be ready to take it back.  He need only look at the evolution of one Dirk Nowitzki to find a role model.
But until then, the Mavericks and their fans hope to win another title or two during Dirk's reign.    
Jason Parker, Blogger for War Room Sports