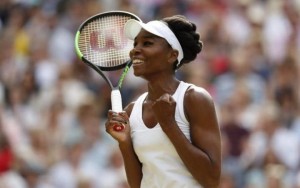 Venus Williams is the single most underappreciated athlete in the world over the past 20 years!
The primary reason for this is understandable: when your little sister is on the short-list of greatest athletes of the last century, your accomplishments just might get a bit overlooked.
Just to summarize, Venus has won 7 Grand Slam titles and 49 tournaments overall.  Her lifetime record against top 10 opponents is 321-159, which amounts to a winning percentage of 67%.  Her lifetime record against the world's number 1 ranked player is 10-5.  Even on clay, her worst surface, she has a winning percentage of 63%.  In Grand Slam finals, she is sub .500 at 7-8.  Seven of those eight losses have come to her little sister.  Simply put, Venus Williams has only lost one Grand Slam final to anyone not named Serena.
It is often noted if it were not for Venus, Serena would have even more Grand Slam titles.  But the opposite is true as well.  Without Serena in the picture, Venus could very well have 14 major titles.  That would have her in the G.O.A.T. conversation.
Those numbers alone are enough of a resume, but there is more.
It was Venus who was the most vocal active player in the fight for equal pay at Wimbledon for the women's champion compared to the men's champion.
In 2011, she was diagnosed with a rare ailment called Sjogren's Syndrome.   Two of its symptoms are pain in the joints and fatigue; no small factors for a professional tennis player.    Being north of 30 and having already been a seven-time Grand Slam winner, it would have been understandable if she called it a career.  She did not, and as a result she is entering her second Grand Slam final of the year Saturday morning at Wimbledon, after having dominated up and coming Brit Johanna Konta in Thursday's semi-final.   She is now 21-7 this year and will re-enter the world's top 10, all at the age of 37 years old.   If she wins it will be her 6th Wimbledon title and she will become the oldest woman to win a Grand Slam event in tennis history!
Beating Garbine Muguruza for the Wimbledon title, a Grand Slam champion in her own right, will be a tall task.  I consider her to be the most likely to succeed Serena as the world's undisputed best player.
But losing won't take away from the fact that despite age, an ailment that would retire lesser competitors, some media that have been flaky at best to embrace one half of what is arguably the greatest story in the history of American sports, and the huge shadow of her little sister, VENUS IS RISING AGAIN.  We should not only notice, but we should show her the love and give her the standing ovation she so richly deserves.
Gus Griffin, for War Room Sports
Tags: All's Fair in Sports and War, Grand Slam, Gus Griffin, Tennis, Venus Williams, War Room Sports, Wimbledon, WRS