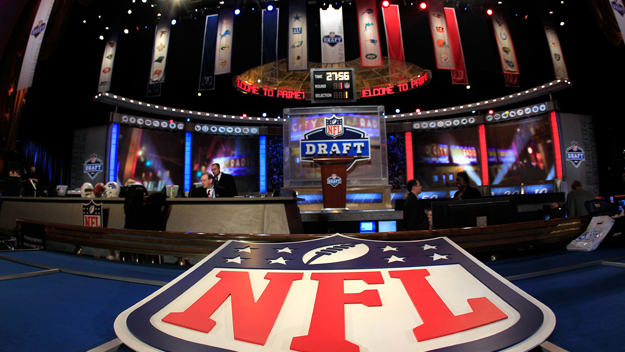 NFL Draft day is here.  And what we think we know from our instant information on steroids era is leaving us no more informed about who will be a good player than in past years prior to the NFL Combine.  Call it a case of too much information in the wrong hands.
A great case study for this was the 2003 NFL Combine when a very well run franchise wanted a particular player very badly.  However, it was feared that the player would not be there when the teams' turn came.  Though this team had two first-round picks, it did not want to trade up or give up one, if not necessary.  So their best hope was for the player to run a disappointing 40-yard dash.   This organization was smart enough to realize that the teams picking ahead of them were doing so for a reason: they were not very smart and overvalued NFL Combine information.
The player they wanted obliged them and ran a poor 40-yard dash, and as a result, the Detroit Lions bypassed him and took WR Charles Rogers at number 2.  The NY Jets did the same and took DL Dwayne Robertson at 4, as did the NO Saints taking DL Johnathan Sullivan at 6.   None of those three played more than 6 years in the NFL, a combined 14 years overall and 0 Pro Bowl selections.  This team with its 10thpick took an edge rusher out of Arizona State who would go on to record 6 double digit sack seasons and become a 6-time Pro-Bowl player.  Even after missing most of 2015 with an injury, he had 8 sacks last year, at age 33.  This year will be his 15th in the NFL.
The team was the Baltimore Ravens and the player was Terrell Suggs.  In addition to being the ugliest man in the NFL, he has been terrorizing my Steelers and the whole damn league ever since.
It's not just the NFL.  Remember all the fuss about how much weight Kevin Durant could or couldn't lift?
It might surprise some of you how this process of reading way too much into combine data is not much different than the impact of the SAT/ACT scores on the college admission process.   In my time as an educational professional, I wish I had a dollar for every student I have come across with great SAT/ACT scores who fell flat on his or her face, not just at a 4-year college, but also at the community college level.  I would be even richer if I had a dollar for all those I have encountered speaking little to no English and/or coming from impoverished situations, often with no household knowledge of the college process, and yet thrived, even to the point of earning transfer scholarships.
What the two processes have in common is how much of an indictment they both are of how we assess human potential.  Even more disturbing is the underlying reason we fall prey to this; simply put we are analytically lazy.
It's a lot easier to look at numbers and be overly reliant upon them when making an assessment than it is too take the time to make a holistic and comprehensive assessment.  What NFL combine numbers and SAT scores do not measure is resilience, work ethic, and emotional intelligence, in spite of the fact that there are tools to measure both resilience and emotional intelligence.  Instead the NFL uses the Wonderlic.
I am not suggesting that none of the information collected is valuable.  I am, however, adamant that the vertical leap of an offensive linemen in football is not a piece of information that serves any useful purpose.  Furthermore, I argue the information collected should never replace direct interaction and other developmental factors, such as those already mentioned.  After all, at age 18-22, none of us are fully developed neurologically and thus even the best assessments are grasping as indicators of future success.
There is good news on the college front.  There are now over 800 accredited, bachelor-degree granting institutions that have changed their approach to standardized test scores, by not requiring the SAT or ACT for admission.  So when high school counselors advise students with poor SAT or ACT scores about their college options, they can still offer them hope to include both those 800 colleges, in addition to the far too often undersold community college.
Unfortunately, I see no trend in the NFL against the current conventional thinking, which is to remain a slave to combine data for fear of looking stupid if one takes a chance on an outlier way of thinking.    It's as if teams would rather continue to fail doing what most of the league does as opposed to taking a chance doing things differently.
Tonight, the cycle continues.  I'll kick back with friends and watch but not far from my mind will be something a highly successful college and NFL coach once said about the draft, to paraphrase; you only have to worry about maybe a 3rd of the league.  The other two-thirds are so dysfunctional that they will self-destruct under the weight of their own idiotic decision making.
I wish the Ravens were among that two-thirds dysfunctional group back in 2003.
Gus Griffin, for War Room Sports
Tags: ACT, All's Fair in Sports and War, College Admissions, Gus Griffin, NFL Combine, NFL Draft, SAT, War Room Sports, WRS