by Gus Griffin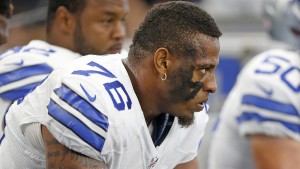 I'm clear about Steven A. Smith's  agenda: he caught a lotta flak after the Ray Rice abuse case and is now pandering to the very folks who wanted his head.
What is more useful is to discuss the threshold of proof necessary to acknowledge the mistreatment of some, particularly women, Black, and Latino folks.
On due process terms, it seems to me that only the Dallas Cowboys can take any action against Hardy and we all know that if they did cut him, more than a few teams will be lined up to sign him.  I'm clear that Greg Hardy is a bully and likely a psychopath. I would shed no tear if he never played in the league again. But I did not need to see pictures of his abuse to come to that line of thinking. The fact that anyone needed pictures to get to this level of outrage means that this is much bigger than Greg Hardy. This is about America and whose suffering is at the back of the line for addressing. It's clear that women being brutalized by men and Black and Latino folks by police requires a certain level of visual proof beyond that of most others. In the Black man's case, Eric Garner, sometimes even the picture isn't enough. I'm not suggesting that alleged victims are all truthful. That "cry wolf" opportunist element is out there. But there is a distinct difference in justifiable scrutiny of the truth and hoping one is not being truthful so that we can maintain our business as usual world views about women, Black, and Latino folks being primarily responsible for their mistreatment. I say we because on the Greg Hardy issue, I am just as much of part of the problem. Certainly not for condoning violence against women but because Hardy's arrogance and indifference is fueled by the very fundamental fact, be it conscious or subconscious, that he knows I and most of you will keep watching the NFL. Roger Goodell and Jerry Jones know it as well. So Ill climb down from my soapbox and hopefully "Screaming" A Smith will soon follow.
Gus Griffin, for War Room Sports
Tags: All's Fair in Sports and War, Dallas Cowboys, Domestic Abuse, Greg Hardy, Gus Griffin, Jerry Jones, NFL, Roger Goodell, Stephen A. Smith, War Room Sports, WRS