Hello War Room Nation!
It's Kamal Hylton of NBA Nation Australia and War Room Sports back with your weekly NBA Quick Takes, this week looking at the rise of Milwaukee Bucks small forward Khris Middleton, the Raptors upcoming tough stretch and why the NBA should consider scrapping the current playoff format to include the best 16 teams.
Is that Khris Middleton or Michael Redd?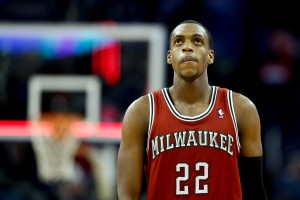 Khris Middleton was basically a throw-in as part of the Brandon Knight/Brandon Jennings trade between the Detroit Pistons and Milwaukee Bucks, but who would've thought he'd be a major player in who's winning this trade so far? Giving credit where it's due, Jennings was a key piece to the Pistons success this season (along with the dumping of Josh Smith) before going down with a season ending injury. However as we currently stand, it's safe to say that the Bucks are winning the deal, due in large part to the former Pistons 2nd round pick (39th overall in 2012 NBA Draft). The principle part of the trade in Knight is leading this young squad and flourishing under the coaching of Jason Kidd (averaging 17.7 PPG and 5.3 APG), but the massive improvement Middleton has shown by picking up the slack through the team's major injuries is nothing short of impressive.
Watching him at the ACC against the Raptors wearing the No. 22, he looked like a poor man's Michael Redd in the way he played such an efficient game and took smart shots. Now I'm by no means saying he'll turn into the caliber of player Redd was during his peak Buck years as a 20.0+ PPG scorer, but looking at his three point percentages and smooth stroke during his early days in Milwaukee (41.4% last season and 45.1% so far this season) and at only 23 years old, that's a perfect player to pattern his game after.
Middleton is a restricted free agent at the end of the season, but with the way his game is growing, don't be shocked if the South Carolina native is re-signed to a long-term deal.
It's 'Gut check time' for the Raptors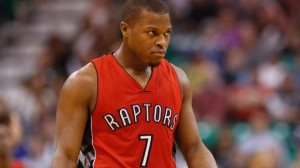 Currently sitting 2nd in the Eastern Conference with a 33-17 record, the Raptors can be more than happy with how the first half of the season has gone. There've been some bumps in the road and some areas of inconsistency, mainly on the defensive end of the floor, but they coped well while DeMar DeRozen was out with a lengthy injury, have Kyle Lowry representing the franchise as an All-Star starter, and is seeing a major improvement in its big Lithuanian, Jonas Valanciunas (averaging five double-doubles in his last nine games). However the REAL test comes during the next eight games, starting Friday night against the Los Angeles Clippers (in an ESPN game) followed by games against the San Antonio Spurs at home, Washington Wizards away, Atlanta Hawks at home, Houston Rockets away, New Orleans Pelicans away, Dallas Mavericks away, and Golden State Warriors at home.
With the All-Star break right before that four game road trip there will be some time to get away, rest and refocus, but coach Dwayne Casey will have in the back of his mind the last big road trip the team was on that finished 2-4 and included three straight beatdowns from the Portland Trailblazers, Golden State Warriors, and Phoenix Suns.
Time for the Best to play the Best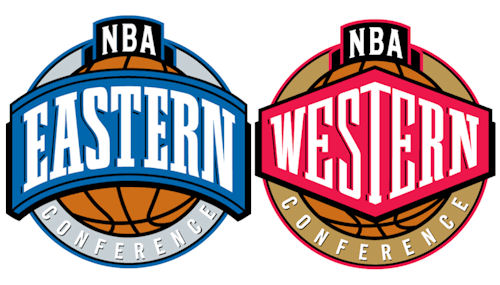 Over the last number of seasons the trend of the Eastern Conference being so much weaker than the Western Conference has made some of the early round playoff games unwatchable, having teams qualify with losing records only to get swept aside 4-0 in uncompetitive series. I brought this question up as a recent guest on the AFTER FURTHER REVIEW radio show of whether it's time to scrap the conferences and go with the best teams. I said on the show they should and I feel even stronger about it while writing this.
Just to give you a picture of how this would look, here's what the current playoff match-ups would roughly look like in that format if it started today (didn't factor in any tiebreakers etc…)
1st vs. 16th seed: Golden State vs. Oklahoma City Thunder
2nd vs. 15th seed: Atlanta Hawks vs. New Orleans Pelicans
3rd vs. 14th seed: Memphis Grizzlies vs. Milwaukee Bucks
4th vs. 13th seed: Houston Rockets vs. Phoenix Suns
5th vs. 12th seed: Toronto Raptors vs. Cleveland Cavaliers
6th vs. 11th seed: Portland Trail Blazers vs. Chicago Bulls
7th vs. 10th seed: Los Angeles Clippers vs. San Antonio Spurs
8th vs. 9th seed: Dallas Mavericks vs. Washington Wizards
Just at a first glance, doesn't that look WAY more interesting as an NBA fan than the current format? Going this way weeds out all the teams that would likely get run over in the first round, not like NCAA March Madness with kids playing and mistakes being made to cause "Upset Specials" or "Cinderella Stories", but also would help motivate other teams to build a winning culture and possibly get rid of this current tanking phenomenon.
To catch all my NBA writing, photos and videos visit NBA Nation Australia or on Twitter @NBANationOz.
Kamal Hylton of NBA Nation Australia, for War Room Sports
Tags: All's Fair in Sports and War, Basketball, Kamal Hylton, Khris Middleton, NBA, NBA Nation Australia, NBA Playoffs, NBA Quick Takes, Sports Talk, Toronto Raptors, War Room Sports, WRS