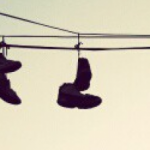 Album Rating System 4 out of 5 records
The marquis outside of 10 East 60th street in Manhattan reads "A night at the Copa with Yasiin Gaye." Out with the Rat Pack crowd, with their black and white tuxes and Mafioso-DAs, and in with the black crowd.   It's black night at the Copa and they're here to support brother Yasiin. Conks, fried-dyed-and-laid-to-the-side, old-fashioneds and dirty martinis – impeccably dressed men and women with thick-framed glasses, skinny ties and cocktail dresses fill up the seats to the rafters. The headliner, Yasiin Gaye steps on stage into the spotlight in a midnight blue shark skinned suit and the show begins.
Though Yasiin was never at the Copa – only as I have imagined he would be in this write-up – he effortlessly brings you the elegance of that time period.  Yasiin Bey formerly known as Mos Def brings us Side Two, of his second installment of his mash-up with the late Marvin Gaye. Marvin's legendary Motown catalogue is reconstructed in an eclectic composition that mixes funk, soul, blues, rock and hip hop. The album itself is an imaginative, cross-generational period piece that meets Marvin Gaye and Yasiin Bey at the crossroads of Bey's nostalgia and the after life. Yasiin is sort of a Marvin Gaye incarnate.  He brings to life – if but for a moment  – Marvin Gaye and everything in the 60s-70s time capsule, in a surreal way.  Click here to read the full review.
Tags: Album Review, All's Fair in Sports and War, Eddie Bailey, hip Hop, Marvin Gaye, Mos Def, The Return, War Room Sports, Writing Battle Rap History, Yasiin Bey, Yasiin Gaye