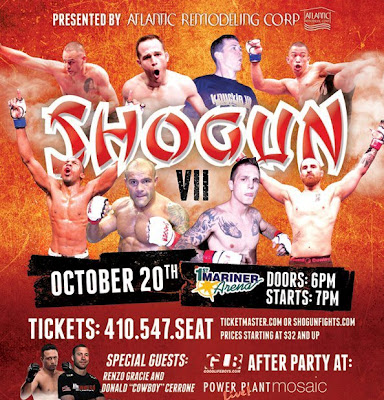 This past Saturday October 20th the 1st Mariner Arena in Baltimore, Maryland was home to Shogun Fights VII.  I have been to many regional events, as well as UFC events, and I must say I was highly impressed with what Shogun Fights owner John Rallo and his team has been able to put together in a short period of time.  This was one of the most professional, well run fight cards I have ever attended.  The night was action-packed with many entertaining mixed martial arts contests.
You may notice a theme when I give my recap on contests.  Whether Boxing or MMA, I have the propensity to root for guys who have either unique ring/cage entrances or they enter with music that I am fond of.  Considering I am a Hip-Hop Junkie, this usually means someone enters to a Hip-Hop song I love.
Fight 1:  Adi Alic  VS  Mike Young
In this 1st match Adi Alic entered the cage with what appeared to be 50 people behind him.  It was a kick-ass entrance which was reminiscent of Cobra Kai.  I immediately wanted to see if he could live up to his entrance.
Adi started the fight very aggressive, attempting a couple of submissions until being hit below the belt.  This slowed him down for a brief minute but he then exploded with a knee followed by hammer fist which gave him the victory in the 1st round by KO.
Fight2:  David Perez VS Cole Presley
No interesting entrances to speak of but when the match started, so did the fireworks.  Cole Presley wasted no time and won by KO with an overhand right followed by hammer fists.  The fight lasted 23 seconds, which was announced as the fastest knockout in Shogun history.
Fight 3:  Brent Hess VS Christian Leonard
Hess wins the entrance with hilarious Gangnam Style dancing with the Gangnam Style music to match.   Then the fight starts and immediately it is evident that Christian Leonard is ready for his 1st pro fight.   Leonard gets top position and Hess attempts a couple of submissions but after Leonard dropped a hook from the top position, the fight was ended with the 18-year old Leonard proving he is the real deal.
Fight 4:  Dave Daniecki VS Najim Wali
Najim Wali wins the entrance contest as he enters to "The Champ is Here" by Jadakiss, which immediately made me root for him, but that's the last thing he won.  Danieki dominated the fight by controlling the tempo the entire match by taking the fight to the ground and landing shots from the half guard position.  Danieki wins a unanimous decision 30-27 on all three judges' scorecards.
Fight 5:  Nate Grebb VS Ruben Martinez
Martinez wins the entrance war by entering the ring to Big Pun's 100%.  This makes me take notice but again the entrance wars mean nothing as Grebb wins by triangle choke in the 2nd round.
Fight 6:  Ryan Mackin VS Cody Baker
No interesting entrances to speak of in this match but this was one hell of a fight that went back and forth until Mackin was saved by the bell in round 2 after being put in a rear naked choke.  Mackin seemed to be drowsy and the fight was stopped giving Baker the victory.
Fight 7:  Ryan Berry VS Marshall Thompson
This fight had 2 great entrances as Thompson enters with a Gladiator mask on.  Not to be outdone, Berry enters to DMX with one of the scariest faces I have ever seen.  Berry looked like he meant business.  The fight was close but Berry dictated the pace and won by unanimous decision 30-27, 30-27, and 29-28.
Fight 8:  Dan Root VS Brian Van Hoven
No interesting entrances to speak of in this match but Root put on a hell of a performance.  He wins by Rear Naked Choke in the 2nd round.  In the post-fight interview Root has the line of the night when asked about how he got this victory.  He says "I take it any way I can get it, like sex".
Fight 9: Rob Sullivan VS Gustavo Keisler
Gustavo wins the entrance by using music from Hip Hop artist The Game but the fight was a different story.  This was a close fight with Sullivan winning a unanimous decision 29-28, 29-28, and 30-27.
Fight 10:  Micah Terrill VS Kyle Sefcik
Nothing special with the entrances but it is a documented fact that Kyle Sefcik is a friend of War Room Sports.  Watching him enter the fight I might have been more nervous than Kyle.  Kyle started the fight by attempting multiple Superman punches and back fists.  The fight went to the ground where Terrill seemed to be winning by controlling the fight.  Round 2 was more of the same but in round 3 Sefcik pulled out the victory with an amazing guillotine choke that caused Terrill to tap out.
Fight 11:  Frankie Lester VS Caleb Ball
This was the main event of the night and it did not disappoint.  Frankie Lester wins the entrance war by far, entering to The Notorious B.I.G.'s "Juicy".  This entrance had me so amped I was ready to jump in the cage until I realized I have nothing but a black belt in talking trash.  This fight was an all-out war with both athletes landing multiple shots.  Lester landed a clean shot to the ribs which seemed to hurt Ball and Lester then began to land the better shots.  In the 2nd round Lester continued to land shots and eventually cut Ball whose eye started to swell and close.  The doctors stepped in and checked Ball but allowed him to continue.  After the end of the 2nd round the doctors decided Ball had suffered enough damage and stopped the fight, giving Lester the win.  Finally a fighter with a kick-ass entrance wins a fight.
Overall the night was action-packed and full of entertainment.  Shogun Fights is a quality MMA organization and the Mid-Atlantic region has a vibrant MMA community that will produce many future stars in this sport.  If Shogun Fights VII was this exciting, I can only imagine what Shogun Fights VIII will have to offer.
Jimmy "The Blueprint" Williams of The War Room, for War Room Sports
Tags: Adi Alic, All's Fair in Sports and War, Baltimore, Brent Hess, Brian Van Hoven, Caleb Ball, Christian Leonard, Cody Baker, Cole Presley, Dan Root, Dave Daniecki, David Perez, Devin McMillan, Donald "Cowboy" Cerrone, First Mariner Arena, Frankie Lester, Gustavo Keisler, James "The Blueprint" Williams, James Williams, Jimmy "The Blueprint" Williams, Jimmy Williams, John Rallo, Kyle Sefcik, Marshall Thompson, Micah Terrill, Mike Young, Mixed Martial Arts, MMA, Najim Wali, Nate Grebb; Ruben Martinez, Renzo Gracie, Rob Sullivan, Ryan Berry, Ryan Mackin, Shogun Fights, Sports Talk Radio, The Blueprint, The War Room, War Room Sports