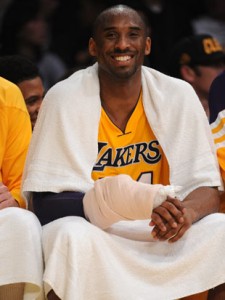 Kobe Bryant is arguably one of the most polarizing figures in sports history.  He is also without much argument the second best shooting guard to ever live, and to some a top 5 player of all time.  We've witnessed an amazing 15-year career which has given us rings, scoring titles, an 81-point BIG-BANG EXTINCTION LEVEL EVENT, we've seen him cheat on his Vanessa, we've seen him snitch on Shaq, we've seen him shoot, dunk, finger roll, dunk…and shoot again.  Some say "he doesn't trust his teammates", "he's too selfish", "he's a pistol/gun/uzi/bazooka/scud/ball-stopping hog who refuses to pass" (but would you pass to Kwame, Smush, and Derek?).  "He isn't Mike" (this is my favorite because I used to use that both in my own mind and to others).  At 33, most professional basketball players are winding down from their prime years if not preparing for that exit stage left in 2 to 4 years.  Production dips, 25 ppg scorers become 16 ppg scorers, 2 steals a game becomes 0.8 steals per game…and ultimately…those guaranteed 22 shots per game becomes 10 or 11.  This isn't basketball, this is the human experience.  You cannot box with God, Father Time, or Mother Nature…you will lose.  Michael Jordan didn't listen and Kobe Bryant isn't listening.  With 15 years of service in, it's not without reason that the whispers of fading athleticism and diminishing skills have become an audible undertone.  It's reasonable.  The average player Kobe's age is suffering "the slow down".  But with 15 years already in, Kobe should be stopping.  He's not.
Just some Facts:
First NBA player this season to score over 40 points, with a 48-point outburst against the Phoenix Suns on 1/10/2012.  He followed that up the very next night with a 40-point performance in Utah, making him one of only THREE players in NBA HISTORY (Shaq and Kareem) to post back-to-back 40 point nights in their 16th NBA season.
He's averaging more points (on less shots), more assists, and more rebounds per game than in any of his three previous seasons.
-1st in ppg, 1st in total points scored.
-Every other player in the top 10 is 26 years old or younger
-Has 364 points through his first 12 games this season. That is the third most since 1985 among players who are at least 33 years old. (Kobe [who has done this while being in the league
 16 seasons], Bernard King [my favorite 3-man of all time], and Michael Jeffery Jordan [who had the benefit of fewer miles…Kobe has 14 playoff appearances]).
-In NBA history, only 2 other players have scored 48 points in a single game and have been in their 16th season.  The other two are HOF'ers, multiple Finals MVP winners, and NBA MVP winners.
-109 games with 40 points or more. Most by active player.
-17 in the 1st quarter vs the Suns – most in a quarter by a player 33 or older since MJ.
Comments from Kobe's mouth courtesy of Tuesday night's post game interview:
"Not bad for the seventh-best player in the league"… [referring to an online ranking of the NBA's top 500 players].
 
"If I play bad or have one bad game like I did in Denver, everybody cries for a change or cries for the fact that I'm too old.  It's just a bad game with a bad wrist" [referring to his 16 points in a loss against the Nuggets on New Year's Day].  "You got to figure out a way to get it done."
From his teammate, Derek Fisher: 
"He's always going to be aggressive and assertive to score, but he's picking his spots and he's doing it in a very efficient manner"…
"That [the 48 vs the Suns] ranks it right up there with the best of them because it doesn't look like he's trying to do it.  He's just doing it within the flow of the game. That's been very effective for him and for us."
From 2-time NBA MVP Steve Nash: 
"He's the best player in the game, so you come to expect that type of performance from him, if not regularly, then throughout the season at different times…He was phenomenal."
Suns' leading scorer from Lakers-Suns game Channing Frye:
"If he don't care about his wrist, I don't care about his wrist…Everybody makes a big deal about it, but he's been scoring 28, 30 a game.  So let's just call it what it is.  He's a great player, he's the best individual player in basketball, and every night he comes to work.  For us, we don't like losing to the Lakers.  But they came out and played a good game, and he played an amazing game."
The thing that puts Kobe in that rare air…we are witnessing COMPETITIVE GREATNESS…willing himself to win rounds in a fight against Father Time and Mother Nature.
Bradley Anderson of The War Room, for War Room Sports                               
Tags: All's Fair in Sports and War, Bernard King, Bradley Anderson, Channing Frye, Derek Fisher, Kareem Abdul Jabbar, Kobe Bryant, Los Angeles Lakers, Michael Jordan, Phoenix Suns, Shaquille O'Neal, Sports Talk Radio, Steve Nash, The War Room, War Room Sports