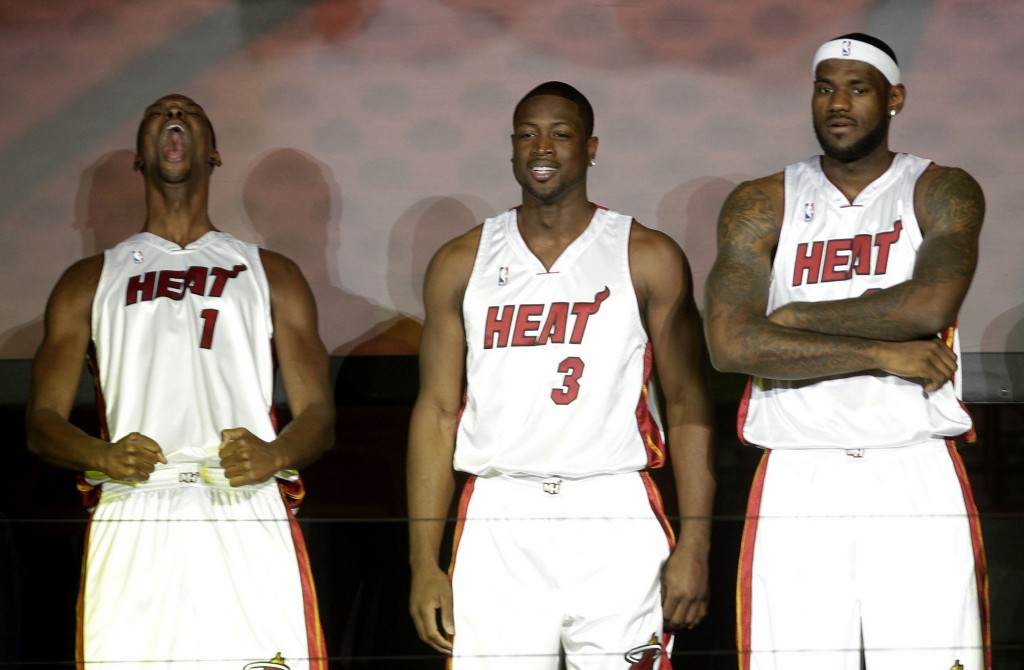 This one is for the haters.
For the people who hate LeBron James, despite the fact that he's one of the best basketball players that you've ever seen.  For those who hate Dwyane Wade, who is pretty much just guilty by association at this point.  And even for those who hate Chris Bosh, who swears he's tough, but in reality comes across as a man who – as Ghostface Killah would say – is softer than baby thighs.
For whatever reason, you may not like Miami's "Big 3″, and you have every right to do so.  But deep down inside, tucked away in one of those places that you don't want to talk about, you know the truth.
The Miami Heat are officially a problem.
To all of the haters, doubters and naysayers out there: How does it feel?
How does it feel to know that they've finally figured it out?  It took far longer than they (and some of us) expected, despite what they may have said at various points during the season.
But you can't deny that they've turned it up another level this postseason, especially during their Eastern Conference semifinal series against the Boston Celtics. 
A team that was routinely criticized as not being clutch came through when they needed to, outscoring the Celtics 55-31 during the 4th quarter and overtime periods of the final two games of the series.
The Miami Heat weren't passed the torch of Eastern Conference supremacy last week – they ripped it from the Celtics' old, dead hands.
Most of you don't want to admit it. Maybe you still have some lingering resentment over "The Decision" (sponsored by Vitamin Water).
We can all agree that it was a poorly managed affair, spearheaded in part by Maverick Carter, who appears to have learned everything he knows about sports management from watching the first two seasons of "Arli$$" on DVD.
But who can blame LeBron for jumping at the chance to go to Miami? As a 26-year-old man, he gets paid an obscene amount of money to work with his friends during the day, and spend his down time enjoying the pleasures of South Beach.  If that's not the American Dream, then it's pretty darn close.
That being said, the situation this summer could have been handled better.  10 months later, James realized the error of his ways and apologized for the debacle that was "The Decision" (sponsored by Vitamin Water).  By that time, Cavs' owner Dan Gilbert was done penning missives in Comic Sans font, and busy sifting through the wreckage of a 19-63 season.
Perhaps you're one of those still upset at the welcoming party/concert announcing the formation of the so-called "3 Kings."  Shortly after signing the contracts that made their partnership official, James and Wade and Bosh proceeded to pose and preen and peacock their way through the American Airlines arena as they were greeted like rock stars by thousands of adoring Heat fans.
After the laser show ended and the last of the confetti fell from the ceiling, LeBron James made his now infamous "not one, not two, not three…" championship boast, predicting untold success for his new team.
Cocky?  Maybe a little.  But if their recent success is any indication, James might not have been too far off. 
And that bothers you.
It bothers you because your favorite squad probably can't go the "superteam" route.  I've since reconciled the fact that barring an Act of God, my team of choice – the Philadelphia 76ers – can't come close to a title in the foreseeable future.  I've accepted the Sixers' place in the hierarchy of the NBA and have since moved on.
It might be hard for some people to come to grips with, but the reality is this: for the next few years, the fate of the Eastern Conference – and perhaps the entire NBA – lies in the hands of the Miami Heat.
Back in March, Heat coach Erik Spoelstra mentioned that a couple of his players were crying after the team lost its fourth game in a row.
It's likely that this summer – and for several summers to come – there will be tears shed in the Miami locker room for an entirely different reason. This time, those tears will be dried with a T-shirt declaring the Miami Heat as the champions of the NBA.
Be mad.
***************
Roy Burton of The Broad Street Line, for War Room Sports
Roy Burton is one of the hosts of "The Broad Street Line", a weekly sports podcast on Blog Talk Radio (http://www.blogtalkradio.com/broadstreet).  He also serves as a Featured Columnist for Bleacher Report, and is a contributing writer for several other websites as well.  You can follow him on Twitter at @thebsline.
–
"He's the best player in the world, and he may not even be the best player on his team!"
- Dan LeBatard on LeBron James
Tags: All's Fair in Sports and War, Big 3, Blog Talk Radio, Boston Celtics, Chris Bosh, Cleveland Cavaliers, Dan Gilbert, Dan LeBatard, Dwyane Wade, Eastern Conference, Erik Spoelstra, Ghostface Killah, Lebron James, Maverick Carter, Miami Heat, NBA, Philadelphia 76ers, Roy Burton, The Broad Street Line, The Decision, The War Room, Vitamin Water, War Room Sports