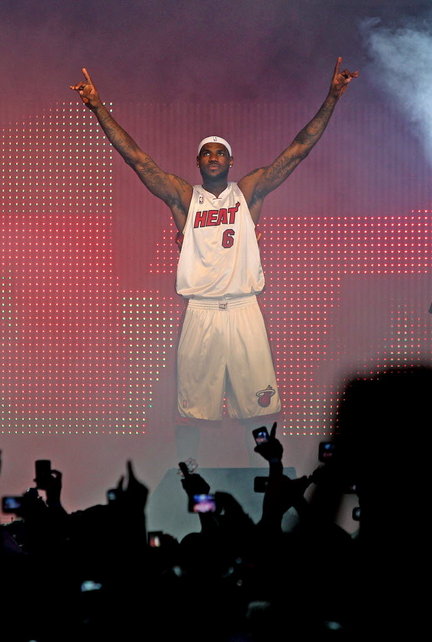 All throughout the regular season, people have questioned the Miami Heat's ability to close out games and they had a legitimate case.  At one point during the season the Heat had one of the bottom 5 records in the league in games decided by five points or less.  Countless times they were unable to hold leads in the fourth quarter and down the stretch most of the shots were taken by Lebron James.
When the Heat decided to bring the trio of Dwyane Wade, Lebron James, and Chris Bosh together, everyone fed into the instant hype and said they would threaten the Bulls 72-win season from the 95-96 campaign.  I knew they had talent but it would take time to mesh and I really didn't like their bench on paper.  They had a problem early in the season winning games against the top teams in the league and even had a moment after a tough loss where Head Coach Erik Spoelstra said "there were plenty of emotions in the locker room, and some crying".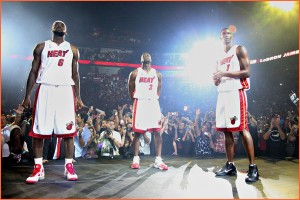 Well it's the playoffs and they are playing their best basketball at the right time and have won their first two rounds of the playoffs each in five games.  D-Wade has taken his fair share of shots down the stretch and has closed games, and James has made some timely shots to close games as well.  At this point of the season the Heat clearly have it figured out and with the Lakers knocked out of the playoffs, Miami is the clear favorite to win the whole thing, in my eyes.
In games four and five, Lebron James hit shots in the clutch that finished the Celtics off.  In game four, Lebron scored 11 straight points for his team to send the game into overtime.  And in the series clinching game five with the scored tied at 87-87 with 2:33 left to play, James scored his team's final ten points and sent Boston home for the summer.
Lebron James and the Heat are now four games away from playing in the NBA Finals and four more away from hanging a banner in the rafters.  There is plenty of Lebron and Heat hate going around, but Ray Charles could see that they are clearly the favorite to win it all and the excellent play of Lebron James is the reason why.  People, put the hate to the side and just watch this man play.  Prospectively, there is nothing he can't do on the court and it's not hard for me to say that he is now the best player in the league.
Brandon Pemberton, Blogger for War Room Sports
Tags: All's Fair in Sports and War, Boston Celtics, Brandon Pemberton, Chicago Bulls, Chris Bosh, Dwyane Wade, Erik Spoelstra, Lebron James, Miami Heat, NBA Finals, The War Room, War Room Sports