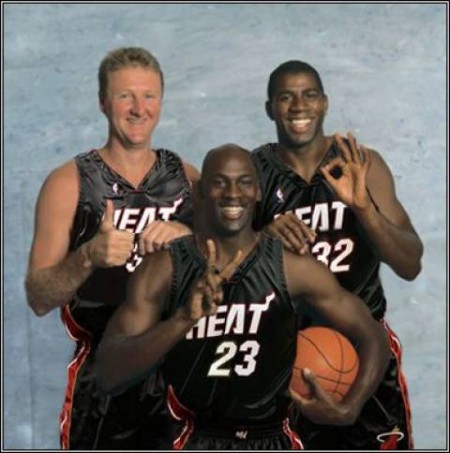 Since we spoke about the business side of sports on the October 14th episode of  The War Room (the best Marshall Faulkin sports show on the web PERIOD), I figured I'd address something that I believe will be very bad for NBA business in the coming years.  We all know about the drama and eventual backlash from Lebron's "decision" this summer.  But "punk move" aside, I think this move will start a trend that will ultimately prove cancerous for NBA business.  Here's how most people I've talked to look at this…"This is great for the NBA because people are talking about the league during the offseason and eagerly anticipating the season", blah, blah, blah.  That is such a shortsighted view.  Here's how I see it…Many teams in the NBA, and players for that matter, are already unwatchable.  The league needs to be contracted and not continually expanded, as it has been for the past two decades.  In a 24 hour span, Chris Bosh and Lebron James effectively and instantly made two more NBA teams completely unwatchable.  Cleveland WILL…not might, but WILL end a streak of Quicken Loans Arena sell-outs maintained during the Lebron James era.  Toronto on the other hand, wasn't the most watchable team in the league to begin with, but the only reason we may have had to ever tune in to a Raptors game is now gone.
Because of the recent "Heat wave" in Miami, we already have other superstars such as Chris Paul, Carmelo Anthony, and maybe Amare Stoudemire contemplating "superteaming" up to form their own version of Voltron in New York.  This will certainly put the pressure on other superstars to follow suit in order to compete.  Where would this leave a league already in need of contraction?…already filled with sub-NBA-quality talent?…already full of teams and players that NOBODY wants to watch?  With all of the league's FEW superstars eventually ending up on 3 or 4 teams, what does that do to even the POSSIBILITY of parity in the NBA?  With Lebron and Bosh bolting now, and CP3 and Melo's escape from self-perceived "purgatory" most likely on the horizon for next year (if they don't force trades THIS YEAR), how will Cleveland, Toronto, Denver, and New Orleans even come close to filling their buildings?  The only chance that a VERY high percentage of NBA teams have of selling out their arenas this year and in years moving forward, is when the Lakers, Heat, Celtics, and MAYBE Magic and Thunder come to town.  What MANY fans and even some NBA officials fail to understand is that a huge buzz for this NBA season isn't a great buzz if people are only buzzing about two teams.
In conclusion, with players having the absolute right to "superteam" up if they so choose, there is really nothing that can be done about this budding trend.  All we can hope…those of us who care of course…is that the REST OF the cream of the NBA crop would develop a higher level of pride than that shown from the "best player on the planet".     
 Devin "Dev" McMillan of The War Room, for War Room Sports
Tags: Amare Stoudemire, Boston Celtics, Carmelo Anthony, Chris Bosh, Chris Paul, Cleveland Cavaliers, contraction, Denver Nuggets, Devin McMillan, Lebron James, Los Angeles Lakers, Marshall Faulk, Miami Heat, NBA, New Orleans Hornets, New York Knicks, Oklahoma City Thunder, Orlando Magic, parity, punk move, Quicken Loans Arena, Superteamin, The War Room, Toronto Raptors, War Room Sports